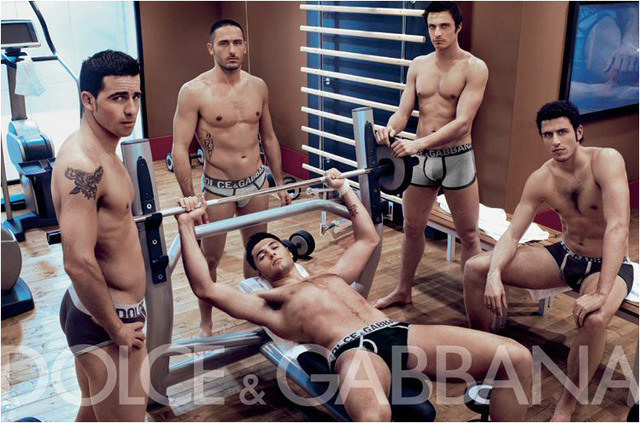 On a recent jaunt to Paris for the men's shows, I found myself texting a friend the following phrase at the end of another busy day air kissing and canape munching; 'I need to go back to the apartment to change. I'm tired of looking like a fashion queen. I actually want to pull tonight at RAIDD'. Ironically, RAIDD is a Parisian nightclub where the boys wear very little. You get to watch them shower in a sort of fish tank-cum-cubicle too. It's all very European!
The idea that nobody - or at least less people - were likely find me attractive because I was dressed in a certain way has always been at the back of my mind but to see it there on an illuminated, newly cracked iPhone screen made me realise that men's fashion really isn't that sexy.
To comprehend this fact you first have to establish what you define as 'fashion'. Of course when the big Italian brands like Versace sling a hoard of buff Adonis-like creatures down the catwalk in nothing more than a pair of briefs, there's a familiar tightening in one's jeans, but it's not the choice of fabric or cut that's providing the er, excitement.
Who can forget David Gandy rolling around that boat in nothing but some white swimwear for Dolce & Gabbana? Achingly handsome - yes. Fashionable -no. What I'm talking about the experimental fashion, the type you'll see on the pages of the Daily Mail or The Express captioned something like 'S&M for M&S'
The recent resurgence in popularity of classic Savile Row tailoring and the continuing success of Men's Fashion Week proves that guys - both gay and straight - still want to look like they've taken care appearance and appeal to others without looking like they've just stepped of the pages of i-D or some other cool avant-garde publication. Marc Jacobs' says, 'I appreciate individuality. Style is much more testing than fashion, really'.
The truth is, we like our clothes to outwardly represent who we are on the inside. So, when someone walks into a bar head to toe in neon yellow or dressed as an extra from a Wes Anderson movie , our immediate reaction isn't to turn on the charm or think 'Phwoar! He looks easy-going!'
The enfant terrible of the fashion world Jean Paul Gaultier, known for pushing boundaries with his menswear thinks that us fellas should be more playful with the way we dress, 'I would like to say to people, open your eyes and find beauty where you normally don't expect it.' This is probably why he's stopped making readily accessible clothing for men and women and now solely focuses on couture where his creativity can run wild.
Judging by social media, London based SIBLING get the balance right as despite their outlandish designs, the Twittersphere goes into overdrive drooling over the smiling models. However, by the time these trends from the catwalk hit the rails of River Island, they've been diluted enough to make them acceptable, dare I even say sexy?
The thing to remember is that when looking at images from a fashion show, you're not witnessing clothes for the season ahead but moving pieces of art. The ensembles presented at the international fashion weeks are simply an extreme, designed to highlight how the designer sees the world and promote the brand's identity. YOU'RE NOT MEANT TO WEAR IT THAT WAY! Whether this remains the same as fashion shows become more 'consumer focused' and follow the 'see now, buy now' model is yet to be seen.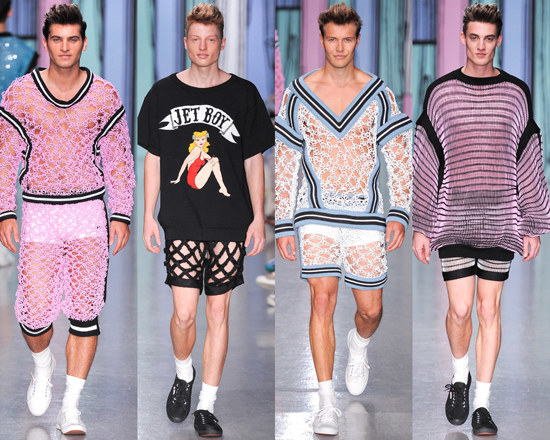 In Paris, after removing my 'fashion look', I opted for the tried and tested measure of a baseball cap, checked red flannel shirt and jeans. A blatant and embarrassingly desperate attempt to appear more masculine than I actually am. After three beers sitting alone I still ended up hitting the sack sans homme though. C'est La Vie!
This post was created by a member of BuzzFeed Community, where anyone can post awesome lists and creations.
Learn more
or
post your buzz!