Recently, several people shared a Quora thread in which user Yogesh Maliwad claimed to have deduced how much singer Dhinchak Pooja might be earning.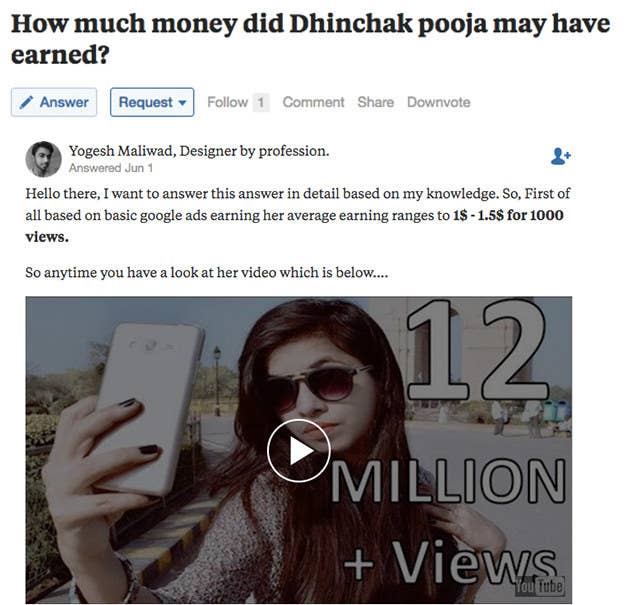 Here's a breakdown of his analysis:
"Lets say, if there are 10M views divide it by 1000. You will get 10,000. So Multiply it by 1 or 1.5. You will get earnings. Which would be approx 10000$ – 15000$

Simple Method: Views / 1000 x 1 or 1.5 = Earnings in dollars

This is simple basic way to get idea.

Why 1 or 1.5 ? 1 or 1.5$ is basically the basic Revenue per Mile.

Moreover, the earning from clicks keeping it completely aside. Thus there's a lot on which earnings depends but 1 or 1.5$ can be used to guess rough estimate.

Lets take a deeper dive. This would be helping you out for many other sites.

Site: YouTube, Twitch, Twitter, & Instagram Statistics

Social Blade tracks user statistics for YouTube, Twitch, Instagram, and Twitter!Get a deeper understanding of user growth and trends by utilising Social Blade.

Based on this data she might have earned minimum 4k-50k+ $, This is just estimated but you can estimate.

Moreover, earnings through adsense depends lot on views from location as well as category of interest of user. So, you can all find is estimate."
Now, if you're like me and don't actually understand all that technical mumbo jumbo, the final assumption is that Dhinchak Pooja earns anywhere between $5,000 to $80,000 per month which converts to about ₹3.2 lakhs to ₹50.48 lakhs per month.
And well, the answer went pretty viral. It was covered by multiple publications, and was shared widely across social media.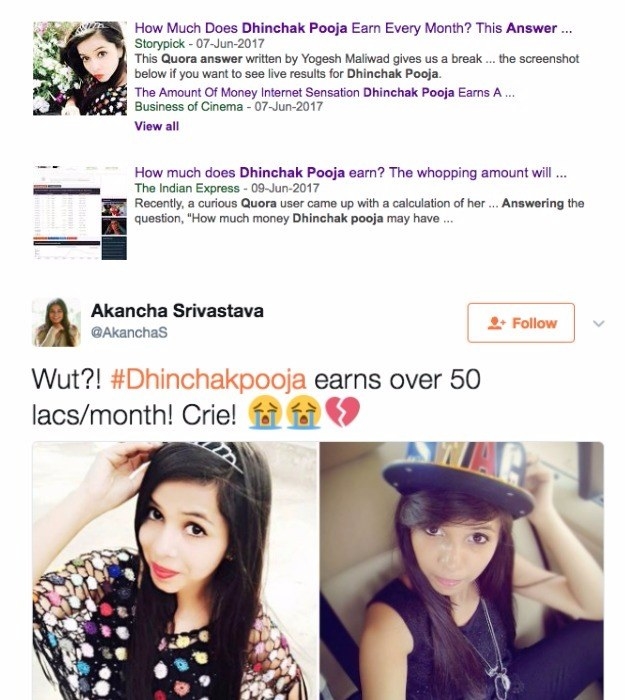 That's a lot of moolah, BUT, I'm here to tell you, this is complete and unequivocal hogwash.
YouTube confirmed to BuzzFeed that that's not the colossal amount of money the singer makes.
All India Bakchod co-founder Tanmay Bhat also shared a post written about this estimation of Pooja's earnings, in the hope that people don't actually believe the stats mentioned there.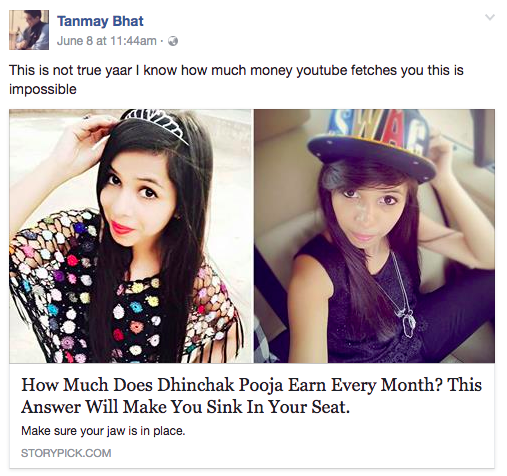 Maliwad's answer also included a screenshot of a website that calculated Pooja's earnings via an algorithm.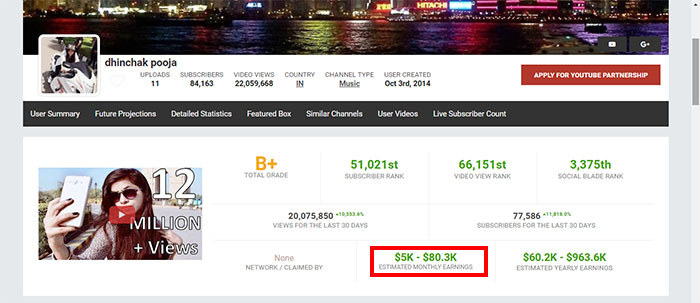 Upon checking the website for AIB's earnings, it states that they make anywhere between $2K-37K a month, which Bhat told BuzzFeed isn't true.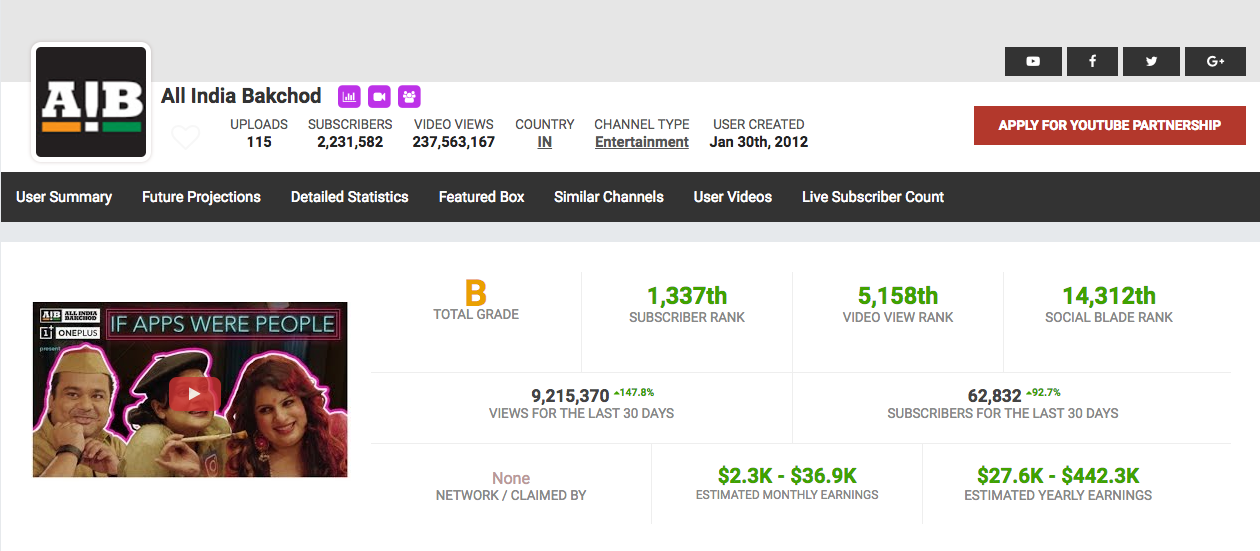 "Realistically you make about a $1000 per million views on YouTube. And that is diminishing. For the 2nd million it goes down because that comes slower. The 3rd million goes even lower because that comes even slower and so on," Bhat added.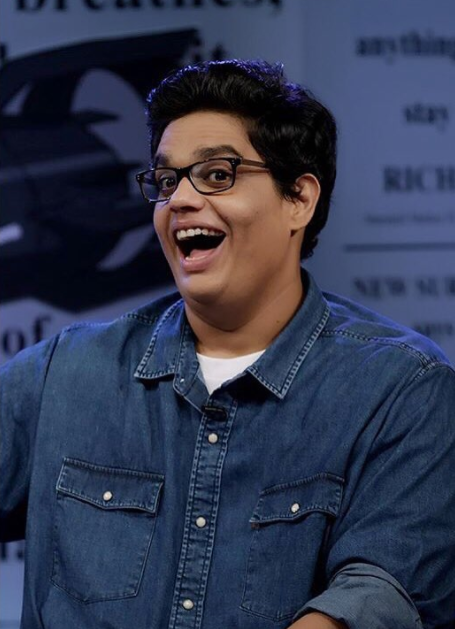 "So maybe $5K-7K tops for her video? This is an overestimation. So saying she makes ₹7 lakhs a month or whatever is ridiculous. And if she does make that much, it's going to make me want to cry because not even we make close to that much off of YouTube," Bhat lamented.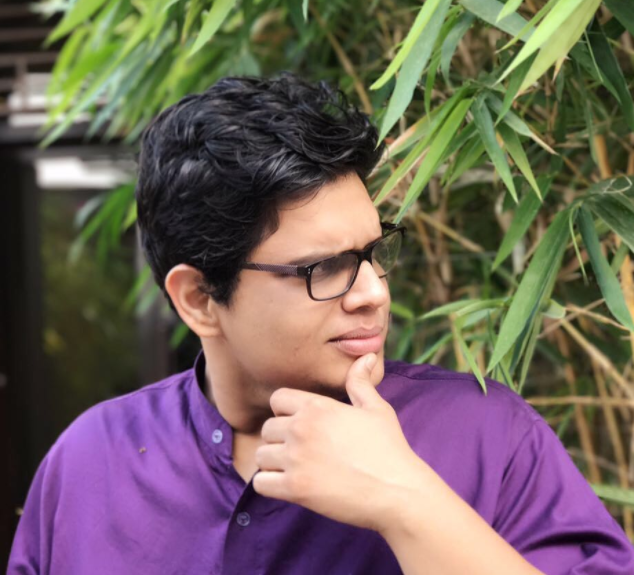 Basically don't believe everything you read.