The documentary Girl Model tells a story that might resonate with a lot of models currently walking the runways at New York Fashion Week. Released last Wednesday in New York, the film follows a 13-year-old aspiring model plucked from her home in Siberia and sent to Tokyo to pursue a career that agents have promised will be lucrative. The girl is hopeful; her family is poor. But she gets stuck without her parents or a chaperone in an unregulated system, doesn't get the work she was promised, and leaves Japan $2,000 in debt.
The film highlights the exploitative side of the modeling industry, populated by very young girls who travel to foreign countries to often work without chaperones or things as basic as work hour limits and monetary compensation. Models' lives of world traveling, free designer clothes, and physical perfection are easy to envy from the outside. But these girls often miss out on a lot, like proper paychecks and health insurance — and sometimes even a say over whether or not they'll be Photoshopped in photographs to appear nude.
Some veteran models are working to change that — but these are longstanding problems, and change can only happen slowly.
The Model Alliance, a New York-based organization founded by former model Sara Ziff, is working to eradicate the kinds of injustices highlighted in the film. On a recent afternoon in the dimly lit lower level of the downtown Manhattan Coffee Shop restaurant, a group of around 100 lanky, six-foot-ish, mostly teenage girls have gathered to hear Ziff and model Coco Rocha speak. This audience of young models represents what beauty will look like on the runways at New York Fashion Week, which runs through Thursday. They have perfect skin, the kind of legs that are actually served well by a pair of underwear-sized cutoffs, and the sort of expensive-looking rumpled clothes and hair that has become fetishized by street style photographers and designers alike. But they're just as easily taken advantage of as they are idolized.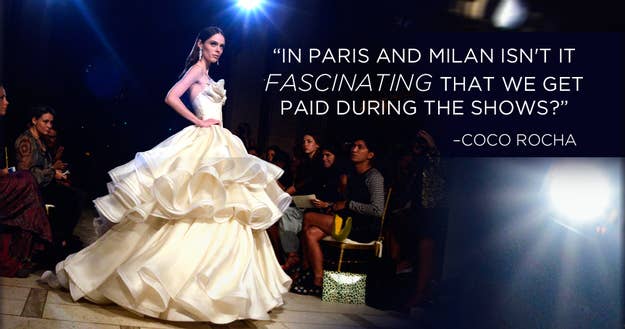 "In Paris and Milan isn't it fascinating that we get paid during the shows?" Rocha asks the audience. At the New York shows, payment for runway modeling often comes in the form of free clothing instead of actual money. "If the girls who start off are like, it's not okay if we get paid in a jacket that's a sample and ripped in the back — think about it and say, if I say yes then the girl after me will say yes," she explained. "I'm in my 16th season here in New York. Shouldn't I get paid? If you say no that means the next girl will probably say no."
It seems clear at this event that a lot of these girls need an advocate. One girl approaches Ziff in tears after the talk because of a problem with her agency. Ziff also tells the crowd about a top model who came to the Model Alliance because her agency was keeping $50,000 from her — which is illegal — and she didn't know how to handle it.
After the event, she says she was approached by several girls currently on the New York Fashion Week casting circuit who are 14 or 15 years old. "There was one girl who was from Lithuania, and she approached me after the talk and said, I'm 15, should I have a chaperone with me? And I said are you here by yourself? And she said yeah, and I said where are your parents? And and she said at home. And I said is your agency providing a chaperone? And she said no, and I don't know if someone like that is the exception," Ziff says. "I don't think anyone would disagree that really young models generally are not willing or able to stand up for themselves or ask to be paid for their work or set limits on the kind of pictures they want to take and whether they want to appear nude or not. I think models who are more established tend to be older, and once they have some show seasons under their belt and they've been the face of some campaigns, they command more money and they are not going to stay at a fitting til 3 o'clock in the morning, and they're going to want to be paid and things like that." But no one can force the industry to take these things a lot more seriously. And many attempts to get them to start lead to only small gains.
Models aren't unionized the way Hollywood actors are, so it's tough for them to work together to affect change in the industry, even if it's for stuff as basic as commanding an actual paycheck for their work. The Model Alliance, by fighting for the things unions regulate, like decent work hours, pay, and working conditions, is helping with that problem. But they're going up against longstanding traditions in an industry that has a culture of tiptoeing around the delicate feelings of powerful people who could be offended by their demands. And this season at New York Fashion Week, while things show signs of improving for models, plenty of young girls will find themselves working long, late hours without proper meal and rest breaks or chaperones, with little or no money to show for it.
At a Model Alliance panel discussion following a screening of Girl Model this past spring, the question was raised of why a top label like Marc Jacobs doesn't pay its runway models for walking in its shows. "The audience was mostly agents and models and everyone clapped," Ziff recalls. "I understand a brand new designer asking favors. [Marc]'s at the helm of a big global brand."
The team at Marc Jacobs may have heard about this discussion. A rumor is now going around that the label will pay its models in real money for the first time ever this season. (The brand did not respond to BuzzFeed Shift's request for comment.) But one model who did not want to be named told me Marc Jacobs "says they're going to pay every season and never do."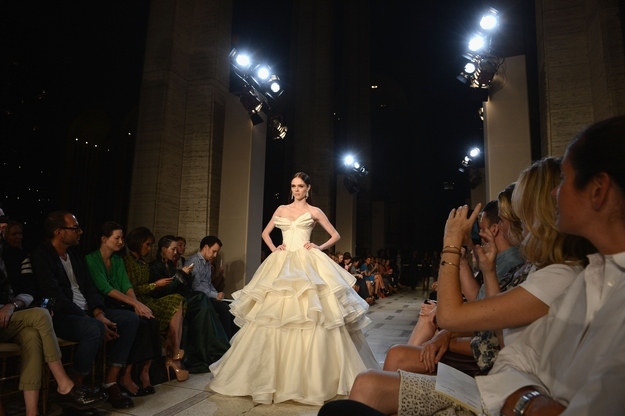 The modeling industry's lax approach to worker protections stands in stark contrast to the regulations governing the entertainment industry. Child actors must have a chaperone and tutor with them on set. They can only work a certain number of hours each day, and must get proper rest and meal breaks (the precise laws vary by state). The lack of similar oversight for child models has long frustrated Ziff. So one day she decided to call the Department of Labor in New York to find out if laws for child models are on the books anywhere. Within a few hours and "after getting passed around to like 50 different people" because "no one knew anything about child models," she found them. Now, the rules are posted in full on the Model Alliance website, but in short, they state that models cannot work more than eight hours a day when school is not in session, and three hours a day when school is in session; male models under the age of 18 may not work past midnight, while female models under 18 may not work past 10 p.m.; minors working as models must obtain a work permit, which is good for a year, and must have each employer (designers showing at Fashion Week, say) sign it.
Yet lots of models doing New York Fashion Week shows don't have work permits and routinely work at fittings into the wee hours of the morning. Ziff says a lot of people don't seem to have sympathy for child models, but, "I think if the same thing were going on in Hollywood, people would be outraged."
Part of the problem is ignorance. A lot of the brands employing models at Fashion Week probably don't know about the State of New York's Department of Labor's laws governing the work of child models. Inspectors certainly don't roam castings and fashion shows to make sure 16- and 17-year-old models are getting their permits signed. That's good for the foreign models who are just here for a couple of weeks to see if they can "make it," aren't legal to work here, and probably wouldn't be able to get permits — but not so great for the industry as a whole.
And that's not to say the Council of Fashion Designers of America — which describes itself as "a not-for-profit trade association whose membership consists of more than 400 of America's foremost womenswear, menswear, jewelry and accessory designers" — doesn't care. Every season since 2007, the CFDA has issued guidelines, called the "Health Initiative," for models doing Fashion Week shows. But its bullet points are about as vague as the term "Health Initiative." They include: "Encourage models who may have an eating disorder to seek professional help in order to continue modeling." And: "Support the well-being of younger individuals by not hiring models under the age of sixteen for runway shows; not allowing models under the age of eighteen to work past midnight at fittings or shoots; checking IDs to ensure that models are the appropriate age; providing regular breaks and rest. Consult the applicable labor laws found at www.labor.state.ny.us when working with models under sixteen."
The guidelines come with a preface that says, "Designers share a responsibility to protect women, and very young girls in particular, within the business, sending the message that beauty is health." Indeed, the focus of the initiative seems to be combatting eating disorders more so than improving models' working conditions overall. What's more, the CFDA's guidelines differ from what's on the Department of Labor's books. Female models under the age of 18 are not supposed to work past 10 p.m., not midnight, as the CFDA's Health Initiative advises.
Vogue has also made a show of concern for the well-being of young models, furthering the CFDA's Health Initiative by launching its own Health Initiative. Earlier this year the world's 19 Vogue editors made a pact to not cast models under the age of 16 or who "appear to have an eating disorder" (whatever that means) in the magazine's fashion spreads.
These initiatives are a start, but as long as eating disorders remain the focus of model industry regulation and oversight, it will be hard to start lasting dialogues about some of the other problems with the job — getting paid, having a say over how photos are retouched and how sexuality is portrayed — that make this line of work so fraught for these young women.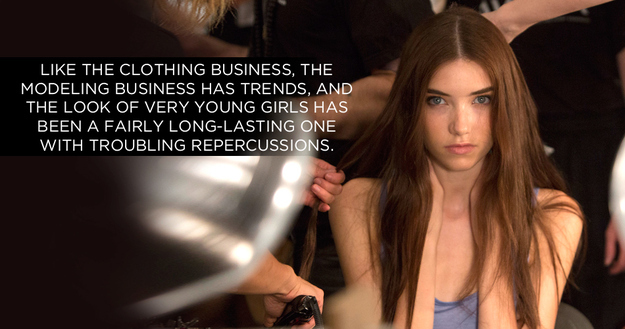 While Vogue and the CFDA's guidelines touch on age, it hasn't been nearly as big of a focal point as eating disorders. Yet over the past decade, models have often started their careers on the runway at 14, 15, or 16 years old. Karlie Kloss was scouted at age 13, Kate Moss was scouted at 14, and Gisele Bundchen was scouted at 13. Like the clothing business, the modeling business has trends, and the look of very young girls has been a fairly long-lasting one with troubling repercussions.
Casting director James Scully, whose clients include some of the top designers showing in New York, like Oscar de la Renta and Derek Lam, traces the fad of the 15-year-old anonymous girl back to Miuccia Prada, whose runway shows are some of the most significant and influential each season. What Prada does, everyone wants to do, too. Over the past couple of years, she's managed to launch Hawaiian shirts and cat prints as trends. She arguably did the same for the very young model, who serves as a hanger for the clothes rather than a personality within them. While supermodels like Moss thrived in the '90s as women a lot of us still know by their first names alone (Cindy, Naomi, Elle, etc.) now it feels like the only people who know who models are, really, work in fashion or follow it closely. While exceptions exist (Crystal Renn, Kloss) models in fashion shows feel like they're meant to disappear and blend together into one anonymous archetype of the woman a certain designer wants to dress. The alleged benefit of this for a designer is that all the focus is on the clothes.
But, says Scully, this might be changing. "I feel like people are finally sick of this teenage girl with a lack of life experience," he says. "The girls were getting too young, and the problem is by the time they reach puberty no one wants to deal with them anymore because they think, these girls are fat." Scully refers to the phenomenon of the two-season girl, who gets plucked from her hometown at the age of around 13, 14, or 15, does shows for a year or two, grows hips and breasts, and disappears from the runways. Ali Michael is one of the better-known example of this: she famously went on the Today show in 2008 to talk about how, after being one of the runways' top models a season back, she barely booked any shows because, she was told, her legs were too fat. Though her runway career never fully rebounded, she continues modeling and recently appeared (topless; link NSFW) on the cover of Purple. And have you ever heard of Bara Holotova? She's a Czech model, whose breakout season came in the fall of 2009, when she walked in the Prada and Miu Miu shows as an exclusive (Miu Miu is another of Miuccia Prada's brands), but she works a lot less now on jobs are not of the same caliber.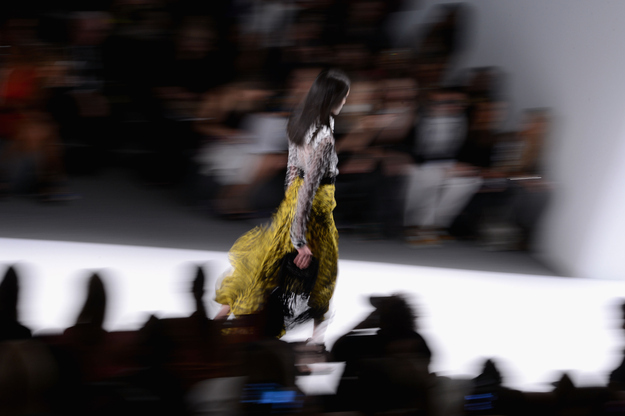 A lack of life experience leads to problems off the runway, too. Many of these young girls haven't had more than a babysitting job, much less the experience to know how to negotiate complicated contractual agreements with their agencies and clients as freelance workers. They might not realize that they have the right to make demands about things like getting paid in a timely fashion or getting money instead of a handbag for appearing in a show.
But some, like Scully, believe this fad is finally on the way out. Prada hired a new casting director, Ashley Brokaw, for the February show, and Scully noticed a shift in the look of the girls on the runway. Instead of the typical stock of anonymous 15-year-olds, the cast included 35-year-old Guinevere Van Seenus, 26-year-old Iselin Steiro, and 26-year-old Anne V (who you might know best as Adam Levine's ex-girlfriend). "People are tired of working with little girls," Scully insists. "Because of Prada we were in this pretty, prebuscent teenage girl thing, and I feel like it's run its course." Designers who are very wise to their customers — who have the disposable income to afford their clothes — being women, not teenagers, like Stella McCartney, Tom Ford, and Givenchy, tend to gravitate toward more mature models that won't look self-conscious in a low-cut dress (and, more importantly, look like they have business wearing a serious gown or work suit).
Ziff is more skeptical than Scully of how much the demand for older runway models is increasing. But she applauds people at Vogue and the CFDA who are trying to do the right thing. Besides, Vogue's initiative was just announced in March and change takes time.
Rocha also thinks models have more longevity than they did a few years ago. "You knew everything about [supermodels] and then you knew nothing about models, and that was the cool thing. And I think people just got bored. Everyone loves their celebrities, they love reality TV stars and why not love your models?" she says, adding that the recession has led to greater longevity for many of her peers. Rather than moving from one girl of the moment to the next every season, clients "think, I need a girl that will sell that product, who will it be? And that's a girl who has followers and has a relationship with her audience," she continues. Rocha boasts an impressive social media platform consisting of 367,000 Twitter followers, 262,000 Facebook fans, and a Tumblr blog with posts that regularly garner hundreds of notes. Channels like this not only help her develop a valuable fan following, but also give her a platform to talk about the problems models like herself have to deal with regularly (like getting paid for doing shows). In April posted on her blog about her disappointment that Brazilian Elle photoshopped her to appear nude, despite her wishes not to. The post currently has more than 900 notes, and was picked up by outlets like Jezebel.
Rocha might be right about supermodels coming back. MTV recently announced that Kloss, 20, and Joan Smalls, 24, would host the resurrected House of Style as Cindy Crawford famously did in the '90s. The more girls like them become what the public demands of fashion, the less likely we may be to see sad stories like the one so heartbreakingly portrayed in Girl Model.
And casting directors like Scully and all his influential clients may help shift the tide. "I pretty much try to stay away from the under 18. There's plenty out there. I work with people who don't want little girls. The people I work with can't relate to no life experience," he says. "It's not enough to just be gorgeous. You have to have the experience to go with it."