How Rachel Comey Turned Two Shirts For David Bowie Into One Of New York's Coolest Brands
"My friend said, 'Charge him a lot of money — it's David Bowie.' I charged him $100."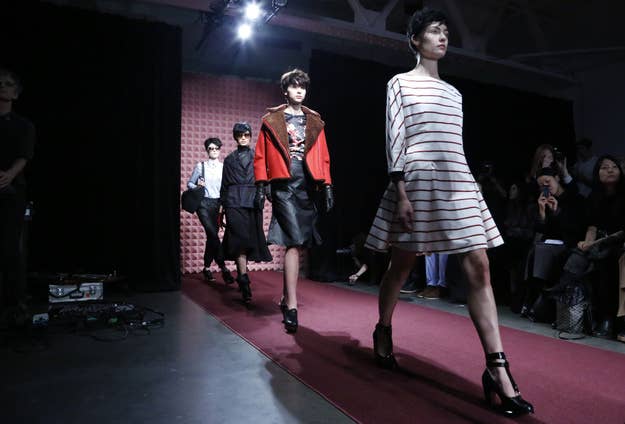 BuzzFeed Fashion's "How I Made It" column takes a look at how the industry's most influential and successful players rose to the top of the business. Ahead, Rachel Comey, one of New York's most effortlessly cool designers, explains how she turned a few men's shirts into a full-fledged label that receives rave reviews from fashion's toughest critics.
I'm from Connecticut outside of Hartford. I went to University of Vermont, where I studied art and became really interested in materials. I was a sculpture major. I started in fashion when I moved to New York, which was four years after college. My first fashion job was through a friend of mine who worked in fashion-shoot production. The first day I arrived in New York, I was hired to be a production assistant on a photo shoot for Ralph Lauren, which was amazing.
My first job was to pick up a sports car, pick up a model, and bring her upstate to a photo shoot. When I first heard about the job, I was like, Oh my god, this is so much money. (I think it was a couple hundred dollars.) And I said, OK, I'll pick up the model. I was thinking we were in this together, and I picked her up and she didn't speak English and she wanted to go to Niketown, so I had to circle the block for an hour until she was done. I think she also met up with her boyfriend. But I got her to the shoot.
Then I started freelancing every which way. I was doing costume design and styling things here and there. I was making stage outfits for downtown musicians, and that is what kind of parlayed me into doing some manufacturing. I made costumes for this band Gogol Bordello. I was mostly customizing things — like, finding things and cutting them up and sewing them back together and taking off sleeves. Like DIY. (Now, actually, I sell some of my patterns to Vogue Patterns, so you can sew one of our dresses at home.)

The biggest musician I worked with was David Bowie. I was making these kind of pinstriped shirts that I had painted on — they were really photogenic for the stage. A girl who I was friends with was working with him and he wanted these shirts. And my friend said, "Charge him a lot of money — it's David Bowie." I charged him $100 for each of two shirts.
After Bowie, I found a custom shirt factory in New Jersey and I just started a small label. I was very naive — this was 2001 — and I put a runway show together and I had friends model and we just went for it. And a showroom picked me up and we went from there. I showed the two days before fashion week. It was a bummer because it was Sept. 11, and fashion week was canceled, obviously, but I showed before 9/11. That was a really weird time to start a business.

I feel like the first order was a Japanese store — United Arrows. And it kind of grew from there. The early days — I'd say for the first four years — I did a lot of freelance work. I was freelance for a designer at the Gap and I'd get some job to make a mood boards or something for them, and I'd have interns running around to my factories. I'd be at the Gap making photocopies, and I'd be on the phone with my interns, saying, "Go pick up these buttons and take them to these factories."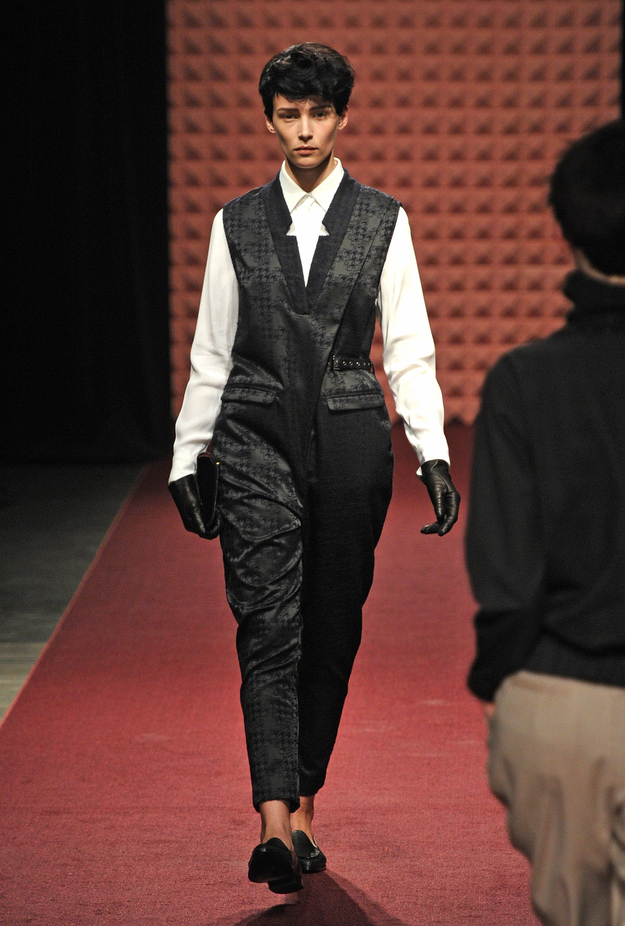 My staff was just interns for five years. We started the business on credit cards — we didn't have any investors or anything like that. I guess I felt like I made it when I got out of debt after six years. That felt awesome. It was amazing because I didn't have any funding from anybody. I started introducing other categories and I introduced women's wear just by hustling. Thank god I was really naive. I think if I knew more, I don't know if I would have been able to be so focused. It was like blind ambition.
I don't think I hired an employee until I was out of debt. It was only me, and I had nothing to lose, and at that point my business had become my lifestyle. I think I hired the first person probably six years in, and she's still with me to this day. Now I have 10 employees. At least three of the people have all been here since those days. I've only been in business for about 11 years.
I just tried to stay focused on the things that I found interesting and not be persuaded by the fashion industry — whatever it is that makes up the trends. I like trends too: I respond to them as a person. But I wanted to try to make things for myself or the women that I admire — my girlfriends and the person I want to be. I try to focus on that and the things that I love, like textiles and materials — let those kind of have their glory a little bit. I like things that have a sense of humor, a lightness to them, but I like things that are chic and wearable too. The shoes are, in a way, really dictated by function, being a New York woman who runs all over town up and down the subway — you really have to move in your shoes, so that was the early aesthetic direction.
Every day I feel like I have a moment where I'm like, I can't do this. But I think that moment when you get a little scared is also the moment where you tried something different — the sign of a good place to be. And sometimes I almost try to get a little nervous about something because maybe you're going to cross the line and make something really great.
I have plenty of kookball items in my collections, like a leather bikini top or something. In the beginning, the first five years of doing women's, there was a cape and a jumpsuit in every collection. I made cape dresses and jumpsuits of every possible kind and material. Those have always been popular, even though they're more of a novelty item.
I wish I had a mentor, to be honest, I really do. I'd love to be somebody's apprentice, but I haven't really. I would have liked that, though. I'm ready — I feel like it's not too late. I'm in the CFDA, and I haven't really found anybody in that network yet. It's only me running the business — I don't have a partner or anything. I handle all the different aspects, financial or anything else. But I feel like I learn well on the job. Experience is the best way to learn for me.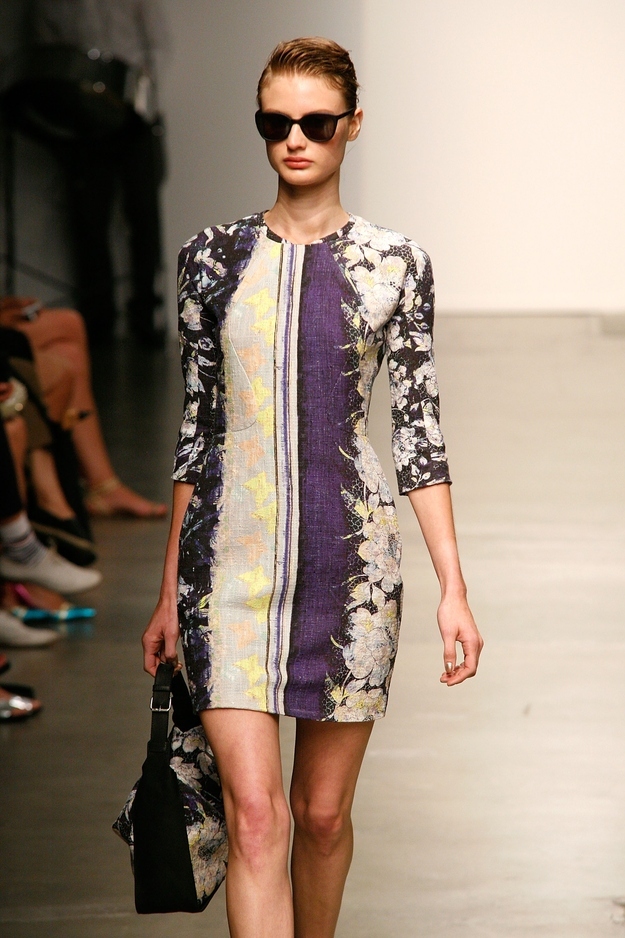 Knowing how to grow has been a challenge. We just moved into a bigger space — that was a big jump for us. It took a long time. I guess it's hard sometimes, making the financial investments. Manufacturing at the early stages was hard too — just learning about that process and finding the right people to work with. Luckily I manufacture everything except shoes and knitwear in New York, which we're super proud of. We're not the highest price point either.
We make our shoes and our knitwear in South America, and I have an office down there, where I have one person who lives and works, so we're able to work closely with the factory there. I wouldn't know how to make shoes or knitwear here — maybe some moccasins in Maine, which I'd be open to doing. But it's super valuable to be able to be hands-on and have a relationship with the cutters and the sewers.
I don't have any concerns about their well-being at all, but we also have a personal relationship — we know each other's families. I bring my children up to the factory to meet my head sewer, and we've got each other's backs. I really value that as a small company. You need to have these relationships, and I would say, as advice for a young designer, that would kind of be it: Find people that you can work with and have personal relationships with, definitely for manufacturing. Then you can trust each other and you can trust that the quality of your garment is going to come out well. That's super important. Also with making everything in New York, we can get a dress off the sewing line and have it in the store the next day, which is great.
I imagine becoming a designer now would be very different. Was there an internet back then? I remember emailing, but it was just something you did at your office job. The whole social media element is crazy now — I don't even think I've caught up to that. The process of making clothing and shoes, that hasn't changed in a zillion years, but I feel like the whole social media internet branding thing is a different story. It's not my favorite. I think I chose this job, in a way, to be behind the scenes. I like that aspect — I like working on my stuff and putting the product out there and letting it speak for itself. The business has grown by word of mouth — it hasn't ever come from this media overload, "You must buy this thing, a celebrity was wearing it, it's all over the internet." It's kind of been organic.
We do sometimes send things to celebs — sometimes their stylist, the PR company, or celeb will request it themselves, but we don't just randomly send out things or gift people or set up gift booths, whatever people do. I have a press office and they take requests, and we try to accommodate them when we can. It's fun — everyone always enjoys seeing the items on some cute celeb.
Other advice I have for designers, I guess, is not to take things too personally. I think that was scary from the early days when I was trying to figure out all the finances. When I was in debt I kept taking it really personally, like somehow the collection wasn't good enough yet. And then I realized, Oh, it's just cash flow. It just hasn't caught up to itself yet, but it is growing.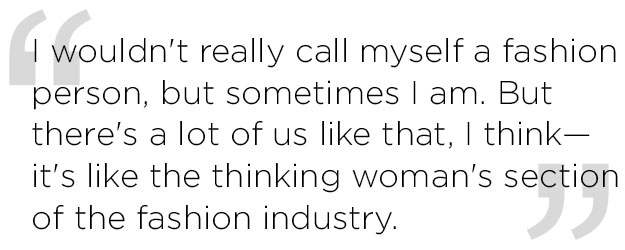 I hope to open my own store. I think it's time. I'm getting ready. I guess the first one will be in Manhattan. I have to find the right place — we've started a tiny bit of looking, so that would be great for us. And I'm always introducing new categories because I'm so curious all the time. We're doing a big swimwear launch this season — we did swim the last couple years, but we're doing a little pop-up shop for the first time in Montauk. It's always fun to do these special projects, so I anticipate we'll continue to do those.
We've been doing fashion shows every year for 11 years. It's really fun for everyone on my team, and it's really fun to see the collection come together in that way with the stylists, casting directors, hair and makeup. I don't really care if I get that much attention at fashion week. It is hard, but I feel like my team and our extended team all kind of get something out of it. I'm not overly concerned with critics, but there are certain people that I really, really respect, and I'm anxious to see what they say. Like [New York Times fashion critic] Cathy Horyn. I'm always wondering, Is she going to come? And the PR people are like, "Be careful," and I'm like, "I really respect her." Some people only give good reviews, and I think that she's kind of honest.
I don't really miss sculpture. I feel like I get enough of it with the clothes and shoes and everything. I wouldn't really call myself a fashion person, though sometimes I am. But there are a lot of us like that, I think — it's like the thinking-woman's section of the fashion industry.
— As told to Amy Odell