An Aboriginal lawyer has slammed prime minister Malcolm Turnbull's rejection of a First Nations Voice to parliament, after Turnbull again rejected the hundreds of Aboriginal and Torres Strait people who called for a say in their lives and futures.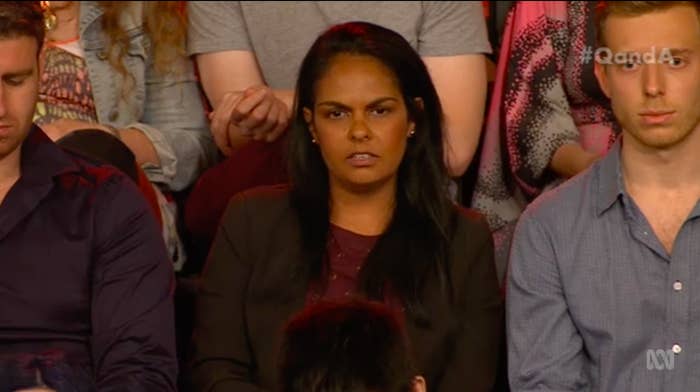 Turnbull appeared on ABC's Q&A program last night to answer questions on dual citizenship, refugee rights and the NBN.

But it was a heated debate with Wiradjuri lawyer Teela Reid on Turnbull's refusal to back the Uluru Statement From The Heart, which set the tone for the night.
Turnbull's response to Reid has been slammed as "mansplaining", "condescending", "disgusting" and "disgraceful" on social media.
In her question to Turnbull, Reid asked why the Prime Minister "won't respect our proposal and take it to referendum to let the Australian people decide?"

Turnbull again claimed the Voice would "effectively be a third chamber".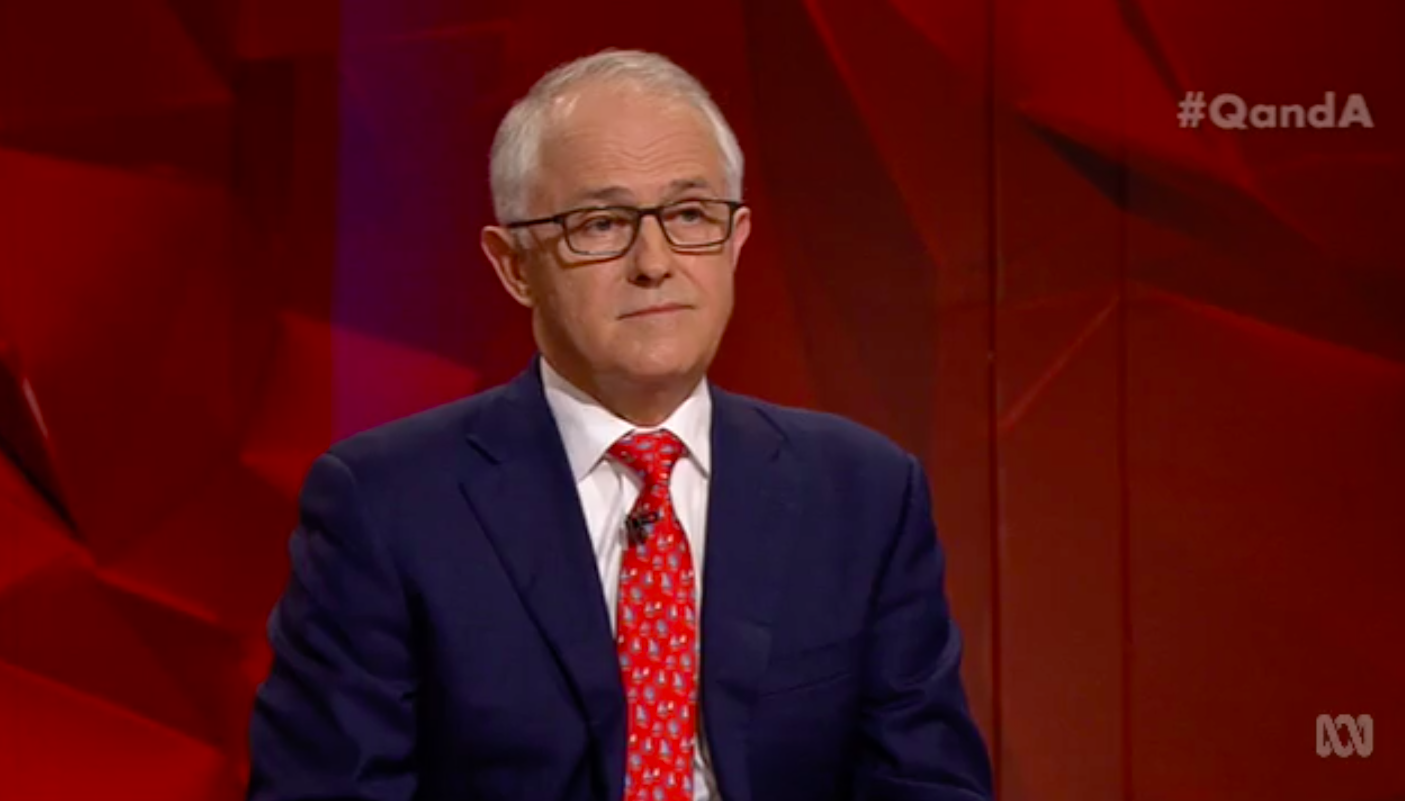 Turnbull announced his cabinet had rejected the proposals outlined in the statement in October, claiming that the plans for a constitutionally-entrenched Voice to parliament for First Nations people would "inevitably become seen as a third chamber".

He reiterated that rejection on Monday.
"That means every law that affects Aboriginal and Torres Strait Islander people ... that would mean that that assembly would have the right to examine every piece of legislation, it would in effect be a third chamber," Turnbull said on Monday.
He also said "it would have no prospect of success whatsoever, and I can tell you that is the view of every member of parliament that I've discussed this with."
The move to reject the Uluru declaration angered many First Nations people, particularly those involved in the dialogues on constitutional reform which lead to the historic statement in May. The statement not only calls for a Voice, but also a treaty process and a truth and justice commission.
The road to recognition of Aboriginal and Torres Strait Islander peoples in the nation's founding document has been ongoing for 10 years.
The Uluru Statement was the first to harness the viewpoints of Aboriginal and Torres Strait Islander through a consultation process, and it rejected past proposals for minimalist reform of the constitution — whether it was recognition in the preamble, or the removal of the constitution's "race power", which allows for parliament to make laws both for the benefit, and to the detriment, of First Nations people.
Reid responded by stating Turnbull was "undermining our democracy", and that the members of the Voice would be determined by parliament. She said it was "disheartening to see his dismissal".
"He's continuously said tonight that this is about mutual respect. His dismissal of the Uluru Statement clearly showed no respect to the Aboriginal and Torres Strait Islander people who participated in those significant dialogues."
Instead, Turnbull claimed that the parliament already had Indigenous MPs, mentioning Liberal MP Ken Wyatt and Labor MP Linda Burney, and said he was "disappointed" Reid placed "so little store" in them.
"They represent their political interests," Reid responded. "I totally respect their role in parliament, but they've both got political positions to make in parliament, they don't represent the interests of Aboriginal and Torres Strait Islander people, and who here could honestly sit and say we have a fair go in the political life of our people?"
Turnbull's claim that this was a "third chamber of parliament" was also knocked down by Referendum Council co-chair Megan Davis as an "outright lie" on social media. She said that the details pertaining to the role of the Voice would have been determined by the parliament.

In response to Aboriginal researcher Michael Doyle on the next steps in the process, Turnbull said there were other proposals for recognition, of which the Uluru declaration was only one.

"In terms of process, what we are doing — and we are discussing the terms of reference with the opposition at the moment, because I want it to be bipartisan — is a joint committee of the parliament to consider all the recommendations that have been made ... and there are many ... and to consider them all and present as the work of the parliament the options we can pursue to go forward."
Opposition leader Bill Shorten said in response that Turnbull's comments showed "total disrespect" to the aspirations of Aboriginal and Torres Strait Islander people.