Leon Davis Says Heritier Lumumba's Experiences Of Racism At Collingwood Is A Continuation Of His Own Experiences
"Why it touches a nerve, why it hurts us so much, is because we've had generation upon generation of genocide and murder and all that from the very beginning."
One of the Collingwood Football Club's most decorated players, First Nations man Leon Davis, has backed his former teammate Heritier Lumumba's claims of racism at the club.


Davis says he experienced racism when playing for Collingwood, and that "he shared his [Lumumba's] pain" as a black man.

Heritier Lumumba, who is of Congolese and Brazilian heritage, says he was called "chimp" by some team mates at Collingwood over the first nine of his 10 years at one of the most iconic clubs in the AFL.
Lumumba says he reclaimed his birth name as an act of empowerment and decolonization. He previously played under the name Harry O'Brien.
His story is shown in Fair Game, a documentary that aired on SBS on Sunday night.
Lumumba's teammate and First Nations player Andrew Krakouer also backed Lumumba's claims over the weekend, telling The Herald Sun he had heard Lumumba being referred to as a "chimp" on "multiple occasions".

"My understanding of it, being a dark-skinned man, was that being called a chimp was a derogatory term," Krakouer told the paper.

Davis is considered one of Collingwood's finest players, and wore the black and white for over 10 years before leaving the club in 2011. Davis continued to support Lumumba, giving him advice about how to deal with the racism he encountered.
He says that it was a continuation of his own experiences.
"I went through all that as well, and it's disappointing because what happened to (Lumumba) happened to me early in my career," Davis told BuzzFeed News.
"And moving down 10 years after, we have more First Nations men and women playing. If it's still happening, and it happened to Nicky Winmar at Collingwood, and it happened to me at Collingwood, then it is obviously still an issue and it's a continuation."

First Nations player Nicky Winmar had famously lifted his St Kilda jersey to point to his black skin during a 1993 match against Collingwood, when fans were shouting out racist abuse from the stands.
Davis still doesn't feel comfortable going public with the details of what he experienced, but says it was dealt with strongly at the time by the club. He says he still has a good relationship with Collingwood, and its management.
But it was a source of pain for him to hear how his friend and former teammate had been treated.
"I share his pain, I share his grief," Davis said. "Anything that offends him, offends me.
"We're both black and it's something we've known too well our whole life. It's not like we wake up white and fit in. But we should fit in. There's nothing wrong with us at all."
He said Lumumba's experiences showed people within the club "had to be willing to learn and not be in denial".
Davis says he dealt with racism by trying to educate people. At one point he joined other Aboriginal players in organising a cultural awareness meeting. Only a few people turned up, he says. He says Lumumba's claims need to be taken seriously by the club and the wider AFL.
"If H has got a problem, if he has been offended or belittled, then it's still an issue," he said. "If the people involved in that are sort of laughing it off or not willing to deal with it, then obviously there is a problem. I support H going forward in anything he wants to do."

In the documentary Lumumba speaks eloquently about how he felt belittled at the club as a black man, and how it forced him to confront how he had been impacted by racism throughout his life.

Lumumba has grappled with being black in a predominately white community since he was a child. In the documentary, he describes the lengths he would go to in order to fit in, such as letting his white friends call him by racist names.
At Collingwood, he was confronted by the reality of what it means to be black in a country like Australia.
"You want to feel that sense of inclusion, so you'll do anything to show that you're not an alien, that you are normal, that you are a human being," he said in the documentary.

"It's very easy to be labelled an angry black man, it's very easy to be labelled crazy. You do reach a point where you've had enough, and you either want to give up or do something about it."

Lumumba reached that point in 2014, when in a game for the AFL's annual Indigenous Round, he saw First Nations Sydney Swans player Adam Goodes call out a teenage Collingwood supporter for racially taunting him from the stands.

The ensuing controversy, which saw Collingwood president Eddie Maguire refer to Goodes as "King Kong" in a radio interview, led to Lumumba confronting players and staff about racism in a meeting. Lumumba had publicly condemned Maguire's comments on Twitter.

It was this incident that was the "beginning of the fracturing" of his relationship with Collingwood, and the abuse hurled at Goodes led him to becoming "unapologetic in his blackness".

In the documentary, Lumumba describes calling a meeting with teammates and staff, where he poured out his feelings and insecurity about his identity, and made a stand against racism, and homophobia in the club.

But a couple of days after the meeting, Lumumba said he was ridiculed by his coach Nathan Buckley, after a couple of homophobic jokes were directed towards players, including Lumumba.

"My fucking coach," he says in the documentary, "... he (was) looking at me and said 'Harry is that OK for him to say that?', like mocking me, and I just looked at him and I felt so fucking embarrassed.

"I opened up my heart about how insecure I am about being different, about having different opinions."
Lumumba confronted Buckley in a highly-publicised encounter that sparked intense media coverage and ultimately led to Lumumba leaving the club. He says he felt the only way for him to come back would be if Collingwood offered an apology.
"There are challenges, there's plenty of dark days," Buckley said at a press conference shown in the documentary. "And I suppose you speak to a person like Harry, and any one else in that regard, and there's going to be dark days. And you need a lot of resilience and strength of character."
In a press conference last month Buckley was asked about Lumumba's claims in the documentary.
"I read [Lumumba's comments] this morning and it's a bit sad, in many ways, that 'H' feels that way about his experiences in the game," Buckley said. "He's been a great contributor to our footy club for a decade, for his 199 games, and I shared those times with him as a player and then as a coach.
"I suppose I'd echo the sentiments of the club, just hoping that he's doing well and that he can still see the positives of his experience as an AFL footballer as well."
Collingwood has not commented publicly on Lumumba's claims.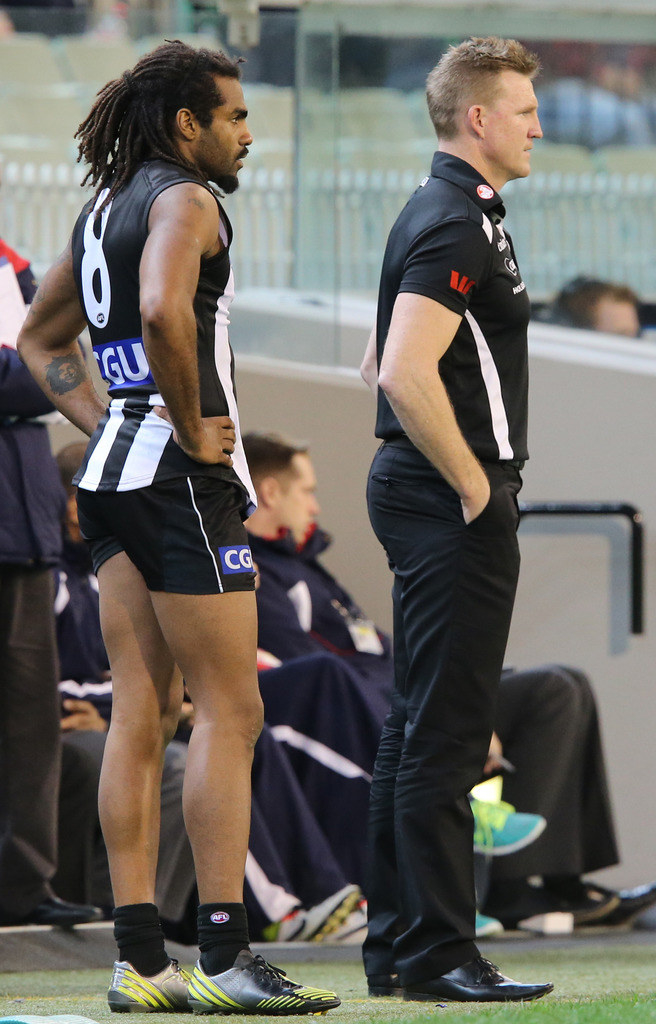 Lumumba responded on his Facebook page stating "it is disappointing" that Collingwood "had chosen to minimise and dismiss my experiences".

He says that the "systematic nature of racism in the AFL" is shown in "the AFL's failure to protect its highest profile Aboriginal player, Adam Goodes, from ongoing racism that effectively ended his career".

It was also shown in "the AFL and Collingwood Football Club's failure to sanction or penalise Eddie Maguire following his comments comparing Adam Goodes to an ape", he wrote.

Davis says one of the most hurtful aspects of Lumumba's experience was the belittling of Lumumba's testimony and the lack of support from the AFL community, as well as Collingwood.

"People are saying they hope he looks after his health or something, like there's something wrong with him," Davis says.

"He's been offended against and the way people have dealt with it, making out there is something wrong with him, as if he's sick or delusional, and the rest of society runs with that.

"You are made to feel like the bad person, as if you've got the problem when it's a problem in itself."
Davis says that people shouldn't be surprised when this happens. He says the AFL is a product of society.
"I always get the question asked of me by reporters — are you surprised?" he said, citing questions that were asked after First Nations players Paddy Ryder and Eddie Betts were targets of racism earlier this year.
"But I say no — the football you see on TV is only a miniscule glimpse of our every day reality. So no it's not a surprise for someone like myself or H, or any of the brother boys. It's an every day thing, not only at the football club but in society.
"Why it touches a nerve, why it hurts us so much, is because we've had generation upon generation of genocide and murder and all that from the very beginning.
"As a society we haven't dealt with that and it's been passed down from our ancestors, and our generations before us. It has all been swept under the carpet."
Davis says Collingwood needs to take the claims seriously and sit down to resolve it.
"It did happen to me, a number of times. It comes back to people wanting to be passionate about stamping this out once for all. But if it keeps happening...then that's disappointing."
BuzzFeed News has sought comment from the Collingwood Football Club.