An Aboriginal community organisation says the situation in the remote NT community of Minyerri, where residents are forced to sleep in tents and on mattresses beside a billabong while waiting for housing renovations, has been a common crisis in communities across the Territory.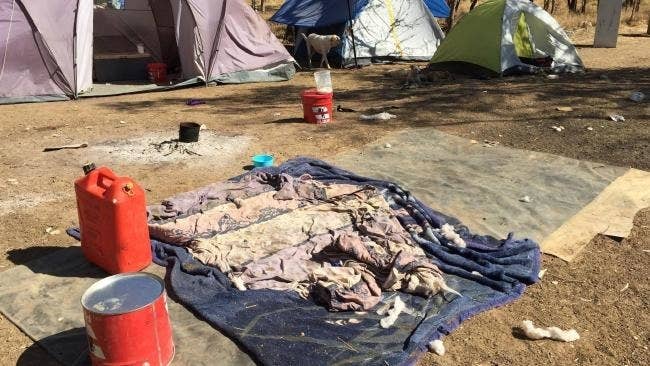 Kalano Community Association CEO Graham Castine told BuzzFeed News there has been a history in the Territory of governments failing to provide transitional housing.

And when it was offered, it did not "come without argument".

"There isn't a good record on this, and people are certainly disadvantaged by it," Castine said.

"It means individuals and their families have to vacate the premises while the work is being done, and it's usually not just one house, it can be a dozen or 20 houses being worked on, and it exacerbates the problems for communities that do not have a lot of housing available.

"So when a house is being fixed up they are basically forced out to the street or told to move in with relatives, which causes even more overcrowding."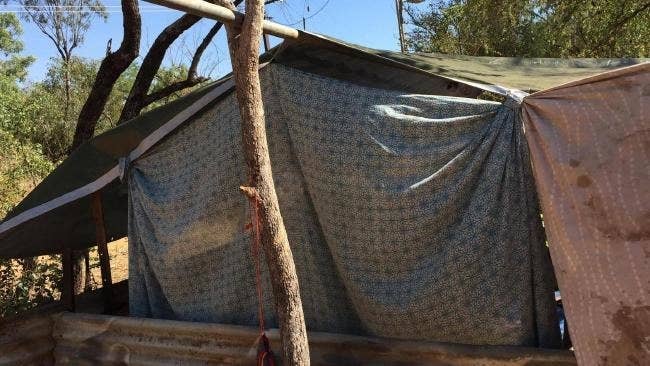 The NT News revealed on Monday that residents of Minyerri, 270km southeast of Katherine in the NT, had been living in "third world conditions" since April after a government program to renovate their houses left them without emergency accommodation.

The living conditions meant residents with sickness and chronic illness were even more vulnerable. A whistleblower raised concerns about the health of babies and children in the billabong camps, saying all the children had been sick.

The whistleblower said it was a "scene of despair and hopelessness".

"No-one in government cared enough to think about the need for emergency accommodation when the people were forced from their homes," the whistleblower said.

The renovations are being made as part of the NT government's $1.1 billion remote housing program, which is under the National Partnership on Remote Housing (NPRH).
Minyerri was to receive renovations to 22 houses under the program.
Housing minister Gerry McCarthy said on Monday he had introduced a policy to "provide transitional housing" under the program.

"Unfortunately in Minyerri, the NPRH upgrade work started before the transitional housing arrived in the community," he said in a statement.

But Castine told BuzzFeed News that over the years there had been several cases where residents were forced to sleep in tents. He gave the example of Ngukurr in northeast Arnhem Land, where residents were given tents in 2010 while they waited for their houses to be fixed.

"In the end the government provided tents, but it wasn't those little holiday tents, they were these big army tents that people had to adjust to. So it wasn't without some argument [that they provided transitional housing]."
Castine says there is a backlog in housing in remote communities and he doesn't expect the funding under the $1.1 billion program to be enough.

"Some houses are good, and some are bad. Some houses are worn out by overuse, or overcrowding, and that affects the house and people that occupy those houses.

"They must be pulling their hair out in respect to the numbers. You hear of places where there are 15-to-20 people to a house."
Castine says there needs to be more community control over the process.

The Kalano Community Association runs a housing program, and although it is under-resourced and in need of new houses to fill a shortage, Castine says it always ensures there is one vacant house available for emergency accommodation.
He says it is a problem that should have been dealt with by governments.

"It just seems logical to me that this should have never happened, and it should have been foreseen, regardless of what government it is, past or present."