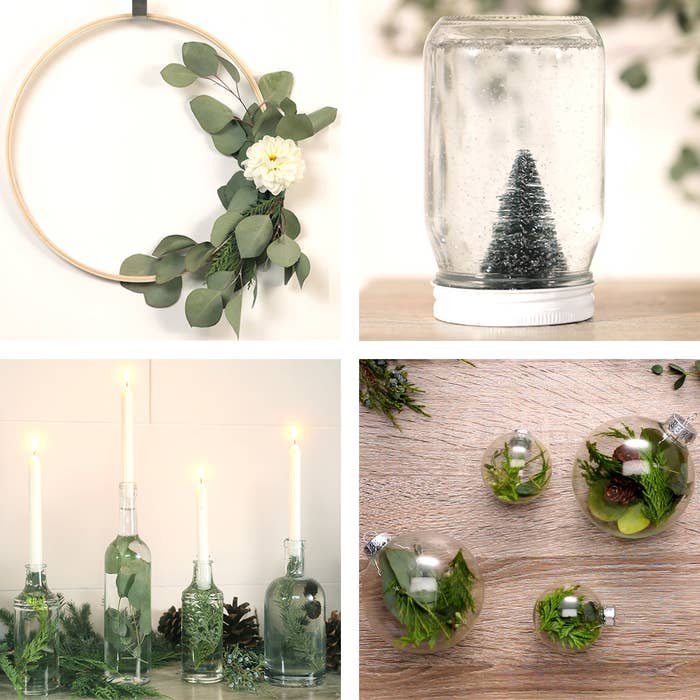 Simple Holiday Wreath
Materials:
Large embroidery hoop
Variety of greenery and flowers
Floral wire
Wire cutters
Corsage stems
Hook (for hanging)
Instructions:
1. Start with a larger piece of greenery where you want the main focal point of your wreath to be. We kept ours asymmetrical for a more modern feel.
2. Using the floral wire, wrap it around the hoop and greenery to secure it.
3. Working in the same direction, continue adding in greenery until it looks as full as you'd like.
4. After you are satisfied with your base of greenery, you can start adding flowers. Clip your flower stems down to the bottom of the flower.
5. Dip the tip of the corsage stem in water for about 10 seconds, then secure to the cut stem of the flower. This will help keep the flower fresh.
6. Wrap the wire of the corsage stem around the embroidery hoop, nestling it into the greenery.
7. Once you're pleased with how it looks, hang your creation.
8. As the flowers wilt, you can replace them — or keep your wreath simple with just greenery.
Evergreen Ornaments
Materials:
Clear ornaments
Garden shears
Variety of fresh greenery Ornament hooks (for hanging)
Instructions:
1. Start by trimming off small pieces of greenery to the size that would fit in the ornaments.
2. Remove the caps of the ornaments and insert the greenery into it.
3. Replace the cap and then add a hook to the ornament.
4. Hang it on your tree or elsewhere in your house for simple holiday decor.
Evergreen Candleholders
Materials:
Glass bottles
White tapered candles Fresh greenery Garden shears
Water
Lighter
Instructions:
1. Clip pieces of fresh greenery to fit in bottle.
2. Place greenery in bottle and fill with water.
3. Using a lighter, slightly melt the bottom of a candle and stick it to the top of the bottle.
4. Light your candle and enjoy!
Mason Jar Snowglobes
Materials:
Mason jar
Small bottle brush trees
Glitter
Strong waterproof glue
Water
Small block of wood (if desired)
Instructions:
1. Glue the small tree to the lid of the mason jar. Let dry completely.
2. Fill jar with water (leaving some space for when tree is inserted) and glitter.
3. Tightly close the lid with the tree attached.
4. Turn jar upside down and then glue lid to the block of wood, if desired.
5. Shake your globe and enjoy!