1.
A pair of retro cat-eye sunglasses you'll want to eat, sleep, and breathe in because of how good they look on you. These babies will elevate your outfit instantly and make you feel like Gigi catwalking down the runway. 

Promising review: "I am obsessed with these sunglasses! I was initially skeptical about [them at first] (I have a large head/face, and sunglasses almost never seem to fit me right), but this pair is both on trend and vintage-inspired, so I decided to try them out. I have fallen in love with them! They are the perfect pair of sunglasses, and I wear them with almost everything. They aren't too small at all, and I actually find them [well fitting] for my face shape. They are also very sturdy, and I plan to have them for a long time!" —Kade W.

Get them from Amazon for $12.99 (available in nine colors).
2.
Stylish hexagon frames that'll easily become your everyday go-tos because of their versatile style and classic look.

P.S. they're polarized! Polarized lenses help to eliminate glare that is reflected from surfaces. Less glare means better clarity and visibility.
Promising review: "I have a small face, and sunglasses are usually HUGE, heavy, and loose on me. These sunglasses are absolutely fantastic! NEVER have I been SO impressed as I am with these! Super lightweight, comfortable, and they STAY put. They feel as though they were custom designed just to fit me! I literally wanted to cry; I'm so happy! The packaging was impeccable. Very impressive! I feel like the design and shape of these would compliment ANY face shape. When I ordered these, I figured they would be just an ok product that was flimsy, gaudy, and you wouldn't be able to look down because they might slide right off. Not the case! They are super comfortable and secure. I'm getting more! If you are searching for excellent fit, style, quality, and affordability, these are your answer❤️💕." —lonell
Get them from Amazon for $15.99 (available in nine colors).
3.
A pair of flexible Warby Parker prescription sunnies with a soft rubber nose bridge for security and comfort. They include scratch-resistant lenses that block 100% of UV rays, too!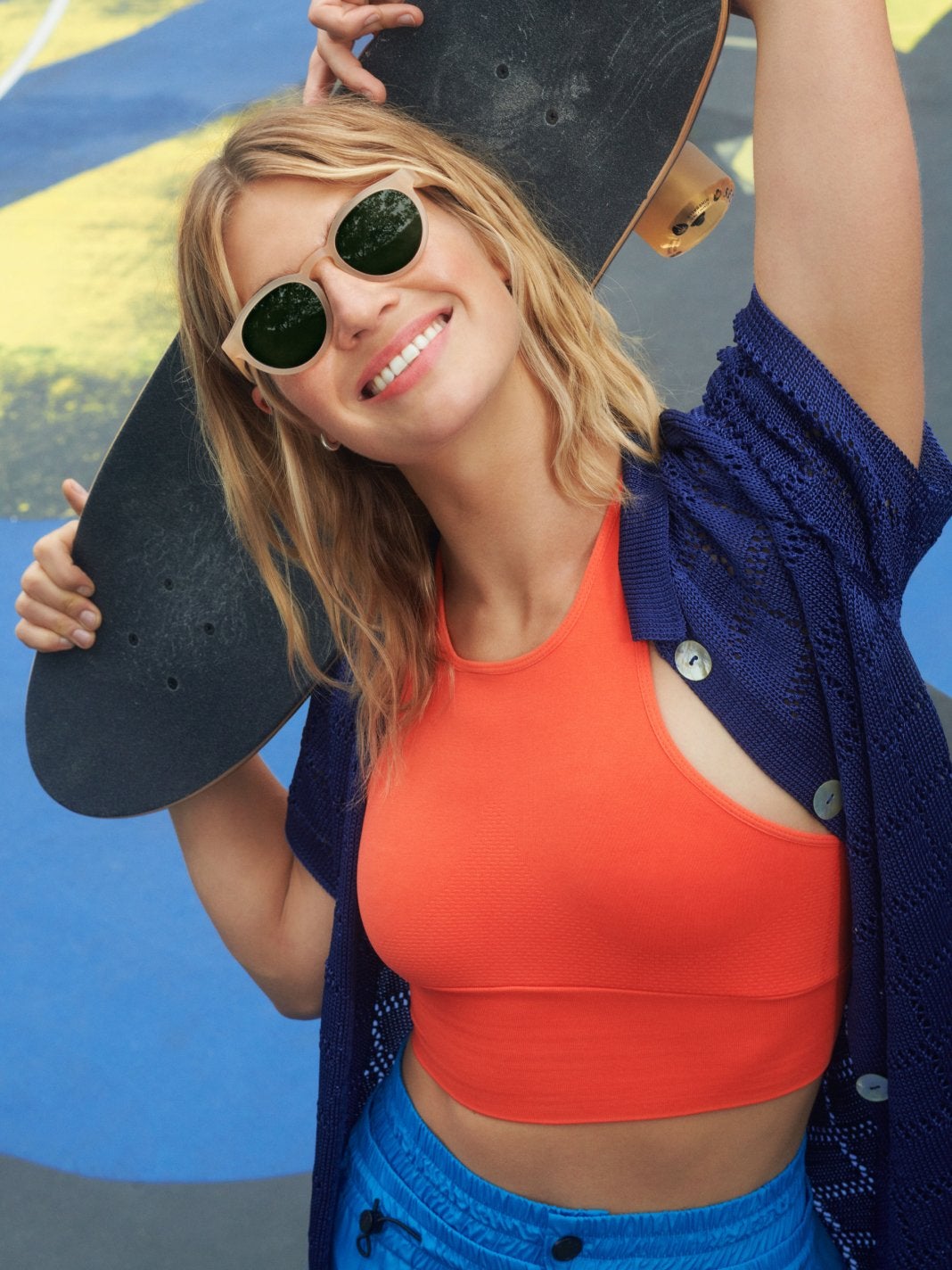 These sunnies are available in four prescription types: non-prescription, single-vision, progressives, or readers. Each prescription comes with polarized, scratch-resistant lenses.
Get them from Warby Parker for $175+ (available in three colors and four prescription types).
4.
'90s-inspired rectangle frame sunglasses that'll block the sun and the haters. This affordable (and durable!) pair are great for those warm and sunny summer days as they have 100% UV400 eye protection that brilliantly filters and blocks glares. Just ask the 13,000+ people who gave them 5 stars!
Promising reviews: "Very chic. Comes with microfiber glasses pouch. Feel durable, not flimsy like most cheap sunglasses. The black ones are my favorite. Gave the other pair to my mom. She loves them." —Love_Jailene

"Wow these are great especially for the price. Can't beat it. Got pricier ones that I didn't want to wear for a trip, so I purchased these, similar style. ... They are not flimsy at all, great sun protection, and stylish (in my opinion). Def wearing them again." —NickLex
Get them from Amazon for $11+ (available in 32 styles).
5.
A pair of '70s-style yellow tinted aviators to add a groovy touch to your collection. These sunnies are ~very~ on trend, but I have a feeling you'll be wearing these for years to come.

Promising review: "Obsessed with these; they're exactly what I was looking for and so perfect. I have a wider face and have had trouble in the past finding sunglasses that fit comfortably, and I have no issues with these. They fit perfectly and actually suit my face shape really well. I've been wearing them every day since I got them, and I don't usually wear sunglasses because sometimes they distract me, lol, but these don't. The lenses are a beautiful yellow color, they're clear and wide, and like I said, they're very comfortable including the nose area (I know that can be a problem with glasses for many), and I hardly notice I have them on most of the time. I have received many compliments, too, which is nice to hear! If you're considering getting these, GET THEM. YOU WONT REGRET THEM!!!" —Gabby

Get them from Amazon for $12.98 (available in 27 colors, styles, and packs).
6.
Chic wide frame cat eye sunnies that are so stylish, it kind of doesn't matter what you're wearing below because you'll automatically look you're heading to a meeting with Anna Wintour with these on. And BTW, these are the *perfect* dupes for a designer pair that's $300+. Major win!

7.
Super cute round-frame shades with a brow bar you can wear for pretty much any occasion — from running errands to attending weddings. This durable pair of sunglasses come with the option of mirror lenses, too (a fan-favorite among reviewers).
Promising review: "Stop what you're doing right now, and BUY THESE BABIES!!! These have quickly become my favorite, go-to sunnies for all occasions. They're SO sturdy and high quality feeling; they fit right in with my high-end sunglasses. I've worn them several times, for all different activities, and I literally can never get enough. Do yourself a favorrrr, and get these! Thank me later. 😘" —Sydney Elaine

Get them from Amazon for $15.99  (available in 12 lens and frame colors).
8.
A pair of luxe ombre-lensed aviators that fade in color but *never* in style. Each lens color (black, brown, or green) comes with a thin tortoise design around the frame. And for a little extra dough, they even come in a prescription option!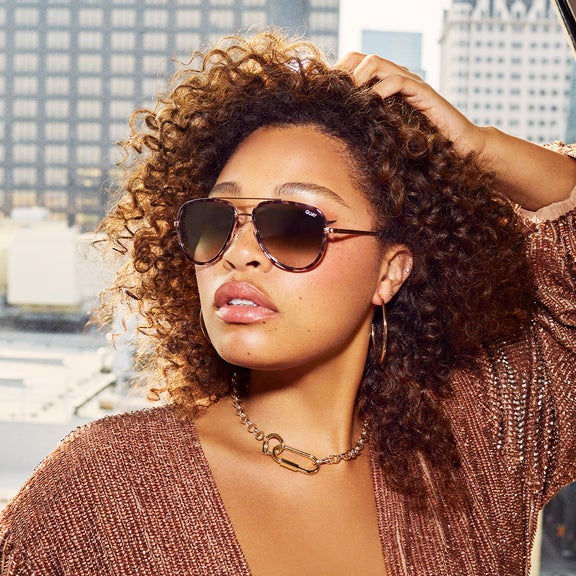 Promising reviews: "Excellent glasses, I love them. I bought these and another pair, and they are both nice. They look awesome, they're very light, and great at blocking the glare from the sun while driving." —Jamz

"These are the best RX sunnies I've ever purchased. So clear. So stylish. Came faster than predicted. Love, love, love." —EJQM
Get them from Quay Australia for $65+ (available in two sizes, three colors, polarized or non-polarized, and prescription or non-prescription).
9.
OR classic aviators on the lower end of the price scale, but reviewers say are awesome quality all the same. These sunnies have over 12,000 positive reviews full of people raving about how awesome they are!

Promising review: "These came just as I expected! They fit great on my face. I love the classic aviator style, but it's hard to find good quality sunglasses on a budget sometimes. I love how dark they are! You definitely can't see my eyes when I have them on (which I love and my main reason for purchasing the black lens). The polarized is very cool — just took me some getting used to as I've never worn polarized before now. Reading my cellphone with them on was the hardest to get used to. They are very plain and simple, classic. They feel sturdy and durable. Will be ordering more colors!" —thewoodsnest

Get them from Amazon for $14.99 (available in eight colors).
10.
A pair of STUNNING classic oval sunnies with anti-scratch lenses and the choice to add your prescription (yay!). This style has been and will always be "in," so it's best to invest in a quality pair you'll wear with every outfit, for every occasion!

Promising reviews: "I love the look and feel of these cute sunglasses! Have received a few compliments on them, and the lenses are fantastic!" —Charlene K.
"The best! I think these are my favorite frames now. I literally fell in love with it. Fits great. '90s vibe for sure." —lizkalive13
Get them from EyeBuyDirect for $39+ (available in two colors and in prescription and non-prescription options).
PS: If you're looking for more color options, Amazon has a suuuper similar pair for $18.99!
11.
The perfect round frame shades — an amaaazing dupe for the classic round Ray-Bans, without the classic Ray-Ban price. 
WearMe Pro is a small, family-owned business based in Temple, Arizona. The brand provides affordable, trendy shades and partners with the Arizona Humane Society to provide supplies for animals in need.
Promising review: "For the money, you can't beat 'em! These look amazing on my face, like a $300 pair of sunglasses. I have tried multiple pairs, and this brand looks and feels comparable to a pair of Ray-Bans and Pradas. I have a smaller face, and to me, this pair fits the best, perfect for my nose and brow line. I couldn't be happier. I just wish there were six stars so everyone would know how amazing they are. If you are questioning whether or not they will look as good on you as they do in the photos, yes...yes they will." —Christina
Get them from Amazon for $17.99+ (available in seven lens and frame colors).
12.
Gold-framed cat eye shades sure to bring a little attitude to your day...and to your entire summer. If you end up wearing these cuties on a rainy day in January, too, I won't blame you. 

Promising review: "Love these cat eye glasses! They're very comfortable, stylish, and perfect for spring and summer attire! I love that it came with a cute case and a repair kit. Also, they are very affordable." —Janette Jacinto

Get them from Amazon for $14.99 (available in eight colors).
13.
Forever in-style semi-rimless frames that'll make you feel like throwing on your leather jacket and riding your motorcycle into the sunset (or just driving your car to Target). These sunnies are awesome Ray-Ban Clubmaster dupes, too.

Promising review: "Love these new shades! ... Fit great and super light weight. I wear [them] on the motorcycle, and they do a great job of blocking the wind. Very stylish and cute! Would definitely buy another pair for sure. My boyfriend even likes the second pair for himself, so they could be unisex." —Sarah
Get them from Amazon for $14.99 (available in 15 colors, styles, and packs).
14.
A pair of classic square sunnies for those that love an oversized look. These will definitely bring the drama while blocking the sun in the process.

Promising review: "Okay y'all, these are awesome. The reviews are right...yes, they're worth every cent. I wasn't expecting much; I bought lots of different Sojos frames to see which I would like best, cuz really, who likes to shop for glasses online? They always seem to look better on others, and when they arrive, they look wrong on me, or they aren't dark enough for my sensitive eyes. These arrived first and blew my expectations away! (I bought gold frames/grey lenses.) They came with a cute carrying case so they don't get scratched, a cloth, and a 'how to care for them' card. They are so sturdy feeling! And they aren't totally dark (can kinda see your eyes) but enough that I don't have to squint! Which is a big deal for me. I don't normally go for metal frames, but I'm very happy with these." — Amazon Customer

Get them from Amazon for $14.99 (available in nine lens and frame colors).
15.
Handcrafted GI shades made with bioacetate — a biodegradable and plant-based material. So not only are they earth-conscious, they're comfortable, durable, and provide 100% protection from UV rays, too. 

Crap Eyewear is a Southern California-based small biz that's all about funky and unique sunglass designs. Let's just say that are *not* afraid of color, and I love it!

I own a few pairs of sunglasses from this brand, and the quality is truly worth the price!
Promising review: "These shades automatically make any person a bionic transformer of absolute coolness. These will spice up your life faster than a dash of cayenne pepper on a bowl of chili, and your #lewk will be complete." —Sydney T.
Get them from Crap Eyewear for $95 (available in four colors).