1.
A linen sectional with a storage chaise that's great for those living in small spaces. This comfy couch not only has storage, but pulls out into a bed, too! Great for guests, but even better for lounging on a lazy Sunday. 😌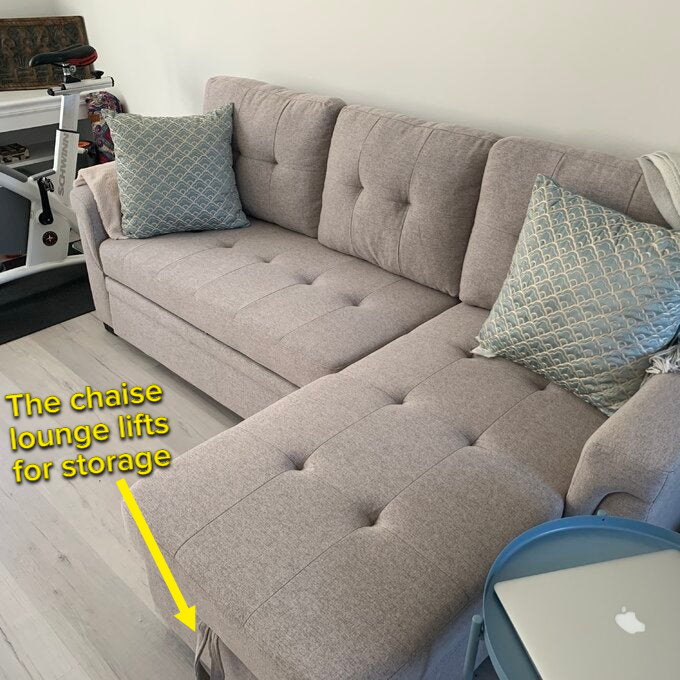 Promising review: "It's the perfect size for my small apartment. The couch pulls out to a bed that comfortably fits two people. The storage space is great for extra blankets." —Klaudia
"Perfect addition to my living room! Extremely easy to put together and comfortable. I love the way it pulls out for even more comfort! I definitely recommend" —Rachel
Get it from Wayfair for $749.99 (available in three colors).
2.
A large woven storage basket for throw blankets, pillows, laundry, etc. It'll blend in with the rest of your decor perfectly.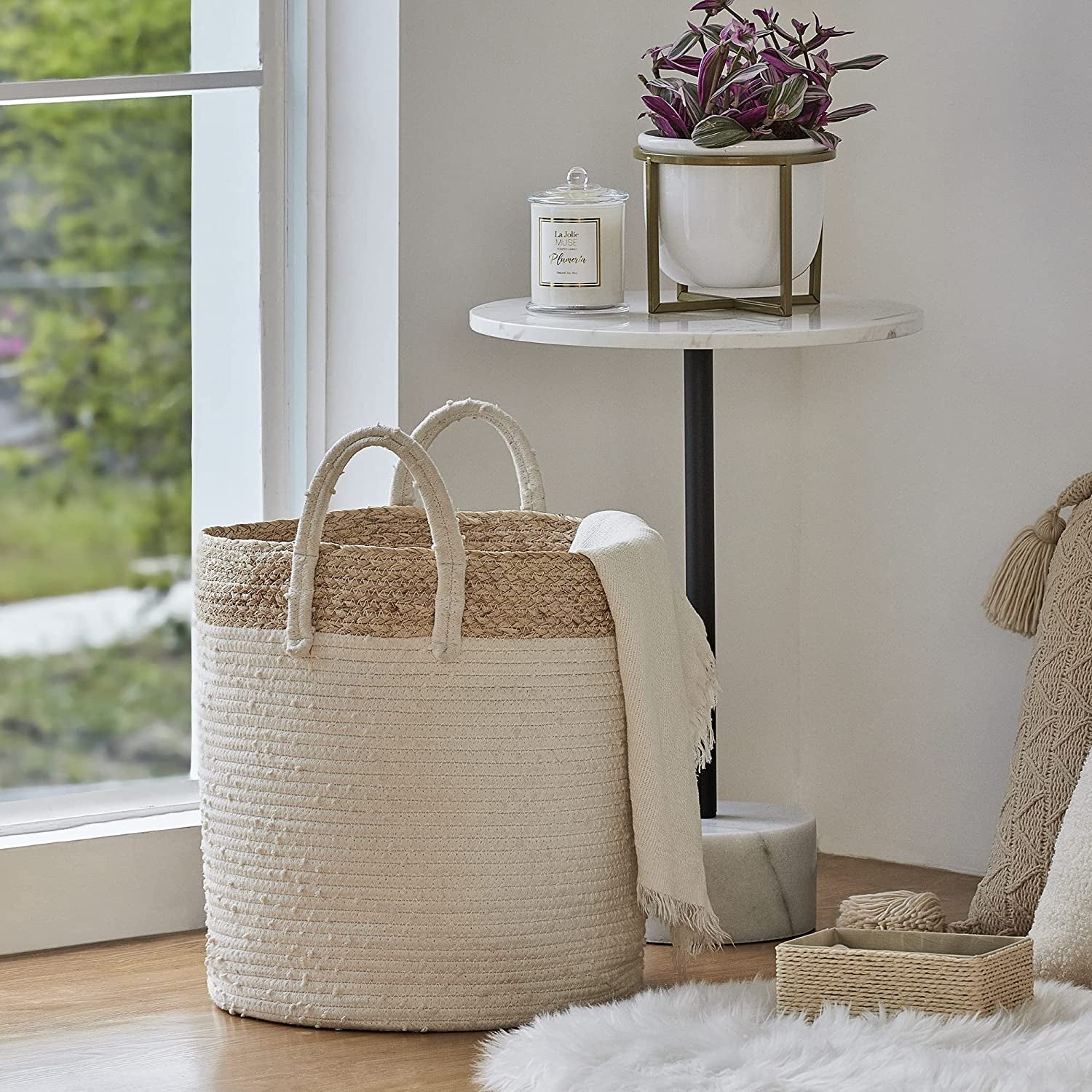 Promising review: "This is the laundry basket we have on top of our dryer for whites. It is attractive, holds up nicely and is attractive, so that if we have people over, they do not need to see our laundry displayed. Love it!" —Karen R.
"Wow very thick and sturdy! I'm quite surprised. Love it for my nursery laundry basket for all the toys. The color is just as photo shown, complementary for all decor types. Good value for the money!"  —Ichi Ban
Get it from Amazon for $28.98 (also available in four colors).
3.
A set of two nesting storage tables because these babies can be used as both chic side tables and a place to store extra home goods.
Promising review: "I'm obsessed with these tables! The tall one comes high enough to enjoy coffee or to eat at. My favorite part about these tables are the storage! I love them because they don't take up a ton of room and are easy to move around! Super happy with these!" —Andrew Vinh Tran
Get a set of two from Amazon for $108.73+ (available in five finishes).
4.
A full-length storage mirror that'll make getting ready way easier. It's got a secret organizer inside, so all of your makeup,  jewelry, and beauty items are always *right* where you need them to be. It's even got auto-on LED lights inside!
Opening the storage mirror you'll see five shelves, two drawers, 32 necklace hooks, 84 ring slots, 90+ stud and earring slots, and a bracelet rod 🤯. This mirror can be installed in one of two ways: mounted on the wall or hanging on the door. The door hangers are included!
Promising reviews: "This is probably the best purchase I have ever made on Amazon. This is very well made. Like incredibly well made. It stores sooo much stuff!!! My daughter loved it and now I am eyeing one for myself. My daughter had jewelry and trinkets everywhere in her room. This put everything neatly in one space. It's elegant and well made. Mirror + jewelry holder = game changer." —Linnette
"I love, love, LOVE this jewelry cabinet!! It is perfect in EVERY way! There is a ton of space for all sorts of various styles of jewelry, and the LED lights in the top are super helpful to light up the inside...this is a MUST BUY in my opinion!" —Erika
Get it from Amazon for $139.99+ (available in six colors).
5.
A beautiful brass hanging rack with leather hooks you can use to hang kitchenware, cleaning supplies, house keys, etc. It's a great way to keep your essentials handy without having a crowded countertop.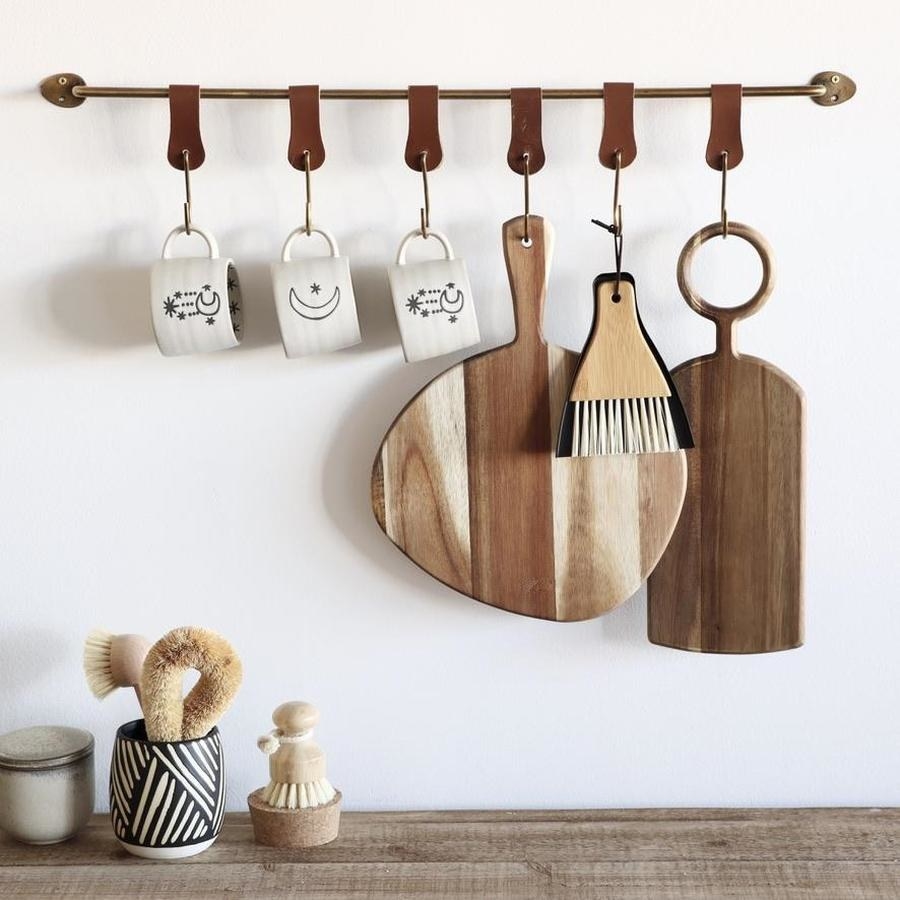 Holistic Habitat is a woman-owned small biz that was started in 2017 and run by Kristin and Rachael. They produce stunning, ethically-sourced home goods and give back on every purchase made.
Promising reviews: "Looks great in my kitchen and helped to fill out a long high wall in my kitchen entryway. Hung a few decorative items including a Venus Fly Trap and the whole space looks put together." —Elena C.
"We added this into our tiny bathroom that needed more storage for towels. The distance from the wall and the hooks allow enough air to flow around the towels that they dry quickly and look great doing it." —Kristin H.
Get it from Holistic Habitat for $70.
6.
A stylish record storage shelf to hold your growing vinyl collection. This shelf has 30 record slots, a top shelf for your record player, and a middle shelf for miscellaneous items and decor.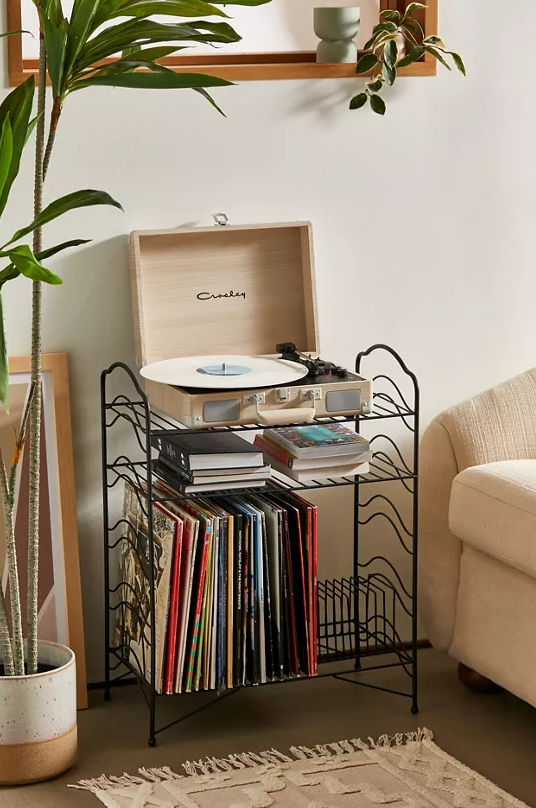 Promising review: "The quality is great and it's a cute addition to my room and for my humble record collection. There's a small shelf for a little extra storage and plenty of slots for vinyls. Great piece that doesn't take up a ton of space." —zerodorkthirty
Get it from Urban Outfitters for $99 (available in four colors). 
7.
A super convenient flip-top end table complete with a charging station and storage space for wires, remotes, coasters, and more right underneath the surface! Yay for not having to look at tangled lamp wires and to never losing that tiny TV remote again!
Promising review: "I bought two of these as side tables beside our couch. I love how sleek they look, plus having an extra storage drawer with plugs for our phones is great! I charge my phone and watch while we watch TV in the evenings... It fits everything I need: remotes, tissues, and coaster for cups." —Jessica
"Bought this table for a sun porch that currently has limited electrical outlets. It's easy to put together, came well packaged, and the right size for in between furniture... It offers a great deal of flexibility with what I want to plug in. I currently have a timer plugged in for a lamp, I'm able to charge two phones, and still have an outlet available for something else if needed. Been using for a couple of months now and very happy with the product" —gone2020
Get it from Amazon for $90.33+ (available in 13 colors).
8.
A functional set of woven baskets that can be used for mail, books, snacks, spices...the list goes on. Some even use it for closet organization, too!
Promising reviews: "They are just beautiful and work perfectly. At first they seem very small but when put them in use they are very functional and pretty. Don't hesitate to buy. Very beautiful and functional in pantries."—Motigua Gonzalez
"I used this adorable baskets to hold my coffee pods and other coffee related items. So cute and sturdy and just the perfect size for my pantry, not to mention very affordable! Can be used for many other items... Thinking about ordering more!" —Letty D
Get it from Amazon for $38.99+ (available in five colors).
9.
A set of floating bookshelves if you want your books to work double duty as both relaxing entertainment and decor. Just imagine a color-coded book wall in your home  — so cute!
Each shelf holds up to 15 pounds, and reviewers recommend putting your largest, heaviest books at the bottom of each shelf for more support.
Promising reviews: "These are so much fun! We ordered the small size, which fits standard hardback books (approximately five to seven hardbacks in my experience). They're a great way to add some extra storage to our very small home, and we've placed them in our hallway so people ask us about them all the time. I'd highly recommend!" —LaBuenaVidaMere
"I bought two of these in 2010 and in the last 10 years I've used them in three different apartments. I just put them up in apartment number three and was once again blown away with how awesome they look. Every time I put them up it's like 'WOW WOW WOW these are AMAAAZZINNGGG!!' If you love decorating with books, this is a must buy!"  —Jlands
Get it from Amazon for $14+ (available in two sizes, two colors, and in sets of three).
10.
A litter box enclosure disguised as furniture — perhaps one of the most genius inventions for pet parents. With its extra large size, it's big enough to house the litter box, the litter bag, treats, and more. Some reviewers say it's perfect for bunnies too!
Promising reviews: "Very easy to assemble and looks and feels great. The extra storage on the top allows you to put your items on to make it much more discreet! It took me a couple of days to decide whether or not to buy it, but I wish I would've bought it sooner. Great addition to my room and overall aesthetic." —Edriane Alvaro
"I agonized over which cat furniture to choose to hide my cat's litter box when moving to a smaller apartment space...I am happy I went with this one, which looks really nice. The instructions were surprisingly good and easy to follow; putting it together was simple. You can put the door on either side, and you can also leave out the middle part to fit a larger box." —Wynne
Get it from Amazon for $159.99 (available in three colors).
11.
A linen storage basket because they'll look great in your closet and can be used for out of season clothes and accessories. If you want to be an organizing genius, use it for winter/summer items since those are usually only used during those months! 
Promising review: "I bought these fabric baskets to organize my out-of-season clothes. They are just perfect. Before I bought these baskets, my closet was always a mess. I bought six at the same time. One for sweaters, one for pants, one for small things like hats, scarf and gloves. I bought both colors and put them in order. My closet looks nice and neat with them." —Huimin Cheng
Get it from Amazon for $9.99+ (available in eight sizes and five colors).
12.
A cactus mug tree that's not only a way to stylishly display your mugs, but it makes things SO much easier than rummaging through a cabinet every day. Even without mugs hanging on the arms, this cactus design is the cutest!
13.
A Mickey K-Cup holder to have the cutest display of (and easiest access to) your K-Cups. It holds 16 at a time and comes in a ton of different colors!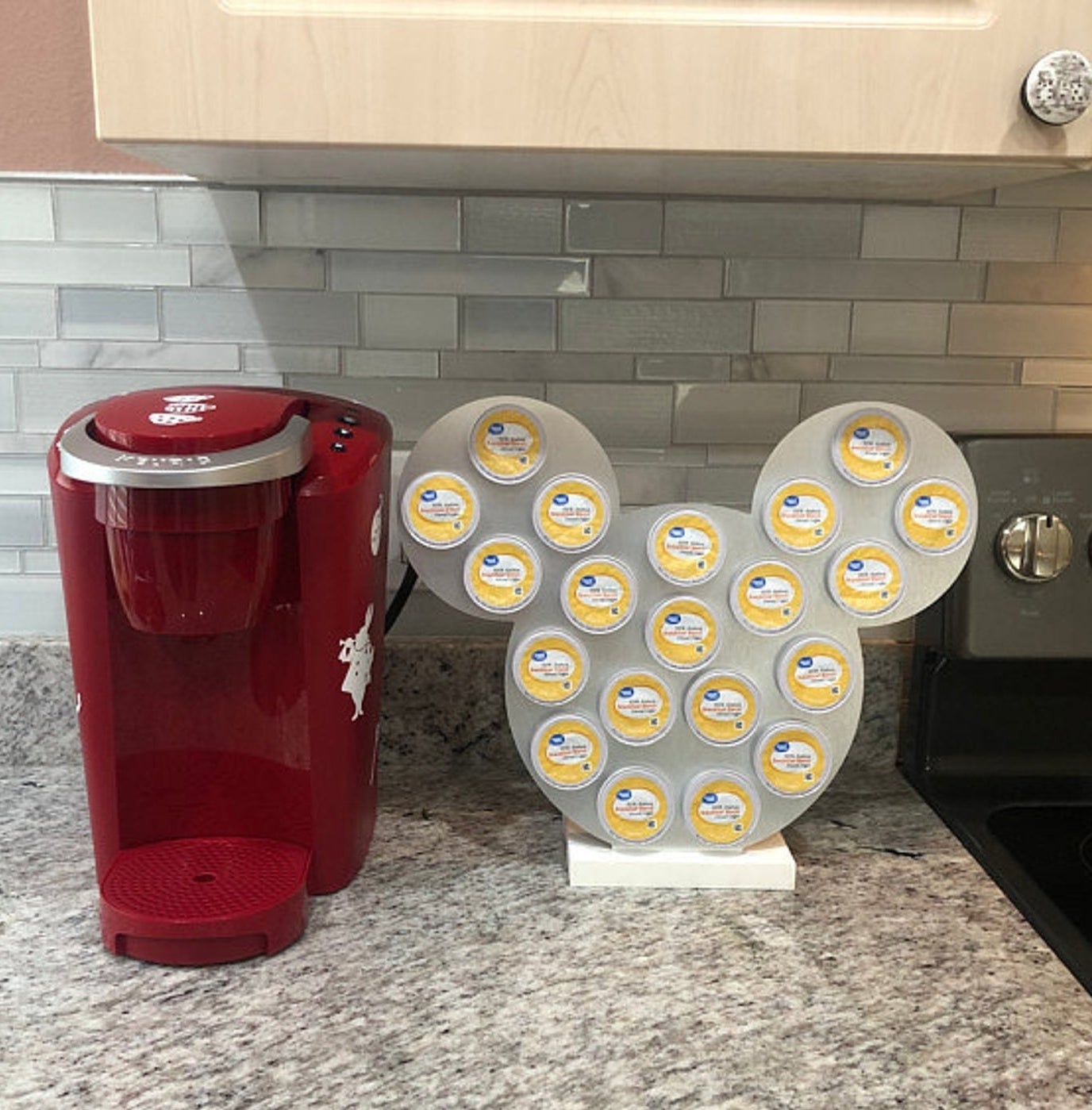 PK Decor is a small business based in Oakwood, Georgia, that sells primarily metal yard decor.
Promising review: "The best finishing touch to my Disney kitchen. I absolutely love it. Material is great and it's the perfect size. Also it shipped and got here immediately! Thank you!!!" —yaddyliese
Get it from PK Decor on Etsy for $38.67 (originally $45; available in eight colors and two styles).
14.
A contemporary wooden coffee table with a hidden storage compartment and lift top perfect for eating dinner or working from home.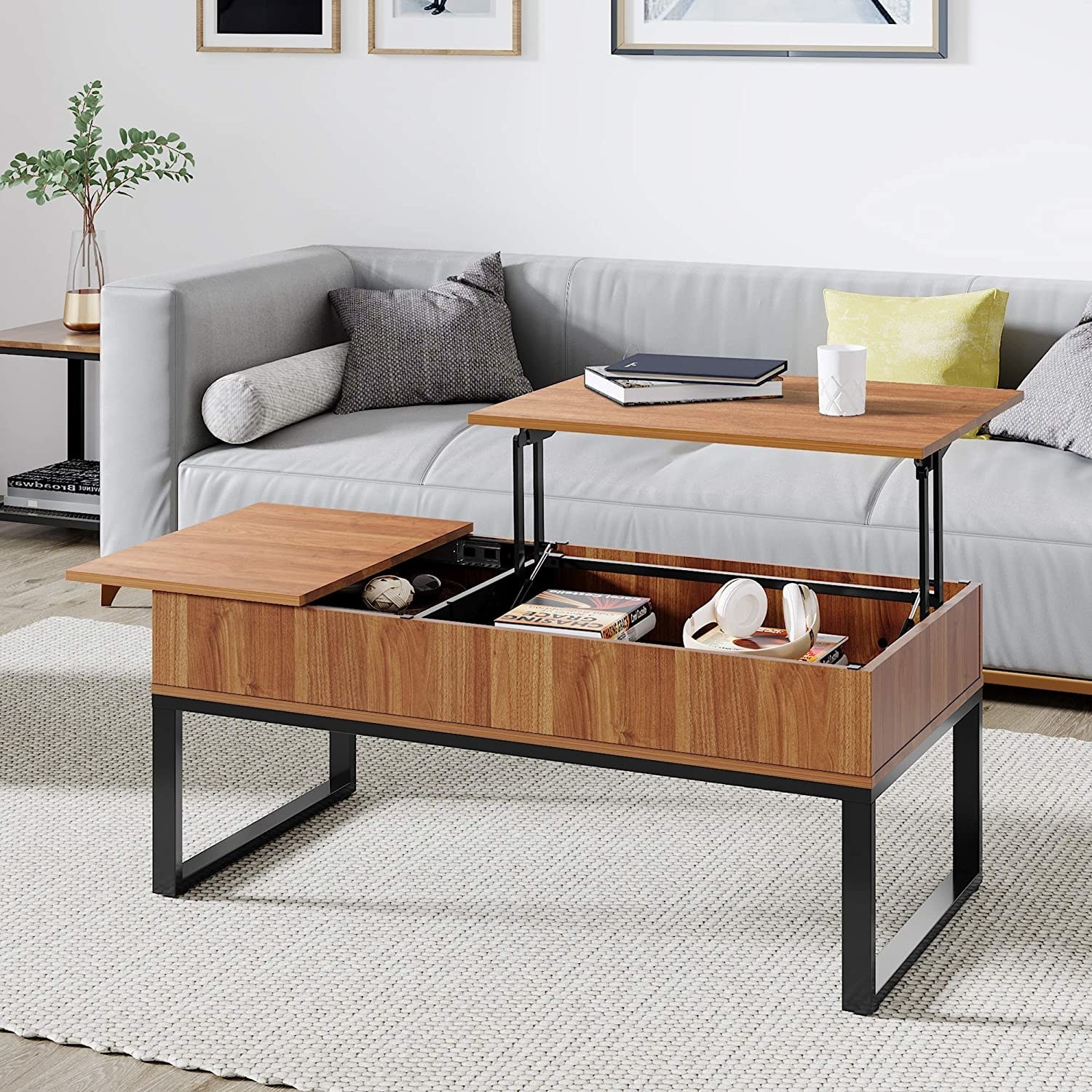 Promising reviews: "Absolutely beautiful! Light, but sturdy enough, sleek, and practical. I'm studying these days to pass some important exams and use both my laptop and note book at the same time. We are living in a small apartment and don't have enough space to buy another desk for my studying. This wonderful table solved the problem. I can store my laptop, notebooks, pens, and notes in the compartment under the lift top and during the day I just lift the top and voila! Its a desk! The springs are very well made and when you lift the top up to the end , it's stable and can bear enough weight to write on it or rest your elbows over it without pushing it down. It also has a smaller sliding top on the right side with a storage space underneath. We put our coasters and some other small routine items there. All in all, We love this multi purpose and beautiful table and are happy with this purchase."  —mandy.
"I really like this table so much. If you need a coffee table with a lift function, don't hesitate to buy it! I like the combination of wood and steel. It is very modern. I also like the combination of a lifting table and a sliding drawer. I store everything in that hidden space, which makes my living room look very tidy." —LEO B.
Get it from Amazon for $139.99 (available in two colors).
15.
A set of glass storage canisters to stylishly hold your pasta, coffee beans, and treats. You'll get five variously sized canisters, each with a silicone ring on the included bamboo lids to ensure things stay fresh.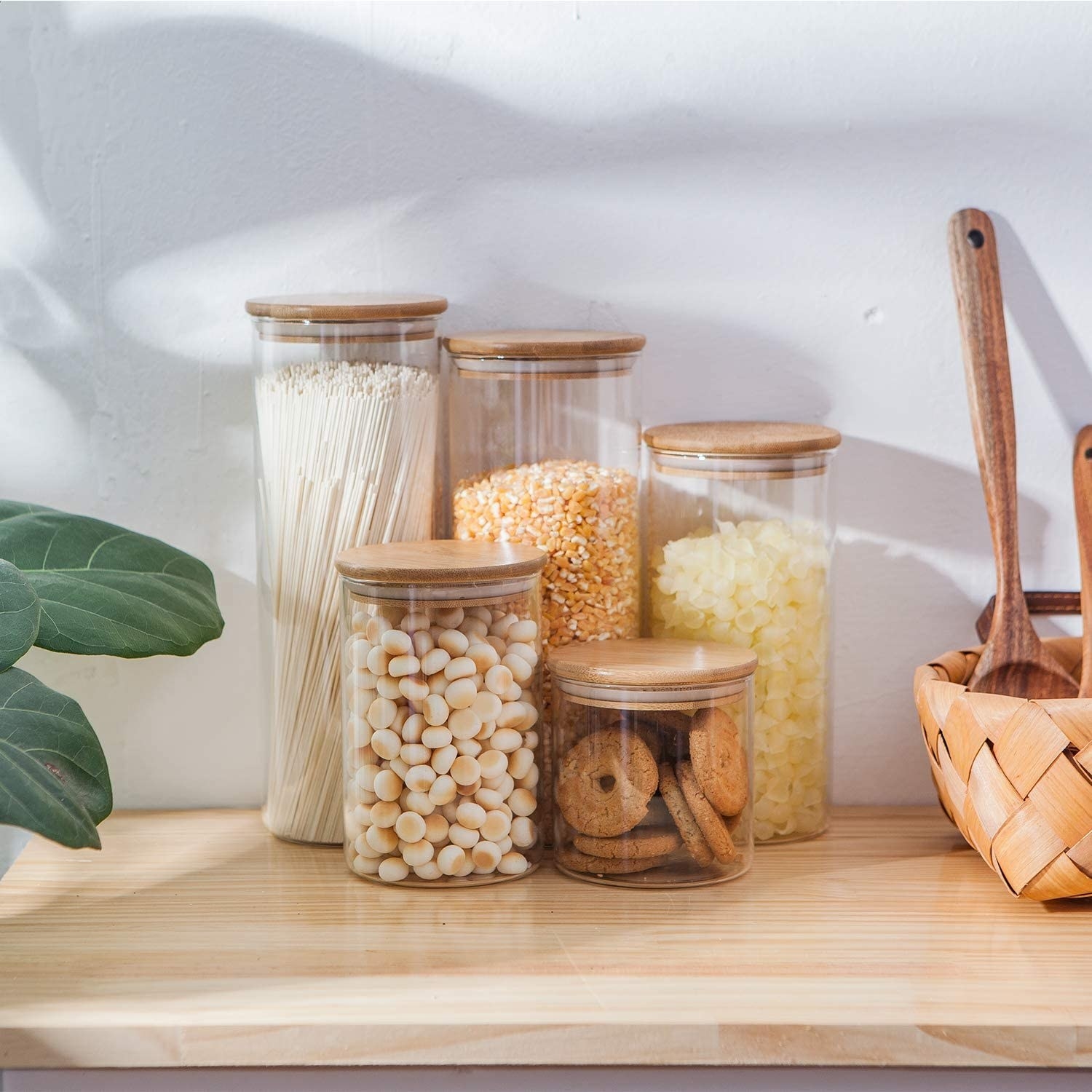 This set includes a 11.8", 8", 6.6", 5", and 4" canisters. 
Promising reviews: "Very simple and elegant canisters. Adhesive works great and locks the jars very well. Adds a great touch to the kitchen and exactly as pictured." —Anela
"These canisters are beautiful and fit our needs perfectly. The seal on the lids works great and the glass isn't too thin which is what I worried about when researching containers. I love the variety of container sizes in this set. We will definitely be purchasing these again. They are an organizer's dream!" —Kathy C
Get it from Amazon for $34.99 (also sold individually).