Unless otherwise specified, all sizes in this post are listed in women's.

1.
A flowy floral romper that looks like a mini dress from afar, but is way more comfortable.
Promising reviews: "I love this dress!...I bought this to wear to a summer wedding. It feels lightweight enough even with the long sleeves! Material is comfortable, and I feel sexy yet classy in this! I usually stray away from rompers due to awkward fits...but this one is the exception!" —Katie
"I wore this romper to a wedding in May. It was perfect. I got sooo many compliments... It was just the right length and not sheer. It was so comfortable, also. I could dance without worrying about my butt showing...I highly recommend this outfit. So much that I ordered another one is a different color for another event." —Amazon Customer
Get it from Amazon for $30.99 (available in sizes S–XXL and in 17 colors).
2.
A luxe one-shoulder satin bodysuit sure to turn heads wherever you decide to rock it. Dress this cutie up with a skirt or down with a pair jeans. Either way, you'll look like royalty. 👑
Promising reviews: " A hidden gem.✨ I was 100% surprised when I purchase this top. The fit was just right and the color was beautiful... When I tell you THIS is QUALITY...it absolutely is. It has little stretch but with the material I didn't expect it to. Overall, it was a great purchase and I will be ordering a neutral tone for other occasions." —Amazon Customer
"This top is STUNNING. It looks and feels like an expensive designer piece. I've purchased clothing from Amazon in the past that I was extremely disappointed with, but girl, this is not one of them. This top will make you look and feel expensive and glamorous...I am beyond obsessed with this purchase...as a girl who values high quality material, this is an absolute steal and a must buy! Your closet needs this. You need this." —Meghan
Get it from Amazon for $31.99 (available in sizes XS–XL and in nine colors).
3.
A gorge puff-sleeve blouse that screams "spring wedding" from the rooftops. Seriously, this top is made of a comfy, stretchy fabric you definitely wouldn't mind wearing for a few hours.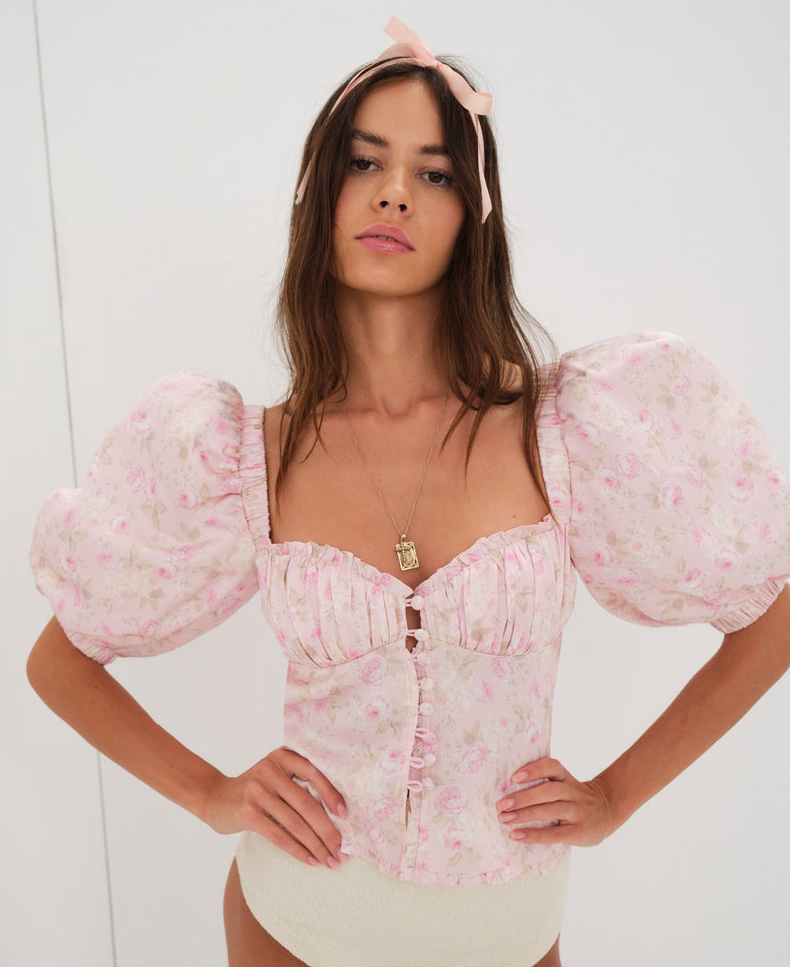 Get it from For Love & Lemons for $159 (available in sizes XXS–2X).

4.
A pleated romper because its as comfortable as a onesie but as stylish a party dress. Seriously, I think you found your new go-to outfit for ALL occasions!
Promising reviews: "This piece is easy to love. It fits true to size, very comfortable and color is so pretty as pictured. This is my second romper, I ordered the dark green first. Feel in love with it and came back for the navy blue. I plan to purchase more colors soon. It's perfect!!" —Michelle
"Plus size peeps, get it!!! I got an XL which fit perfectly for a nice loose fit. I bought it in black and then in pink. Can be dressed up with heels and a blazer or down with some sandals. I love it!!!! [Fits nicely] and is just adorable." —Brittany Gates
Get it from Amazon for $38.49 (available in sizes S–XXL and 12 colors).
5.
A gorgeous off-the-shoulder wrap blouse that features big puffy sleeves and ruffled hem design. Reviewers say it's made with thick, comfortable material too!
Promising review: "This is such a beautiful top. The material is soft and durable. I was going to wear it to work but realized it was just too sophisticated for work, that I changed my mind. It deserves a more formal atmosphere. I love this top greatly. And the way it fit me was fabulous. Fits just as advertised. The way the sleeves just fall on the arm is unique and stylish. Glad I purchased it. I was concerned because sometimes what you buy is not always how it was shown. This top is a 10/10. I have a wedding to attend soon, and this top is what I will wear, with a pair of slick black pants and pumps. I know I will look great with this top. If you like the style and want to turn heads, then BUY THIS TOP!" —Amazon Customer

Get it from Amazon for $55.99+ (available for S–XL and in 20 colors).

6.
A stylish two-piece suit if you're looking to stand out in a crowd. This set comes complete with a blazer and straight-leg pants that'll have you feeling like Elle Woods herself! 
Promising review: "PERFECT, PERFECT, PERFECT!!!!! I wanted a suit for my graduation so bad! This one here killed it👌👌👌!! Let's talk about quality!!!! This one was beyond. I will definitely get another color soon." —Rachel
Get it from Amazon for $99+ (available in sizes XS–2X and in 30 colors/patterns/styles).
7.
An organza-sleeve top so gorge, Elle Woods would stop you on the street to give a compliment. The square neck and the polka dots are just perfect!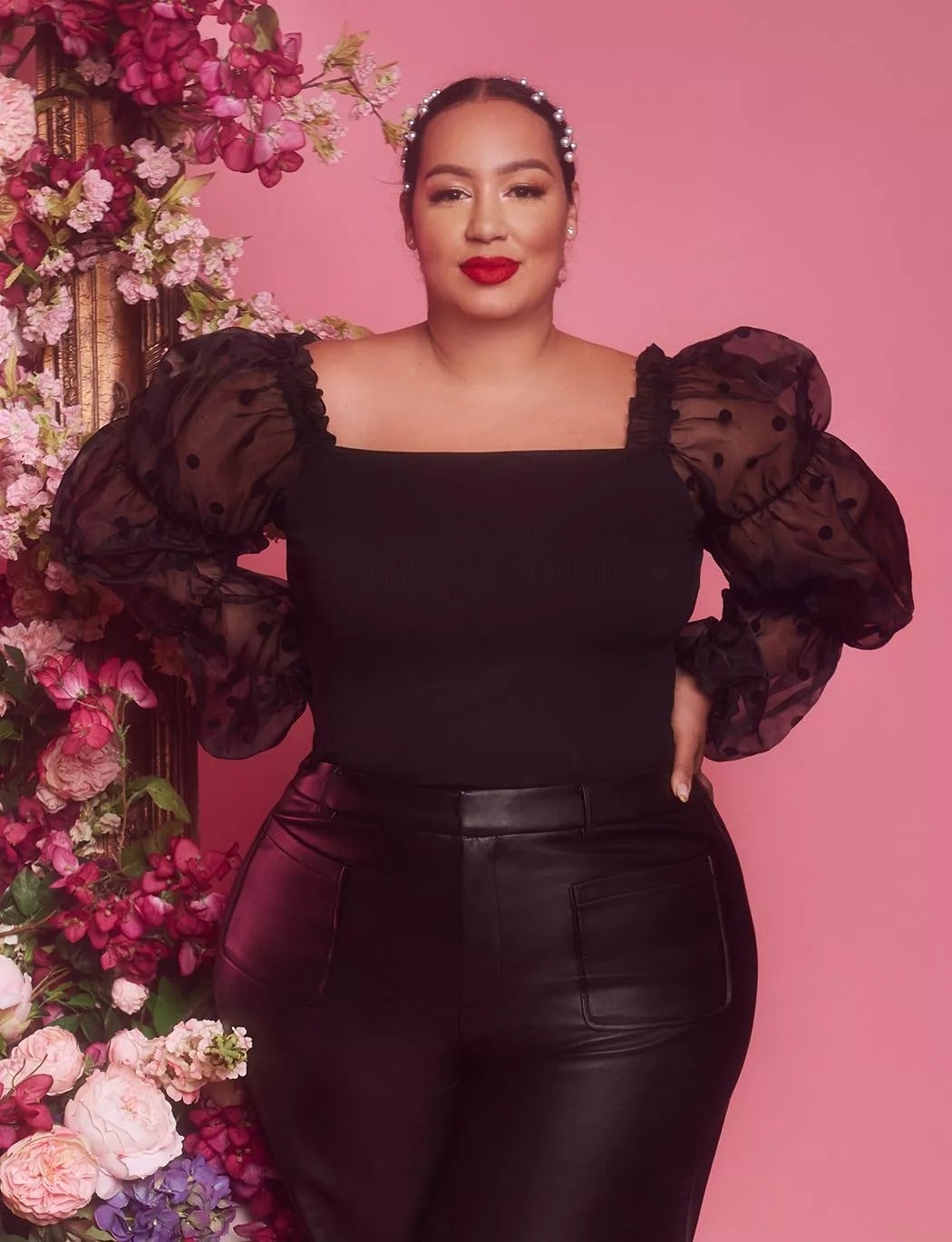 Promising review: "If you're on the fence about this top, do yourself a favor and put it in your cart and buy it! Compliments will be headed your way for sure! I work at a bridal salon and pair this top with the crop faux leather pants and get so many compliments. It was out of my comfort zone but I'm glad I took the risk!." —Sara T.
Get it from Eloquii for $69.95 (available in sizes 14–32 and colors black and white).
8.
A 3-in-1 wrap top you can wear in multiple ways: the cute and sweet wrap-around look, the reversed high neck and open back, or the villa-worthy tie-front option! Either way, the balloon sleeves and satin finish make this top an easy choice for any wedding on your calendar.

Whimsy + Row is a woman-owned small biz based in Los Angeles. Since 2014, they've had a focus on creating quality, eco-conscious fashion and do so by locally sourcing and upcycling materials that are later handmade into their limited batch clothing.

Get it from Madewell for $148 (available in sizes XS–XL and in six colors) straight from Whimsy + Row for $148 (available in straight sizes XXS–XL, extended sizes 1X–3X, and in seven colors).

9.
A chic cape blazer to throw over a jumpsuit or blouse to make your outfit extra stylish. Warning: all eyes will be on you in this beaut!
Promising reviews: "These jackets are so versatile! Dress up or down you can wear these cape blazers. I have them in every color and every time I wear one someone will compliment me." —ChristinaK

"I only have one thing to say. If you're on the fence, buy the dang cape. I've gotten a lot of compliments on it. It was the perfect accessory to my outdoor wedding outfit." —Cristi Lengsfeld
"OMG.... THIS CAPE IS EVERYTHING. I received so many compliments. It fit perfectly, the color was super cute, it was the right thickness. I'd definitely recommend." —Kayla
Get it from Amazon for $27.29+ (available for S–3X and in 14 colors).
10.
A bold colored wide-leg pants which look super classy and professional, but feel like you're walking around in your lounge clothes. TL;DR: These will be your new go-to fancy pants.
Promising review: "These pants as so comfortable and flowy! I stepped outside of my usual skinny-jean outfit to try this style — and I never want to take them off! They are great casual pants for work, and can be dressed up for the evening with a fancy shirt and heels. They are as comfortable as pajamas, without looking like it." —Nash
Get it from Amazon for $33.99 (available in sizes XS–3X and in 24 colors).
11.
An angel-sleeve jumpsuit that'll have all eyes on you as if there's a halo above your head (but really, it's just your outfit).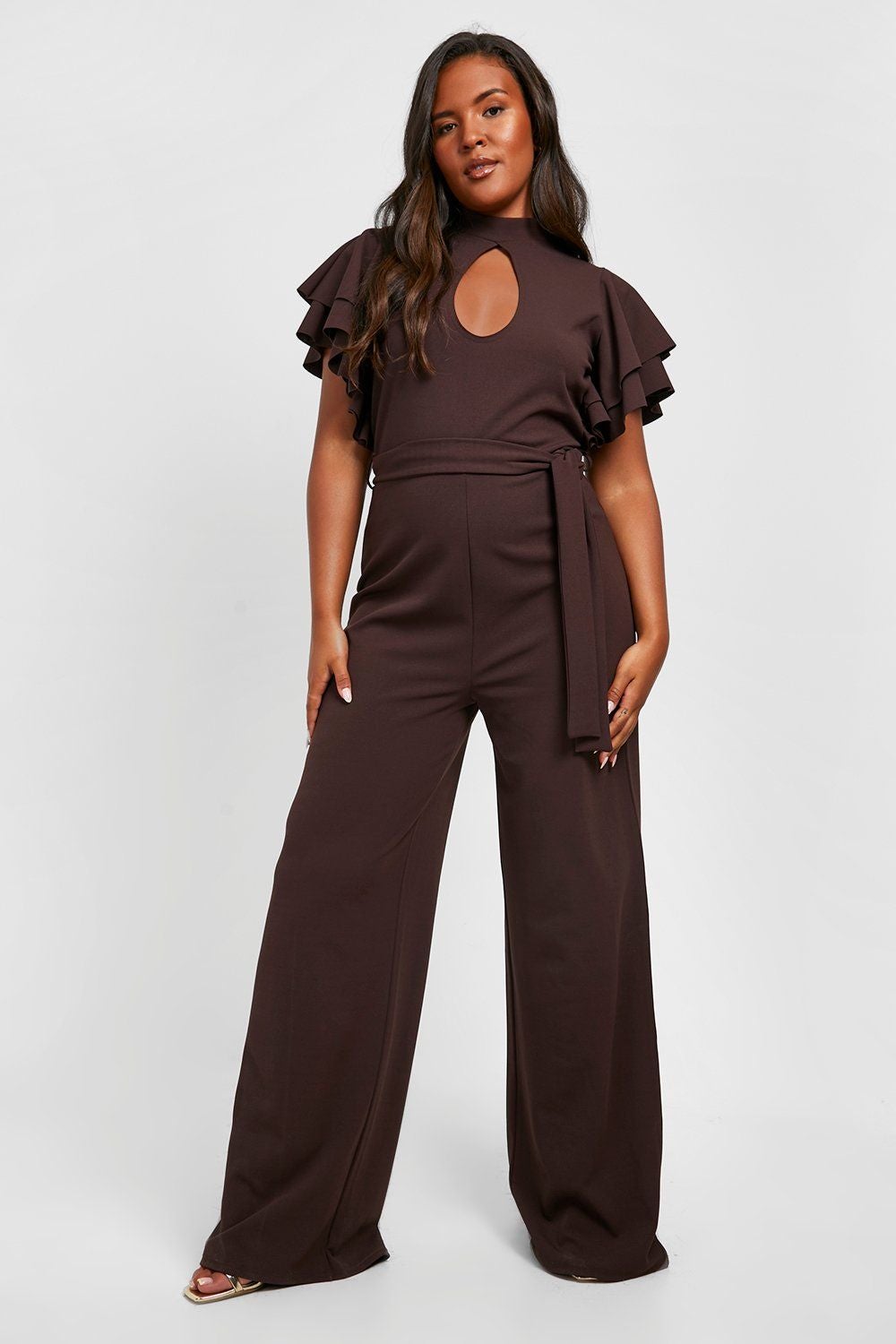 Get it from Boohoo for $27.20 (originally $68; available for L–4X and in colors pink or brown).

12.
A frilly bodysuit because it's probably one of the most stylish pieces I've ever seen. The strap detail and the cross back are gorg too, but the snap button closure makes things *very* easy.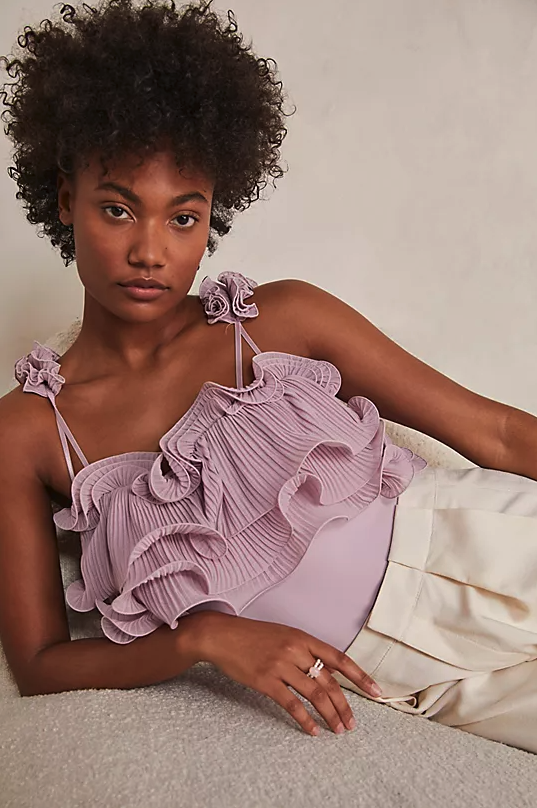 Promising reviews: "The style of this top is unlike anything I have found before. The attention to detail is just impeccable when it comes to the way the frills lay and cascade down the chest, and the accents on the straps is so cute and dainty. I also love the way the straps are split at the back, it is just those little things that make this top so gorgeous to look at. The body suit also allows the frills to do the talking so that tucked into a pair of pants it completes the look." —Cheese2
"This top reminds me of something a Sex and the City character would wear in the '90s or even on the new show, or Emily in Paris. Looks like it is off the Paris Runway. " —Lmrojas
Get it from Free People for $68 (available in sizes XS–XL and in eight colors).