1.
A wineglass rack you can put anywhere in your home: on the bar cart, under kitchen cabinets, under floating shelves — you name it.
BTW, one rack can hold up to nine standard size glasses.

Promising review: "Overall very pleased with product. Found some floating shelves to match a cabinet. Then added these to make my custom wine stem rack. Quality better than expected and love the darker finish and not the standard Chrome option. These also were the right size for the width and depth of the Shelf. So far I've gotten several compliments." —Ms Lila
Get it from Amazon for $21.93 (available in four colors).
2.
A super convenient flip-top end table complete with a charging station and storage space for wires, remotes, coasters, and more right underneath the surface! Yay for not having to look at tangled lamp wires and to never losing that tiny TV remote again!
Promising reviews: "I bought two of these as side tables beside our couch. I love how sleek they look, plus having an extra storage drawer with plugs for our phones is great! I charge my phone and watch while we watch TV in the evenings... It fits everything I need: remotes, tissues, and coaster for cups." —Jessica
"Bought this table for a sun porch that currently has limited electrical outlets. It's easy to put together, came well packaged, and the right size for in between furniture... It offers a great deal of flexibility with what I want to plug in. I currently have a timer plugged in for a lamp, I'm able to charge two phones, and still have an outlet available for something else if needed. Been using for a couple of months now and very happy with the product" —gone2020
Get it from Amazon for $100.76 (available in 14 colors).
3.
A set of four cabinet shelf organizers to unlock maximum use of your cabinet space. They're stackable, too! Which will be helpful when you want to save room for taller items.
Promising review: "Randomly write reviews, but you need this! EXACTLY what we were looking for. Oak color blends right into interior of cabinets and white supports match our dishes. Going to, for sure, buy more for every cabinet in the house. Instantly gained twice the storage. No longer have to pick up a stack of dishes to grab a tray, etc. Bargain as well. Looks way better and supports so much more than old wire shelves... Solid wood/metal. Easy to install each shelf with nothing but the four screws included and a Phillips head screwdriver. Had all four "built" in less than five minutes. 100% recommend! —Amazon Customer
Get it from Amazon for $31.99+ (available in black and white). 
4.
Shelf dividers that'll keep your closet and cabinets looking immaculate, while also preventing things from toppling over when you grab from the bottom. (That saying "not all heroes wear capes" definitely applies here.)
Promising review: "If you need to Marie Kondo your closet, this is really useful and it looks really nice. I got the grey ones. Bought two to see how they were. Perfect. Bought six more. Loving it!!! Really recommended this product, ready to install and very sturdy." —Nicolò R.
Get a two-pack from Amazon for $15.08.
5.
A sturdy hanger organizer you didn't know existed, but could definitely use in your closet. Those annoying tangled bins of hangers are about to go *poof*!
Promising reviews: "The struggle with hangers has been real for quite some time, I wish I would have known about this thing sooner! Seriously, laundry is annoying enough, to not fight with hangers will be wonderful. It doesn't wiggle and seems sturdy. Hopefully it stays that way because this has saved me a ton of room and hassle!" —Kara Adams
"Working in retail for a million years, I know how amazing these can be in keeping your life less chaotic! I put off ordering for months, and I'm mad at myself that I did, because these beat a box of hangers hands-down! I ordered two, one for dress/shirt hangers and one for skirt/pant hangers. They arrived today, seem to be made of the same metal that I've used in retail stores, appear to be sturdy, and are super easy to assemble! The only thing I had to stop and think about is which side of the base should face up. It comes with all the hardware and tool for assembly. A great buy!" —KatieLee333

Get it from Amazon for $24.27.
6.
A set of glass storage canisters that'll stylishly hold your pasta, coffee beans, and treats. You'll get five variously sized canisters, each with a silicone ring on the included bamboo lids to ensure things stay fresh.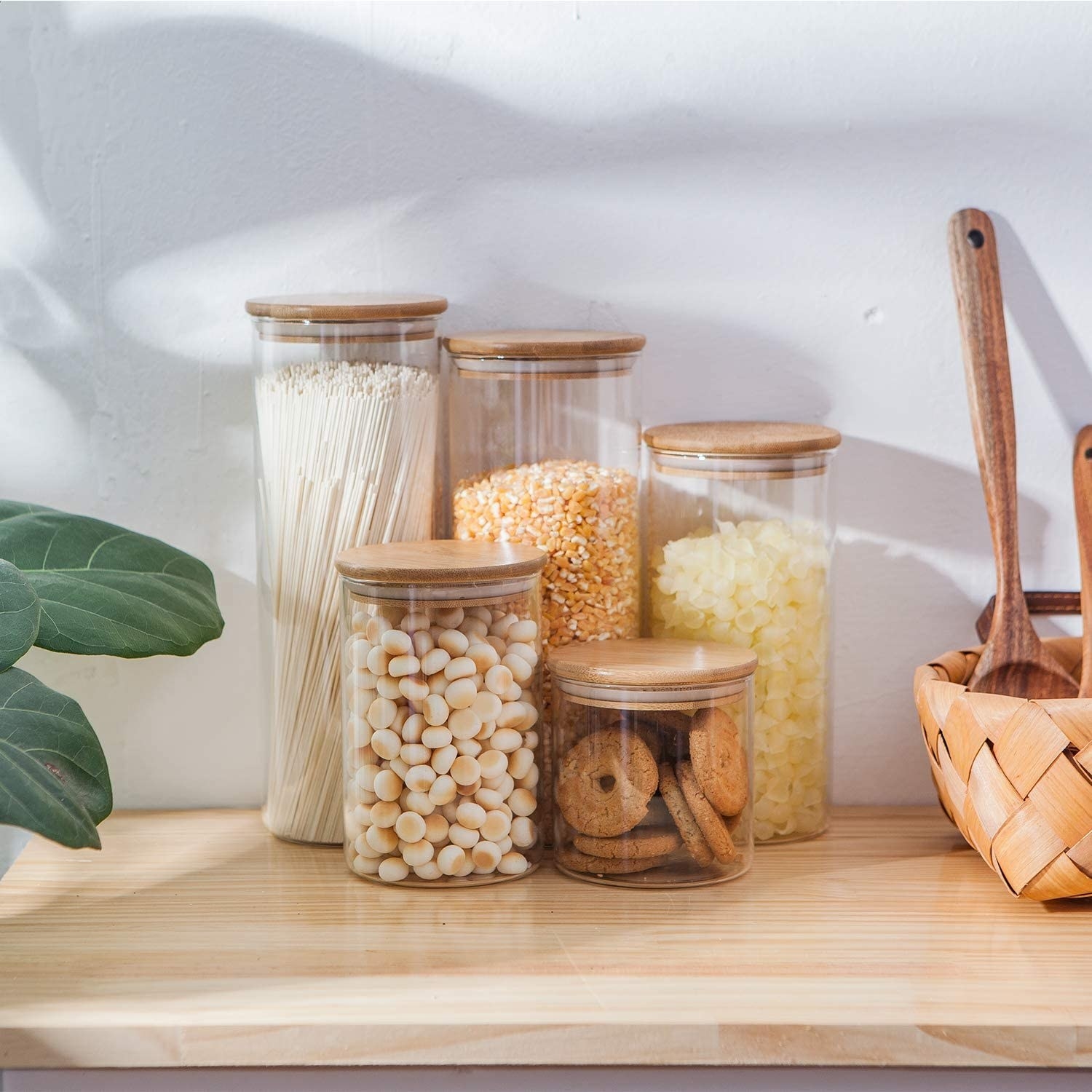 This set includes a 11.8", 8", 6.6", 5", and 4" canisters. 
Promising reviews: "Very simple and elegant canisters. Adhesive works great and locks the jars very well. Adds a great touch to the kitchen and exactly as pictured." —Anela
"These canisters are beautiful and fit our needs perfectly. The seal on the lids works great and the glass isn't too thin which is what I worried about when researching containers. I love the variety of container sizes in this set. We will definitely be purchasing these again. They are an organizer's dream!" —Kathy C
Get it from Amazon for $19.99+ (available in four pack sizes).
7.
And a set of spice and pantry labels to help you keep those containers in organized, prestine order. This set comes with 150 water resistant labels (yes, that many) and covers everything from brown sugar and garlic salt to coffee and tea.

Real and Vibrant is an Etsy Shop that focuses one thing: modern-style labels for your organizing pleasure. They have spice, sauce, laundry, soap, AND lotion labels.
Promising reviews: "Love how modern and minimal these labels are! I had some custom labels and loved that Sapana [the shop owner] sent me a draft of them for me to review before printing. I loved that these didn't have 'No. __' on them so I can organize them alphabetically." —Tiffany Kim
"LOVE these labels!... They were easy to apply. I love opening up my pantry and seeing everything so organized now. You won't regret this purchase!" —Carli Economy
Get it from Real and Vibrant on Etsy for $36+ (available in in four spice label sizes and seven pantry label sizes).
8.
Stackable under-cabinet drawers for cleaning supplies in the kitchen or beauty products in the bathroom. Some reviewers even use it to organize their food pantry. Basically, you've got options here.

Promising review: "These are nice pieces that helped me organize underneath my bathroom sink! They fit perfectly! After organizing everything, I was so surprised I had so much more room that I grabbed more items out of the linen closet to fill it up. I still have a lot of room left. I bought these based off the high ratings and they hold true. (This is Brad's wife.)" —Brad J. Leahy

Get it on Amazon for $24.97 (also available in bronze).
9.
A sock and underwear organizer so awesome, you might just open the drawer and stare for fun. This set of four is guaranteed to maximize space in your dresser, too.

Promising review: "I LOVE LOVE LOVE these organizers!! I almost did not purchase them due to the reviews saying that larger than a C cup would not fit into the bra organizer. At just $15 for four organizers I took my chances and ordered two sets of four. I figured, worst-case scenario I would have to cut the dividers out of the bra organizers. I wear a 32DD and the bras fit beautifully in the organizers. I am so glad I took the chance and did not listen to the reviews. I would have missed out on the best cheapest organizers I have ever found. I ordered another set for tank tops and other extras I did not think of before. I will also order my boyfriend the brown ones for his drawers. Great product for a great price!" —Elizabeth L. Blackwell
Get a four-pack from Amazon for $13.87 (available in seven colors).
10.
A full-length storage mirror that'll make getting ready way easier. It's got a secret organizer inside, so all of your makeup,  jewelry, and beauty items are always *right* where you need them to be. It's even got auto-on LED lights inside!
Opening the storage mirror you'll see five shelves, two drawers, 32 necklace hooks, 84 ring slots, 90+ stud and earring slots, and a bracelet rod 🤯. This mirror can be installed in one of two ways: mounted on the wall or hanging on the door. The door hangers are included!
Promising reviews: "This is probably the best purchase I have ever made on Amazon. This is very well made. Like incredibly well made. It stores sooo much stuff!!! My daughter loved it and now I am eyeing one for myself. My daughter had jewelry and trinkets everywhere in her room. This put everything neatly in one space. It's elegant and well made. Mirror + jewelry holder = game changer." —Linnette
"I love, love, LOVE this jewelry cabinet!! It is perfect in EVERY way! There is a ton of space for all sorts of various styles of jewelry, and the LED lights in the top are super helpful to light up the inside...this is a MUST BUY in my opinion!" —Erika
Get it from Amazon for $139.99 (originally $159.99, available in eight colors).
11.
A set of alphabetical record dividers so you can easily find that *one* specific album you're looking for in a sea of many. This set comes with five 100% wood dividers.
12.
A hair tool vanity organizer with a magnetic strip to prevent all those loose bobby pins from showing up in random parts of the house. With this set you'll get three round compartments for your hair tools, with three additional compartments below for smaller items. It's a great place to ~neatly~ hold all daily your essentials.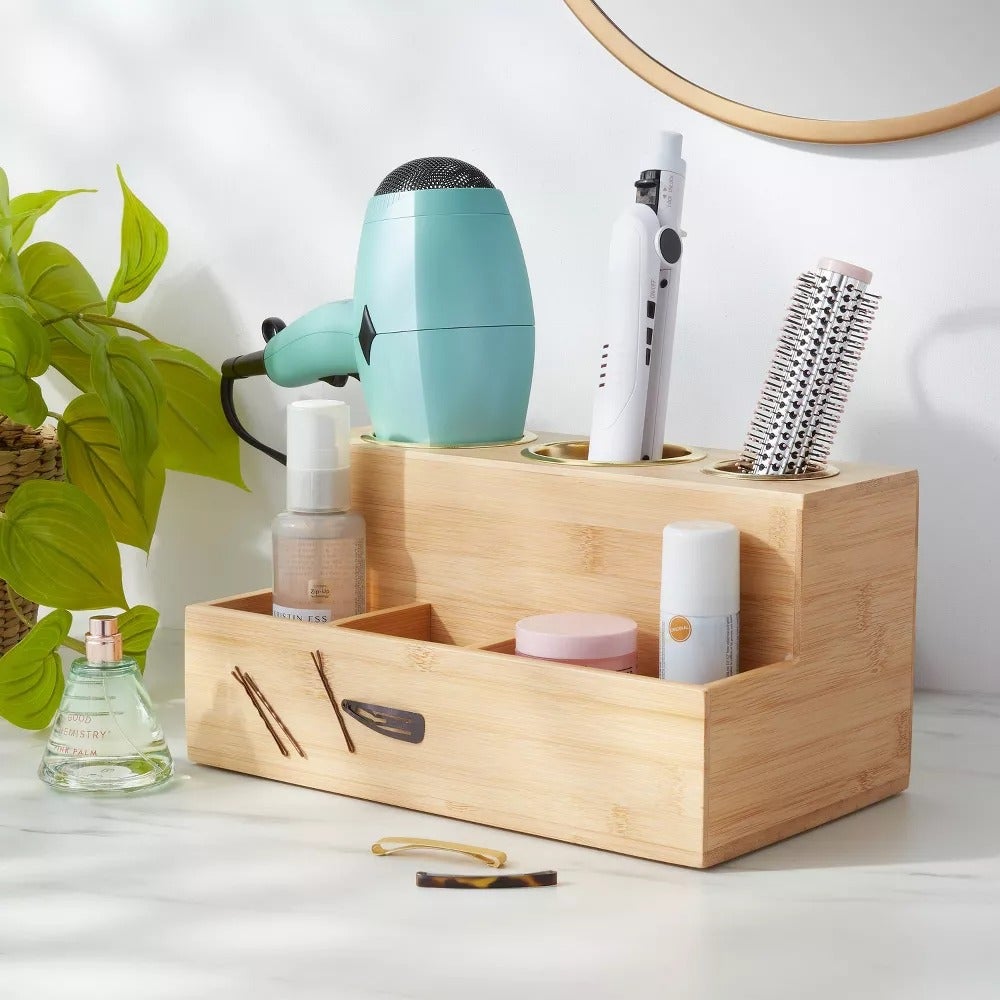 Get it from Target for $35.