My granny was a wonderful cook and would always make cornbread for Sunday suppers when we would visit her. She would wait until we arrived before starting on the dish, so every time I see the batter bubble, roll up the sides, and then hear that crackle and sizzle, I get nostalgic. Almost everything is sweeter in the South—the tea, the lemonade, the desserts. But cornbread is the exception. Cornbread from the North is actually sweeter, closer to a muffin. Southern cornbread is a starch, not a sweet, and is used for soaking up all the yummy juices on the plate. This version is perfect for doing just that.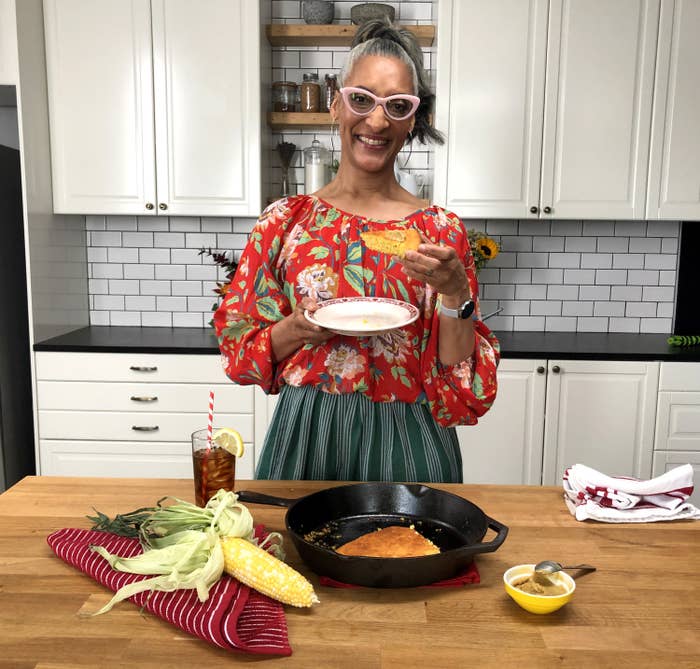 Ingredients
for 8 servings
CREAMED CORN
½ cup corn, fresh or frozen and thawed
¾ cup heavy cream
CORNBREAD
2 cups stone ground yellow cornmeal
4 teaspoons baking powder, aluminum-free
1 teaspoon kosher salt
3 large eggs
1 cup sour cream
1/2 cup canola oil, or other neutral oil
SORGHUM BUTTER
4 tablespoons unsalted butter, room temperature
1 teaspoon sorghum syrup
1 pinch kosher salt
SPECIAL EQUIPMENT
12 inch cast iron skillet, (30 cm)
Preparation
Preheat the oven to 425ºF (220°C). Heat a 12-inch (30 cm) cast iron skillet in the oven until very hot.
Make the creamed corn: In a food processor, combine the corn and heavy cream and pulse until coarsely blended.
Make the cornbread: In a medium bowl, combine the cornmeal, baking powder, and salt.
In a small bowl, whisk together the eggs, sour cream, creamed corn, and ½ cup (120 ml) oil.
Pour the wet ingredients into the dry ingredients and mix until smooth. Pour the remaining 2 tablespoons oil into the hot skillet, and then pour in the batter and smooth the top. The batter will begin sizzling right away.
Bake the cornbread until golden and a cake tester inserted in the center comes out clean, 22-25 minutes.
Make the sorghum butter: Whisk the butter in a small bowl until smooth. Whisk in the sorghum syrup and salt until fully incorporated.
Serve the cornbread hot or warm with the sorghum butter alongside.
Enjoy!