If you haven't stuffed your steak like this, you're missing out!
Hasselback Steak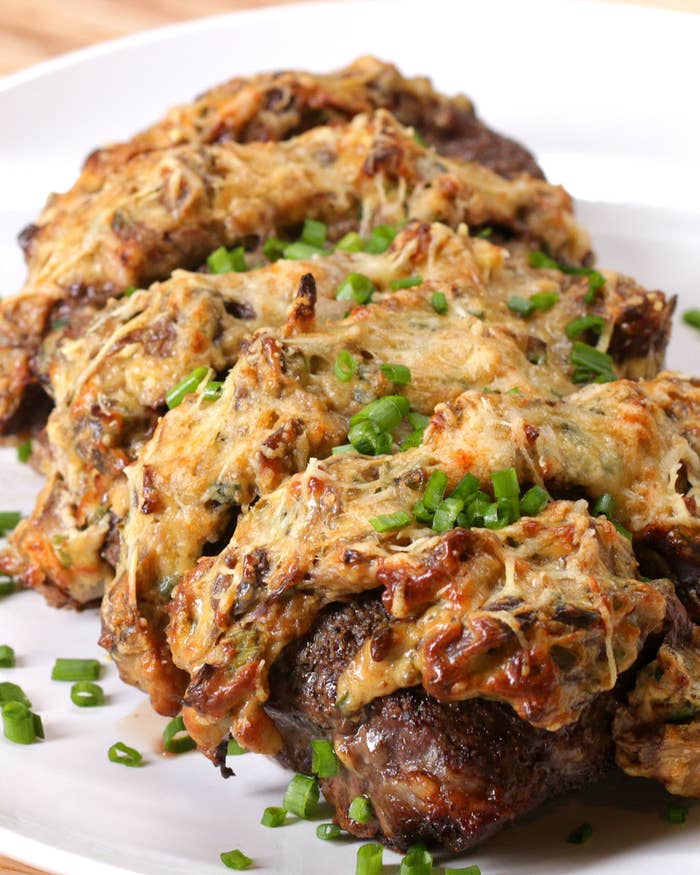 INGREDIENTS
Serves 1-2
2 tablespoons oil (for mushrooms)
1 shallot, finely chopped
2 cloves garlic, chopped
2 cups mushrooms, quartered
1 teaspoon salt (for mushrooms)
¼ teaspoon pepper (for mushrooms)
4 ounces cream cheese, softened
2 egg yolks
¼ cup chives, chopped
1 sirloin steak
2 teaspoons salt (for steak)
2 teaspoons pepper (for steak)
2 tablespoons canola oil (for steak)
¼ cup grated Parmesan
PREPARATION
Preheat oven to 400°F.
Heat oil in a pan over medium heat. Add shallots and garlic, cooking until translucent. Add mushrooms, salt, and pepper, cooking until mushrooms are golden brown. Remove from heat.
In a medium bowl, combine mushrooms, cream cheese, egg yolks, and chives, stirring until evenly incorporated. Set aside.
On a cutting board, season both sides of the steak with salt and pepper.
Cut about ¾ of the way through the steak, making the incisions 1-inch part.
Pack a spoonful of the mushrooms mixture into each cut in the steak.
Heat the oil in a pan over high heat. Sear the steak for about 30 seconds, then bake for 10-15 minutes, depending on how you like your steak cooked.
Slice, serve, and enjoy!
Want BuzzFeed Tasty right in your inbox? Sign up for our newsletter!