Chicken Fajita Salad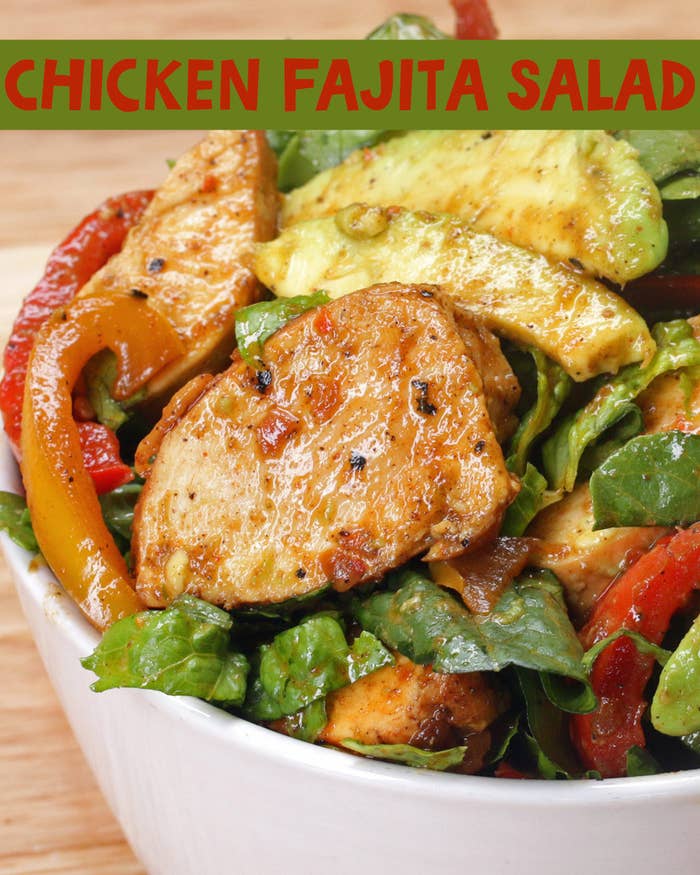 INGREDIENTS
Serves 2
2 Tbsp. canola oil
1 boneless, skinless chicken breast
1 red bell pepper, thinly sliced
1 yellow bell pepper, thinly sliced
1 medium onion, thinly sliced
1 tsp salt
1 tsp chili powder
1 tsp cumin
1 tsp garlic powder
3 Tbsp. olive oil
3 Tbsp. lime juice
1 tsp brown sugar
1 tsp chili flakes
1 tsp salt
1 head romaine lettuce, chopped
1 avocado, sliced
PREPARATION
Heat the oil in a pan over medium-high heat. Cook the chicken, bell peppers, onion, salt, chili powder, cumin, and garlic powder for five minutes, stirring constantly. Flip the chicken, and cook for another five minutes, until chicken is cooked and vegetables are slightly soft. Remove from heat and slice the chicken into strips.
In a small bowl, combine the olive oil, lime juice, brown sugar, chili, and salt, stirring until evenly mixed.
In a large bowl, toss the romaine lettuce with the chicken, peppers & onions, avocado, and dressing. Serve!
Want BuzzFeed Tasty right in your inbox? Sign up for our newsletter!