Garlic Parm Stuffed Mushrooms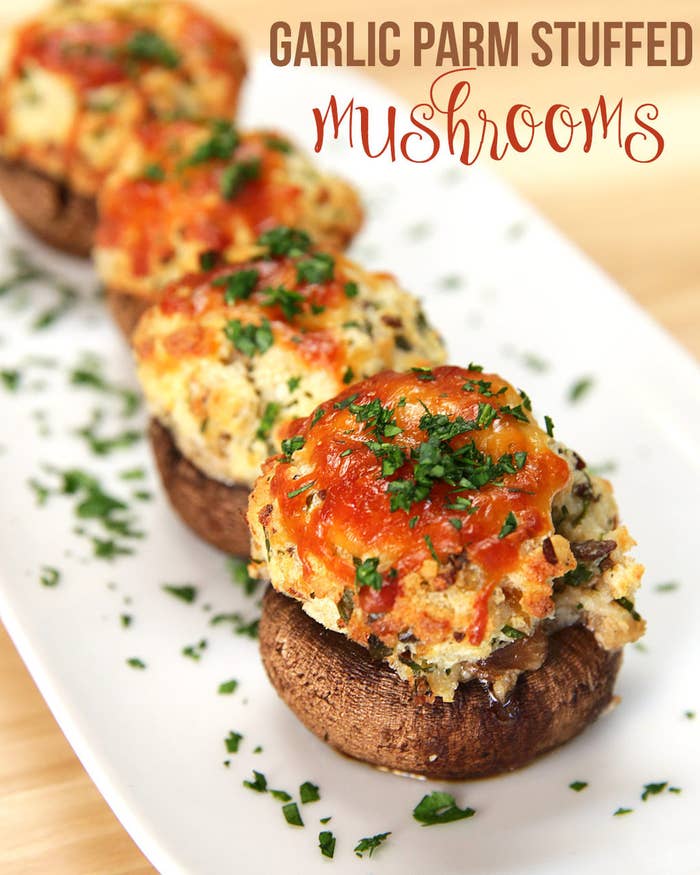 INGREDIENTS
Makes 15
15 mushrooms
1 tablespoon canola oil
2 tablespoons chopped garlic
½ tablespoon kosher salt
½ tablespoons freshly ground black pepper
8 ounces softened cream cheese
¼ cup Italian breadcrumbs
½ cup shredded parmesan cheese, divided
2 tablespoons chopped parsley
Kosher salt
Freshly ground black pepper
Chopped parsley, to garnish
PREPARATION
1. Preheat oven to 350° F.
2. Cut the stems off of each of the mushrooms and finely chop them, setting the mushroom caps aside for later.
3. Heat the oil in a pan over high heat. Cook the chopped stems with the garlic, salt, and pepper for about six to eight minutes, constantly stirring. Be careful not to burn the garlic. Remove from heat.
4. In a medium bowl, combine cooked stems, cream cheese, breadcrumbs, half of the parmesan, parsley, salt, and pepper, mixing until evenly combined. The mixture should be extremely thick.
5. Space out the mushroom caps evenly on a baking sheet, upside down. Spoon a generous amount of the cream cheese mixture on top of each mushroom. Top each mushroom with a sprinkle of parmesan cheese. Bake for 20 minutes.
6. Garnish with a sprinkle of parsley, then serve!
Want BuzzFeed Tasty right in your inbox? Sign up for our newsletter!