Baked Eggs In Peppers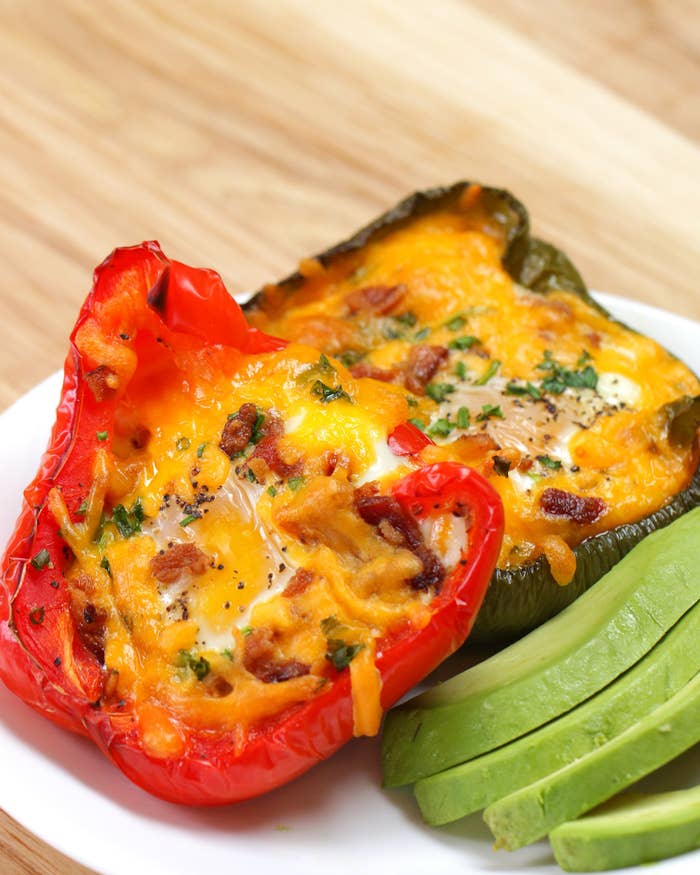 INGREDIENTS
Makes 4
2 bell peppers
1 tablespoon Kosher salt
1 tablespoon freshly ground black pepper
1 cup shredded mozzarella cheese
½ cup finely chopped chives
4 large eggs
4 strips cooked bacon
½ cup shredded cheddar cheese
PREPARATION
Preheat oven to 350°F.
On a cutting board, split the bell peppers in half from stem to base. Cut out the stem and the seeds. Transfer halved peppers to a baking tray, cavity side up. Sprinkle each half with salt and pepper. Bake for 15-20 minutes, until peppers are slightly soft.
Sprinkle the mozzarella and half of the chives evenly among the four pepper halves. Crack eggs into the center of each pepper. Sprinkle the salt, pepper, bacon, cheddar, and remaining chives on top of the eggs. Bake for 15-20 minutes, until egg whites are set. Serve!
Want BuzzFeed Tasty right in your inbox? Sign up for our newsletter!