These Cheesecake Bites Will Turn Any Dinner Party Into A Complete Blast
Because they are DELISH AF.
by
,
Cheesecake Bites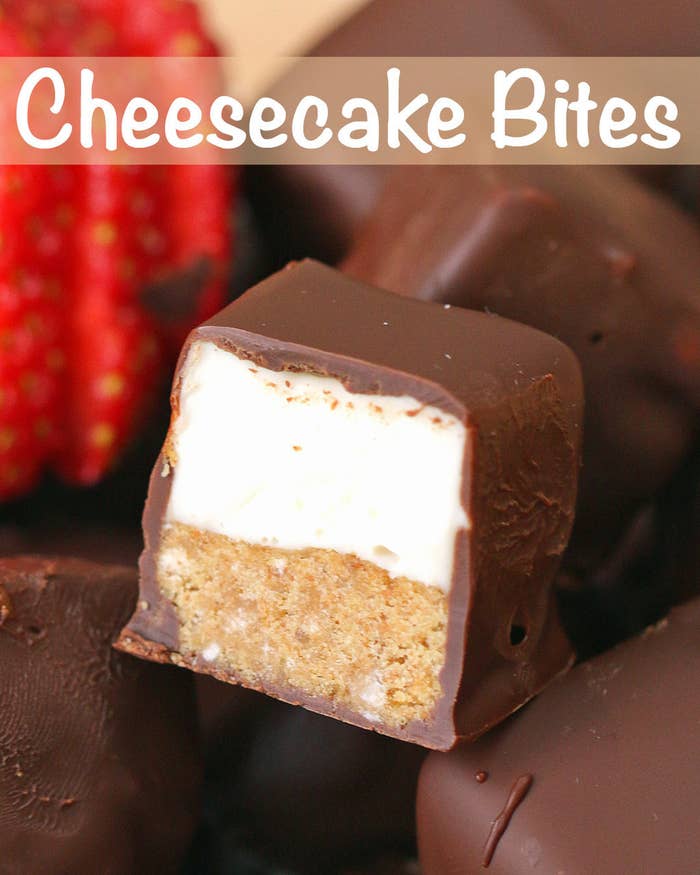 INGREDIENTS
Makes 30–40
10 graham cracker sheets
¼ cup confectioners' sugar
1 teaspoon Kosher salt
1 stick melted butter
16 ounces cream cheese, softened
1 cup confectioners' sugar
1 teaspoon vanilla extract
3 cups chocolate chips, melted
PREPARATION
In a plastic bag, crush the graham crackers finely with the back of a large pot or pan.
In a large bowl, combine graham crackers, ¼ cup confectioners' sugar, salt, and melted butter, stirring until the mixture is the texture of wet sand. Dump the graham cracker mixture into a 9x9 baking dish lined with parchment paper. Press the mixture down with your hands to create an even layer. Freeze for 10 minutes.
In a separate bowl, combine cream cheese, 1 cup confectioner's sugar, and vanilla, stirring until smooth. Spread the cream cheese mixture evenly on top of the graham cracker crust. Freeze for one hour.
Transfer the frozen cheesecake onto a cutting board, peeling away the parchment paper. Slice 1-centimeter-wide strips horizontally, then vertically, creating little cheesecake cubes.
In a medium bowl, microwave the chocolate in 20-second intervals, stirring in between, until melted and smooth. Dip the cheesecake cubes in the chocolate, dripping off excess, and set them on a tray lined with parchment paper. Repeat with the remaining cubes. Freeze for 15 minutes, then serve!
Want BuzzFeed Tasty right in your inbox? Sign up for our newsletter!