Red Wine Dragon Ribs
A feast fit for a king or queen.
Red Wine Dragon Ribs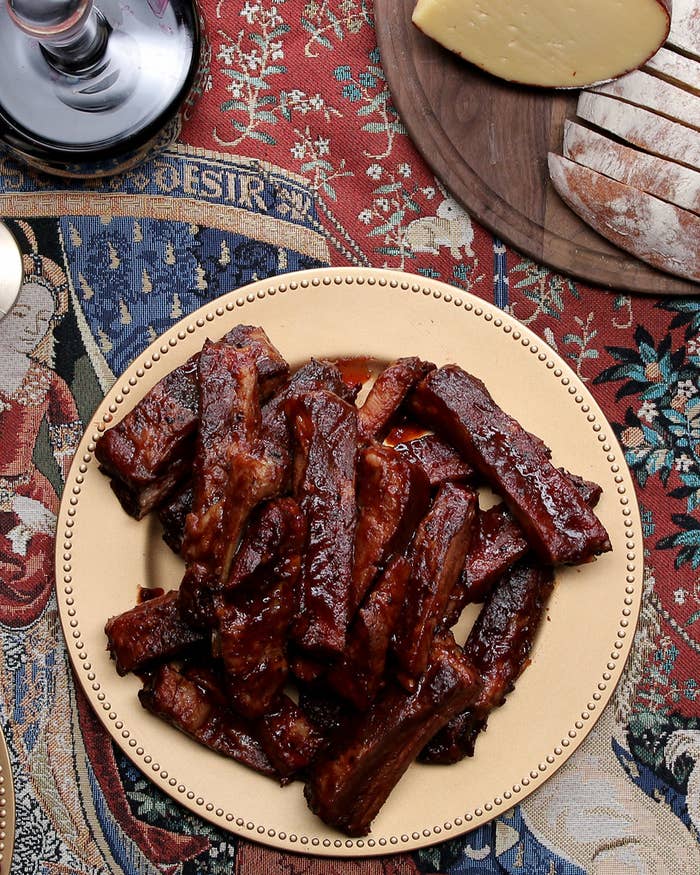 INGREDIENTS
Servings: 4-6
2 racks pork ribs (about 3-4 pounds each)
Salt
Pepper
1 cup of red wine
1 cup brown sugar
¼ cup apple cider vinegar
¼ teaspoon allspice
1 can tomato sauce
3 tablespoons tomato paste
PREPARATION
Preheat oven to 250˚F/125˚C.
Clean the ribs (remove membrane or score) and pat dry.
Place the ribs in a foil-lined roasting pan, and season both sides with salt and pepper.
Add about ¼ inch of water (about ½ cup) to the pan.
Seal the top of the roasting pan with foil and bake for 2 hours or until ribs are very tender.
Place wine, brown sugar, vinegar, tomato sauce, tomato paste, and allspice in a saucepan.
Simmer the sauce for at least 45 minutes and season to taste. The sauce should be rich and thick.
Raise oven to 350˚F/180˚C.
Remove ribs from roasting pan. Pour off all fat and water, and baste ribs with sauce.
Bake an additional 20-30 minutes. (You can stop and re-baste halfway through.)
Cut ribs and serve with additional sauce.
Enjoy!