BuzzFeed News has spoken to a woman who believes she heard a distraught Tamworth teen, Mark Haines, pleading to be left alone just hours before he was found dead on a train track.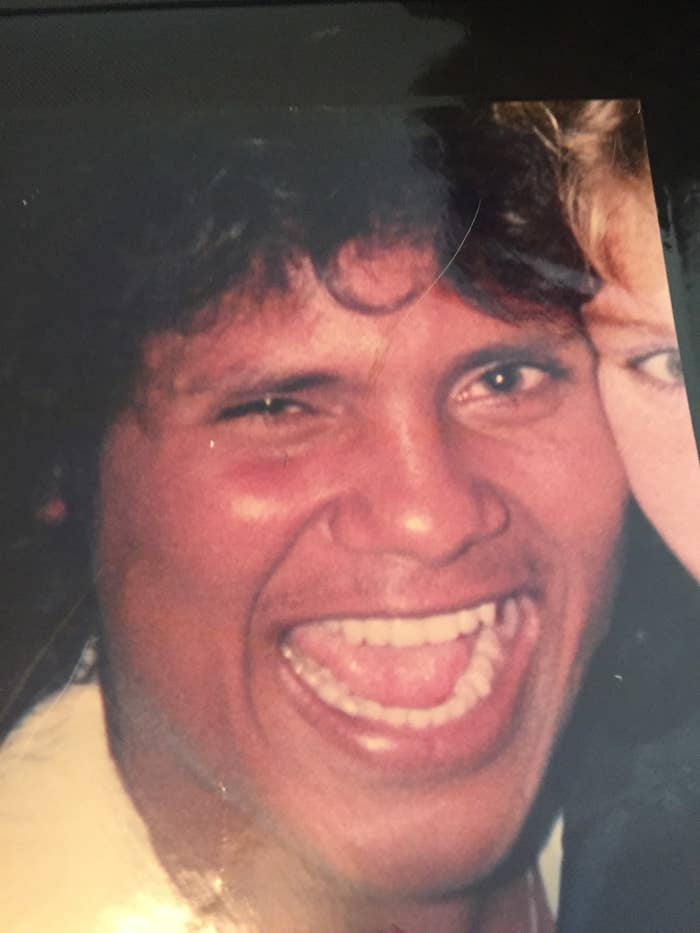 The woman is one of a number of people who have agreed to speak following BuzzFeed News' ongoing investigation into the unsolved death of Haines in 1988 in Tamworth, a regional city in northwestern NSW.
BuzzFeed News has obtained several documents never before seen by the public relating to Haines' death. The bundle of documents contains explosive allegations claiming Haines, 17, was murdered by a group of men who then dumped his body on train tracks on the outskirts of the city.
Among those agreeing to talk is Sophia who, like many connected with the case, is scared of retribution. We've changed her name to protect her identity.

Sophia believes she heard a distraught Haines begging to be left alone around three hours before he was found dead.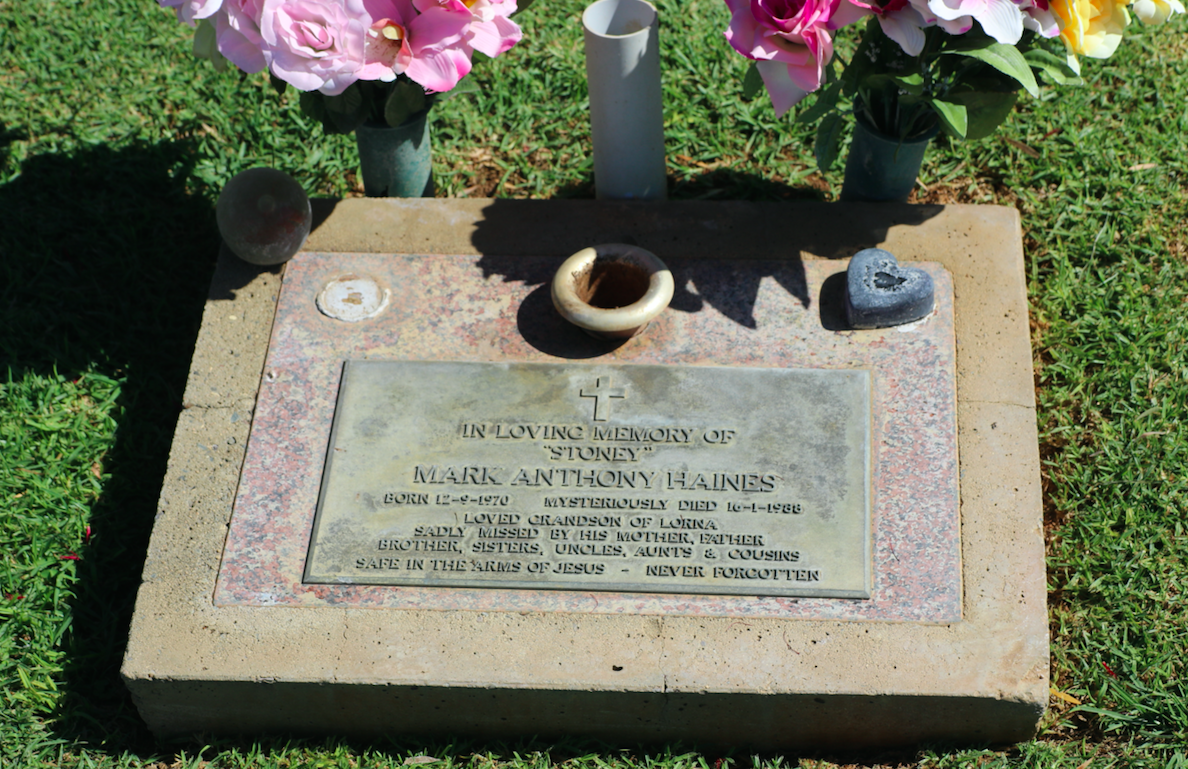 In the early hours of Saturday January 16, 1988, Sophia was jolted wide awake by the sound of a voice, "a very distressed young man" telling someone to "fuck off", outside her home.

Sophia and her family had returned home late on the Friday evening from a trip. The caravan they'd used was parked outside their home in Churchill Street, south Tamworth, and she remembers worrying that whoever was outside might have been about to break into the caravan.
"I heard them going, still arguing, going up the street," Sophia told BuzzFeed News. Sophia glanced at the digital clock in her bedroom and noted the time: 3:25am.
Sophia attempted to go back to sleep, but about five minutes later she heard a car come "flying up the street and turn the corner".

"It was travelling at an unreal speed, [and] I didn't think it would take the corner; I expected it to crash into one of the houses on the other side of the street."
The car stopped briefly before screeching off.
Sophia didn't think any more of the episode until the following Monday when she picked up a copy of the local newspaper.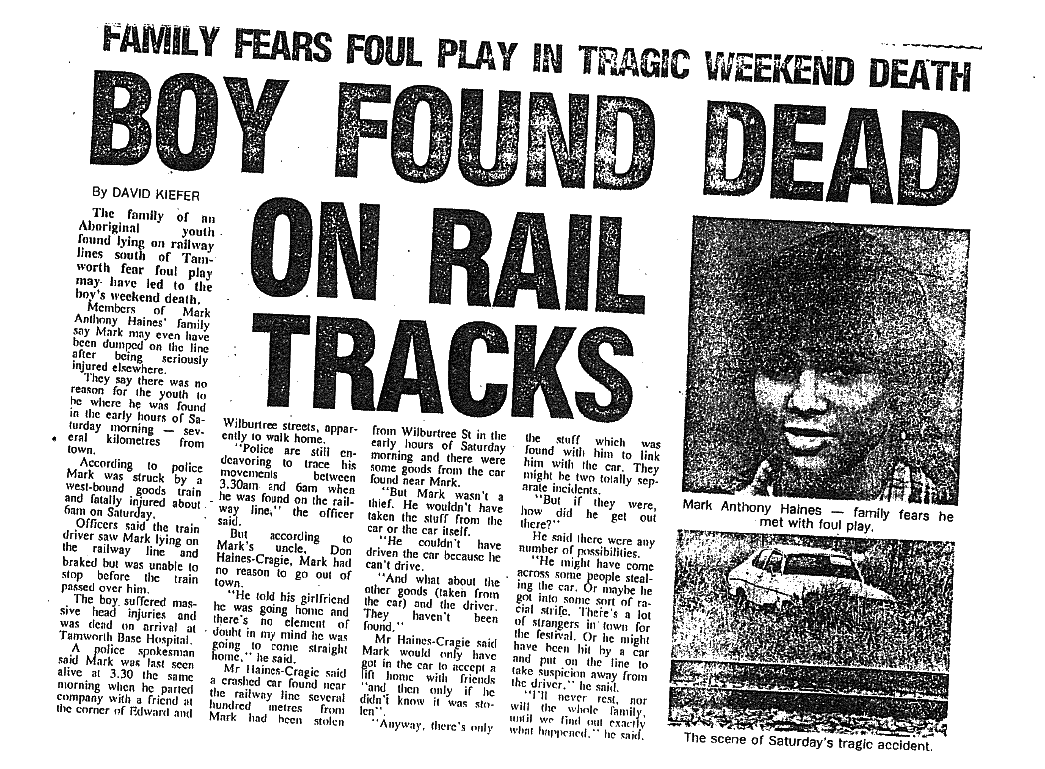 The headline splashed across the front page – "Boy Found Dead On Rail Tracks: Family Fears Foul Play In Tragic Weekend Death" – sent a shiver down her spine.
A line in the story had her reaching for the phone: "A police spokesperson said Mark was last seen alive at 3:30 the same morning when he parted company with a friend at the corner of Edward and Wilburtree streets, apparently to walk home."
Sophia says she called Tamworth police station and repeated what she had heard outside her house on the Saturday morning.
She lived near Wilburtree and Edward Streets, and the timeline in the newspaper story led her to believe that Haines was the "distressed young man" outside her property in the early hours of January 16.

From what she could hear, Sophia believes the car had come to a stop in roughly the same spot where Haines was alleged to have said goodbye to his girlfriend Tanya White.
Tanya would later tell the police and a coronial inquest that she and Haines got to the corner of Wilburtree and Edward Streets by walking up Bell Street, turning left onto Churchill Street and then right onto Wilburtree Street.
The corner of Bell and Churchill Streets places the couple near the front of Sophia's house at around the time she heard the emotional man asking to be left alone.
At the inquest Tanya said her and Haines were not fighting. She also said she returned home at 3.37am Saturday morning. There is no suggestion that she was involved in Haines' death.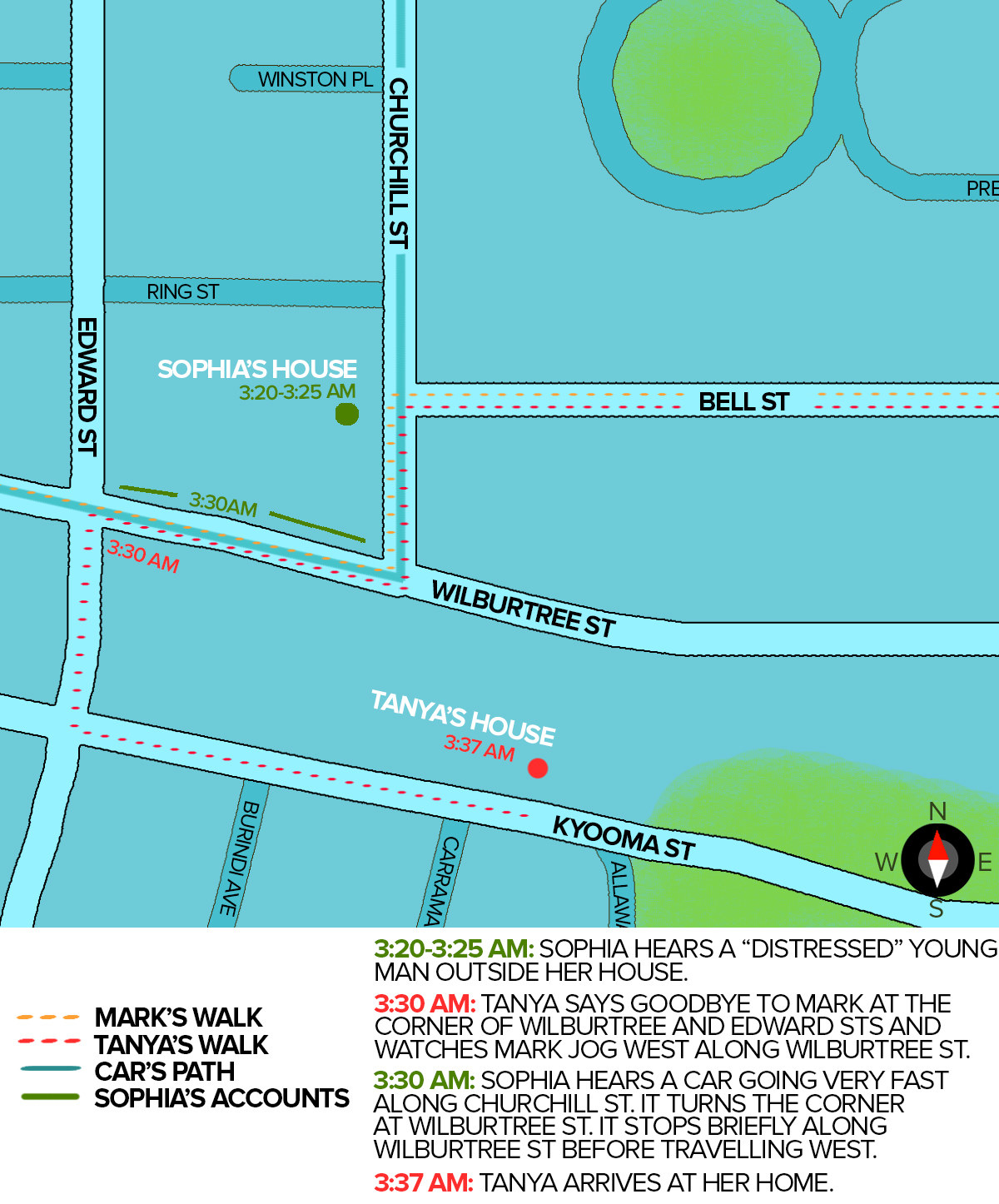 After providing a statement to police over the phone, Sophia also gave evidence at the inquest into Haines' death.
BuzzFeed News has obtained a copy of her original handwritten statement taken by a police officer. The statement ends midway through a sentence, and part of it appears to have been covered over.
When shown the note, Sophia points out that, "strangely, half of the note has been covered up with white-out".
She has not since spoken publicly about that night.
Over the past decade several leads have seen the case reopened, yet Sophia, possibly a key witness, says the police haven't been in contact since 1988.
It took a year for BuzzFeed News to find Sophia, who no longer lives in the same house. She is a diminutive and softly spoken woman in her 60s.

"If I can help [the Haines family], even if it just opens up [the door] for somebody else to come forward," Sophia said. "Obviously, there are people out there that are not telling the truth."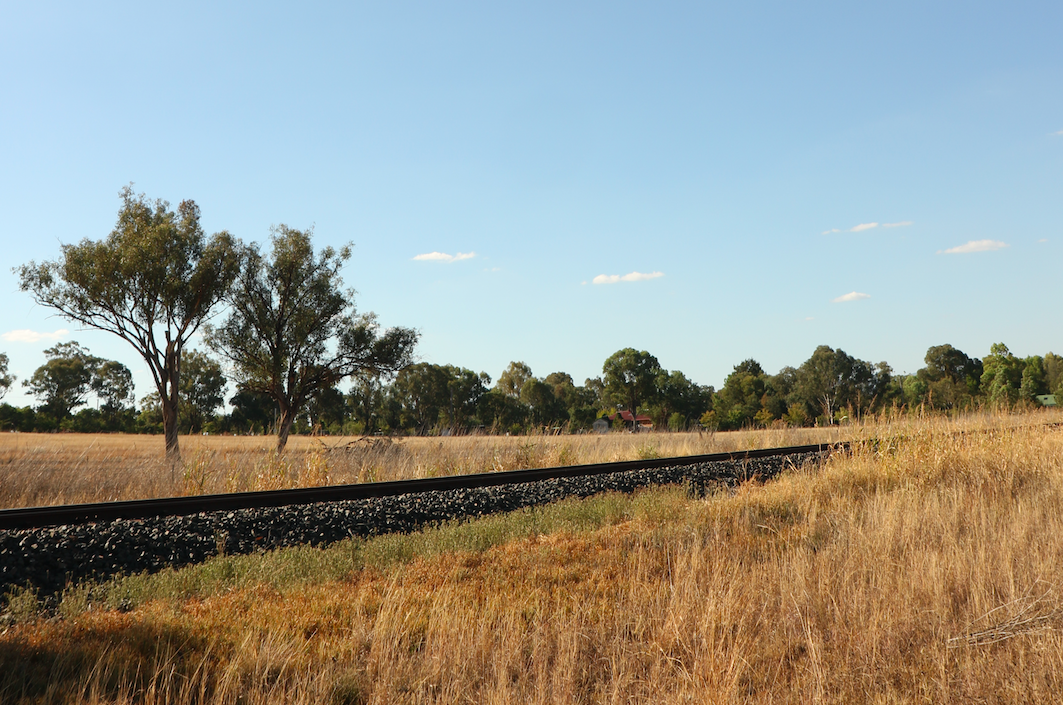 Today, Sophia believes it was Haines who was pleading to be left alone that night.

"I thought there was more than one person there, to have someone worked up so much; I presume it had to be males. I don't have any doubt at all [that it was Haines]. I just listened for a while, I could hear this young voice, young fellow and I thought 'Ohhh, he was a mess'.
"The language, I can still feel, it upset me even to think about it 'cos, oh boy, if that had been my son, I would have been very concerned and worried."
When pressed on exactly what she heard early that morning, Sophia pauses. She's too polite to repeat verbatim the man's words, and replaces the word "fuck" with "eff".
"It was just like, 'Leave me alone! Eff off, eff off, leave me alone'. It was so emotional that I was very, very concerned for him, and I thought, 'I just hope nothing bad happens here'."
Did she believe the young man was angry? "No, it was a man at the end of his tether".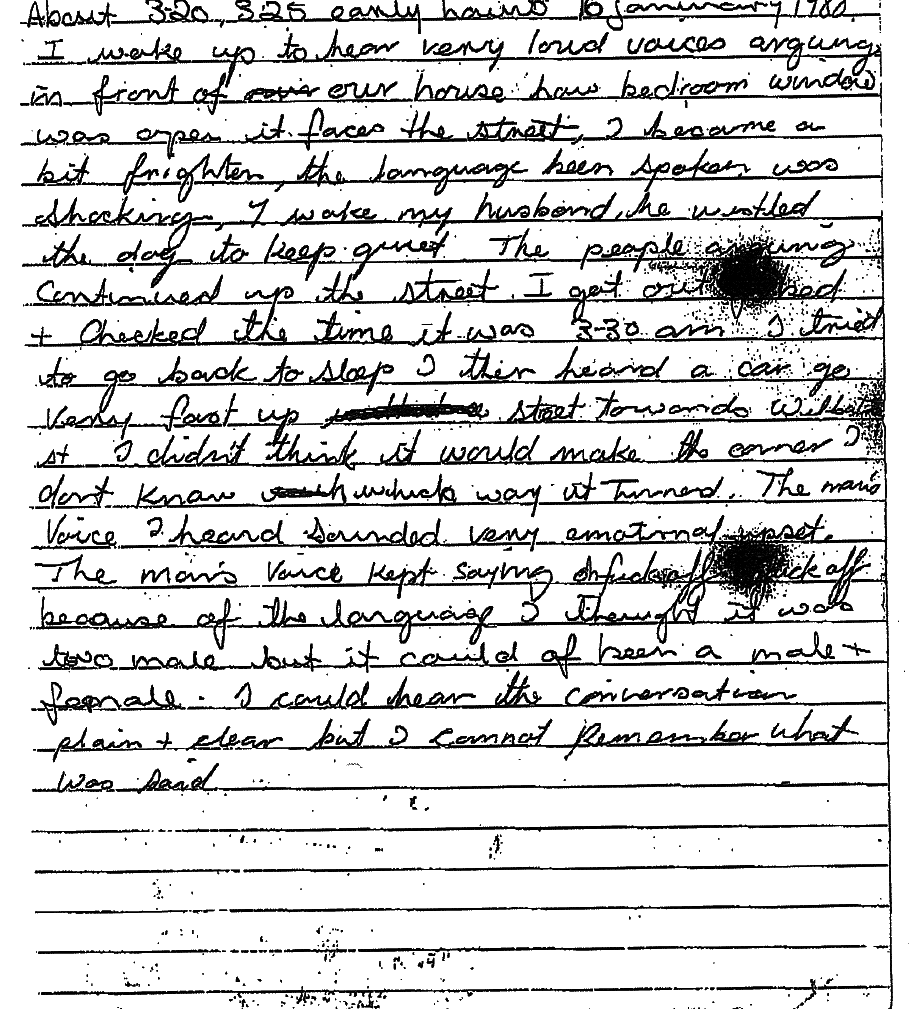 Sophia tried to get back to sleep but was disturbed by the sound of a speeding car coming up the street. It screeched around the corner of Churchill and Wilburtree Streets, where it came to an abrupt stop.
"It pulled up long enough to do something for a few minutes and then it took off at a rapid speed," Sophia recalled. She then looked at the digital clock which read 3:30am.
Sophia walks BuzzFeed News to the spot where she heard the car come to an abrupt halt near the corner of Churchill and Wilburtree Streets. lt's barely 50 metres from the house she used to live in.
"I thought... someone's gone and pulled up and picked this couple up and taken them somewhere, and I hope they're alright and they're not driving with that fast car. That's what I thought."

Sophia recalls the car made a distinct noise.
"I thought it sounded heavy to start with, like it was towing maybe a light trailer, or had a flat tyre," she said.
Sophia's description of the car's sound is close to that of another woman's, who claimed to have heard a car that sounded like it had "an empty trailer" outside of her house about an hour after Tanya and Haines parted.
The woman lived across the road from the section of train tracks where Haines was discovered.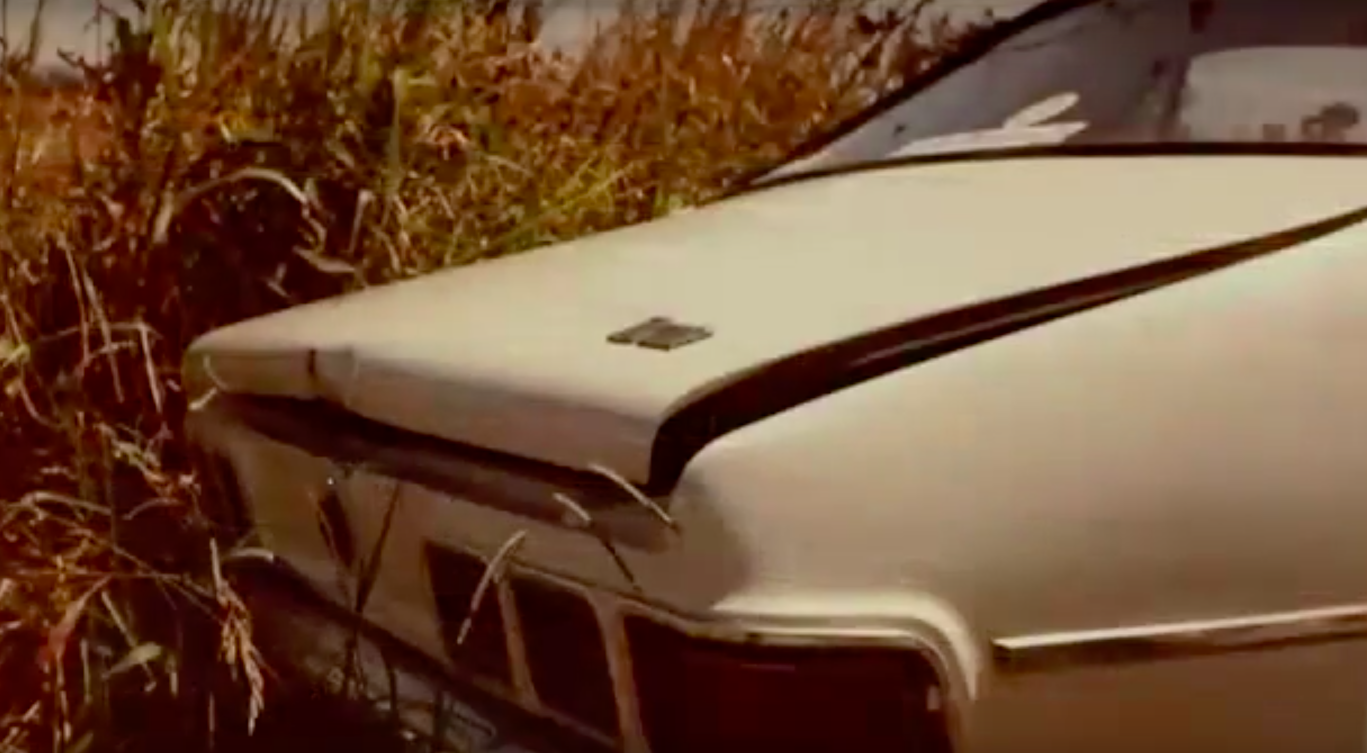 Haines was found dead at around 6:30am by a train driver. Despite suffering from massive head injuries there was very little blood at the scene. A stolen Torana was found about a kilometre away.
Police officers conducted a basic investigation and didn't fingerprint the car, which was left exposed to the elements for several weeks.
They also failed to collect evidence near the body; Haines' family later handed in evidence found at scene.
A towel that was found under the teen's head was also lost.
An inquest into Haines' death returned open findings and the case has remained largely cold.

The family has always maintained Haines met with foul play.

Last week, BuzzFeed News revealed explosive claims by a witness that the Gomeroi teen was killed by a group of men over knowledge he had of a marijuana crop.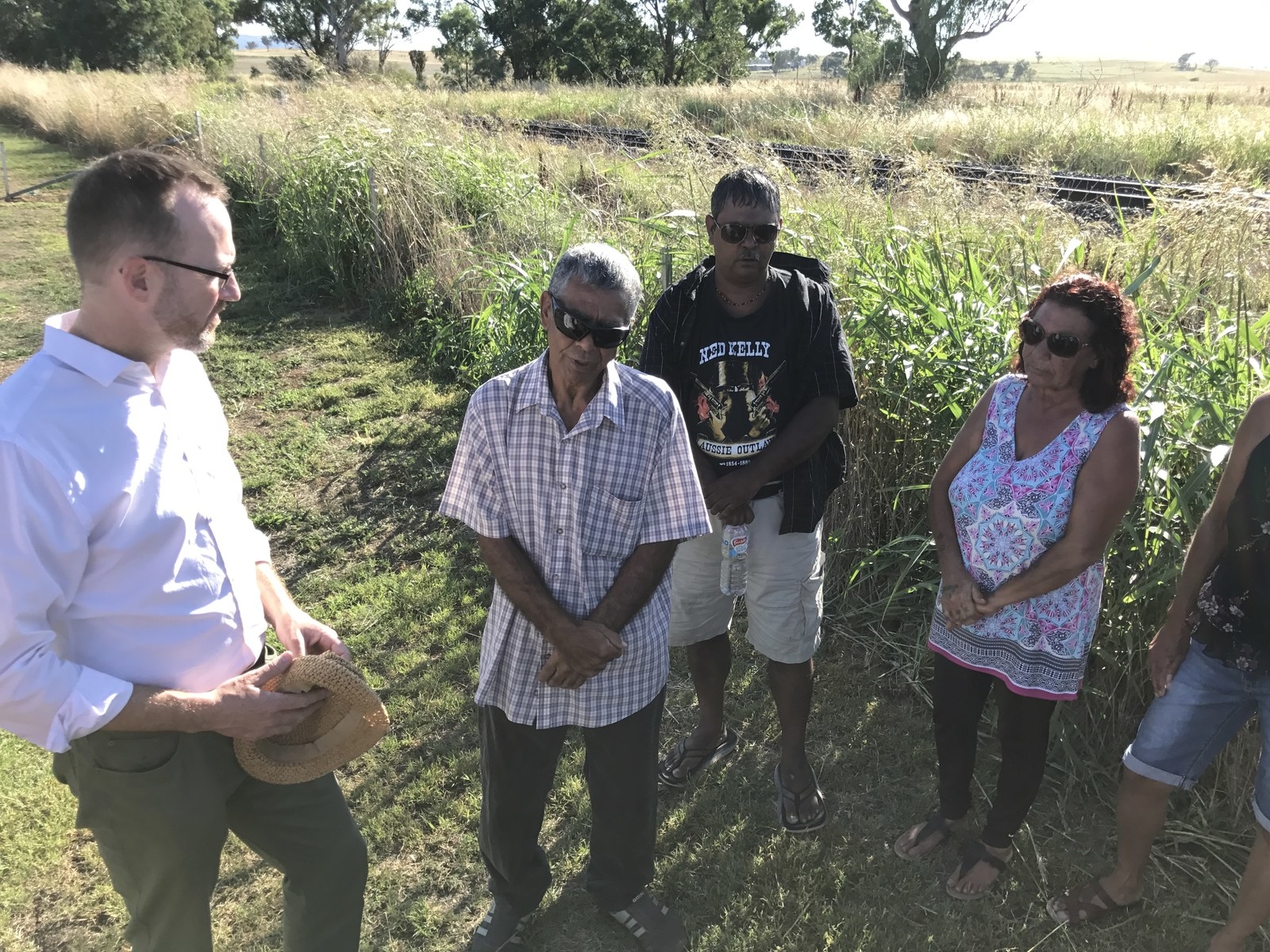 Reporting of the case by BuzzFeed News last year prompted two witnesses to come forward, leading to the investigation being reopened.

Despite the promise of those new leads, it took several months and pressure from NSW Greens MLA David Shoebridge for local detectives to follow them up.
"Cursory, uncaring, amateur: they would be the descriptions I'd give to the investigation," Shoebridge told BuzzFeed News. "Young Aboriginal man found dead on railway tracks, convenient solution – he must have taken his own life or just laid down and been killed by a train."
Shoebridge has since implored the NSW police commissioner to shift the investigation from the Oxley Local Area Command (LAC) to the elite State Crime Command (SCC).
"We need an investigation by somebody other than the local area command, who had been dithering around with it for the better part of three decades," he said.
The SCC is conducting a review of the initial and subsequent investigations by the Oxley LAC. If those investigations are deemed to have been inadequate, it will consider taking on the Haines case.

Sophia says she hopes coming forward will lead to some closure for the family.
"That's the only reason I really want to bare my heart out with you, because it doesn't add up. I do not believe he committed suicide in a million years, I do not believe it."
Additional reporting by Ellen Leabeater.