Honey Mustard Chicken Salad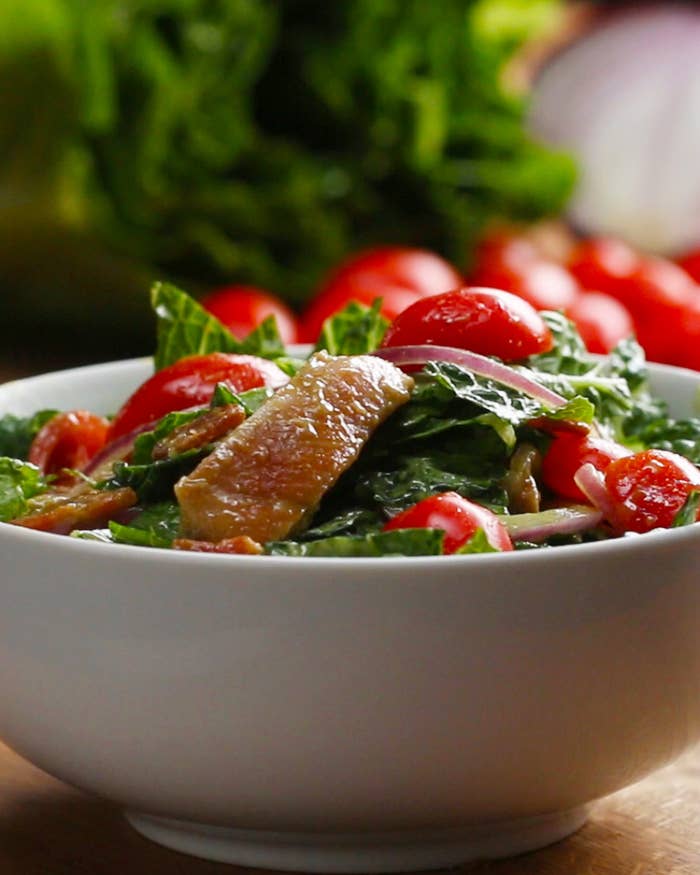 INGREIDENTS
⅓ cup honey
¼ cup Dijon mustard
2 tablespoons olive oil
2 cloves garlic, minced
2 teaspoons salt
1 teaspoon pepper
4 boneless, skinless chicken thighs
¼ cup bacon, chopped
4 cups romaine lettuce, chopped
1 cup cherry tomatoes, halved
¼ red onion, sliced
1 avocado, pitted and sliced
PREPARATION
1. In a small bowl or liquid measuring cup, mix the honey, mustard, oil, garlic, salt, and pepper.
2. Place the chicken thighs in a dish and pour the marinade over the chicken, reserving half for later.
3. Flip the chicken thighs over, fully covering them in the marinade.
4. Cover the dish with plastic wrap and refrigerate for 30 minutes to an hour.
5. Heat a large skillet over medium heat and place the chicken thighs in the pan.
6. Cook for five minutes on each side, or until the chicken is cooked through.
7. Remove the chicken and set aside.
8. Wipe the pan clean and place back on the heat.
9. Add the chopped bacon to the pan and cook until crispy, about 10 minutes.
10. Transfer the bacon to a paper towel-lined plate to drain.
11. Add three tablespoons of water to the reserved marinade and stir to combine.
12. Slice the chicken into strips.
13. Add the romaine, cherry tomatoes, red onion, avocado, cooked bacon, and chicken to a bowl and drizzle with the remaining honey mustard dressing.
14. Enjoy!