This Bride Helped Pull Off A Proposal At Her Own Reception With A Fake-Out Bouquet Toss
There was plenty of love to go around.
When it came time for the traditional bouquet toss, Chelsea did a total fake out, and instead handed the bouquet to her cousin Megan, a bridesmaid.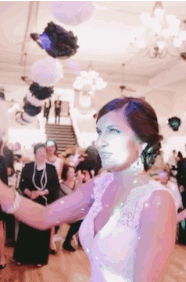 After passing along the bouqet, Chelsea turned Megan around to face her boyfriend of eight years, Brett.
Surrounded by friends and family, Brett got down on one knee and proposed.