Dina and Chas have been together for 10 years. With the burden of student loan debt and jobs in the nonprofit sector, they flew off to elope. On their way, the JetBlue flight team threw them an unofficial mid-air "wedding!"
Flight attendant Joanne served as the flower girl, dropping tissues down the aisle in lieu of rose petals.
Dina, the "bride" followed, holding a bouquet made of napkins and sugar packets.
Dina's veil was made from trash bags, and Chas had a matching bowtie! So clever!
Flight attendant Joanne pulled double-duty, also playing "wing" bearer.
The exchange of the wings...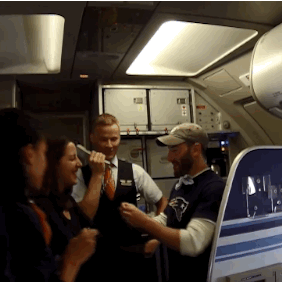 "By the power vested in JetBlue, which is NO POWER AT ALL," flight attendant Chris pronounced them travel companions for life.
The "newlyweds" were even treated to a saxophone serenade from a fellow passenger for their first dance!