In 2011, Mississippi passed a sex education law requiring abstinence-based education and banned the use of condoms for in-class demonstrations. Sanford Johnson, now the Deputy Director of Advocacy for Mississippi First, found a genius way around it.
Johnson's sock metaphor was an innovative way to make sure his students were still being informed despite the ban.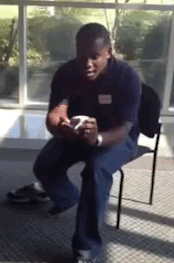 He demonstrates:
I'm going to pinch out the air out of the tip of the sock because I want to make sure there's room for my toes. Then I take the sock and put it on the tip of my foot and I roll it down. You want to roll it all the way down your foot. And then you can put it in your shoe, and then you are ready to engage in shoe activity.

When I'm done, what I do is I take the top of the sock and I make sure that I hold it very tight and then I pull it outside of the shoe and then I can pull the sock off. I tie it up — because I don't want sweat to fall out or anything like that, and then I toss it away and put it in the hamper.
Mississippi has the second-highest rate of teen births, as well as the second-highest rates of chlamydia and gonorrhea in the nation. The state also has the second-highest percentage of students who say they have had sex before the end of 12th grade at 58%.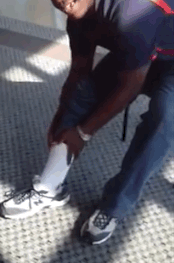 Johnson finishes his lesson with an apt metaphor: "So, if you're gonna engage in a shoe activity, make sure that your foot is protected. Make sure you use a sock each and every time."
Socks in schools: they're not just for kindergarten puppets anymore.