1.
A Glisten garbage disposer cleaner so your food scrap dumping station can continue to function properly free of any stinky smells or gross food that may be stuck in it.
You just pop the packet down the drain! Can't get any easier.
Promising review: "These are amazing! I was skeptical at first but I followed the directions (which are super easy) and was grossed out and satisfied at the same time to see the gunk that was removed. You put the entire packet down your disposal (I read that twice too) and magic happens in under 2 minutes! That is what I call powerful and successful cleaning! The scent is super clean and light with a hint of lemon. These will definitely be a cleaning staple for me." —KPITT
Get a two pack (8 uses) from Amazon for $9. 
2.
A Wet & Forget shower cleaner to tackle the gunk and stains that have been overstaying their welcome in your tub or shower. Spray it on, let it sit for a few hours (some reviewers left it on for 24 hours), and then rinse or wipe it clean! 
Promising review: "I have been having shower draining issues so there was a buildup of soap scum in my shower. I have a very weak stomach and cleaning the shower makes me physically ill. I have tried several products that have claimed to be no scrub/wipe but this has been the only one that has worked. I sprayed it after my shower and left it to sit until the next night. Found that A LOT of the grime had disappeared. Now, was it perfect? No. But I think with consistent use it will get there. Highly recommend this product." —KZ
Get it from Amazon for $18.61. 
3.
Bissell Stomp 'N Go Pads for tackling tough, hard-to-remove surface stains like wine, pet pee, mud, blood, and juice. Simply place the pad on the affected area, stomp on the pad, and then leave it be for 30 minutes. Once you peel it off the floor, your stain should have magically lifted — hallelujah!
Promising review: "OMG I am SO HAPPY that they are making these again. They are the absolute best. Nothing comes close! I even called and wrote to Bissell twice when they discontinued this item asking them to bring it back. Then I bought all I could from Amazon and on eBay. Now they are back! I have an older dog who sometimes has accidents and NOTHING works as well and as easily as these. Some people say they are small but I say they are perfect! In fact, because they are relatively expensive, I cut these into small pieces and use just what I need. If you rub the pad into the carpet it will completely remove the stain. Stomp on it and leave it there. The stain will be gone. I seal the bag with a bulldog clip to keep the remaining pads moist." —kscoco

Get a pack of 20 from Amazon for $24.99. 
4.
A TubShroom that'll assist in keeping your drain clog free by trapping all rogue hair and anything that probs shouldn't be taking a trip down there.
Promising review: "I was so afraid to wash my hair because the thickness would stop up the tub. This TubShroom changed my hair washing routine forever. They say you can leave it in for one to two weeks but I have to remove it after each wash because the shroom can't manage my hair thicknesses. Great product!!!!!" —Cassandra Edwards
Get it from Amazon for $12.95 (available in five colors and in a multipack).
Check out our TubShroom review to learn more!
5.
And a much-loved drain snake if your drain is in fact already clogged and you need to clean it out before inserting a drain catcher.
Promising review: "I'm so excited to finally have a bathroom sink that drains!! Since moving into my apartment, my bathroom sink and bathtub took forever to drain. I bought multiple de-clogging solutions but they didn't assist or help much with the problem. When my bathtub was taking over an hour to drain I decided it was time to try these out! After receiving it I went to work. Within minutes it pulled out so much hair in both drains. It's disturbing/disgusting yet weirdly satisfying because now my sinks drain!! Cannot believe how easy it was to use (I received a pack of three) but only needed to use one for both sinks." —DebSd
Get a pack of three from Amazon for $6.22 (available in two lengths).
6.
A faucet splash catcher that is perfect for keeping the area around your sink dry. I wish I could say mine was always in pristine condition (can you say lazy?), but that would be a lie so I'm kinda thinking it's time to invest in one of these.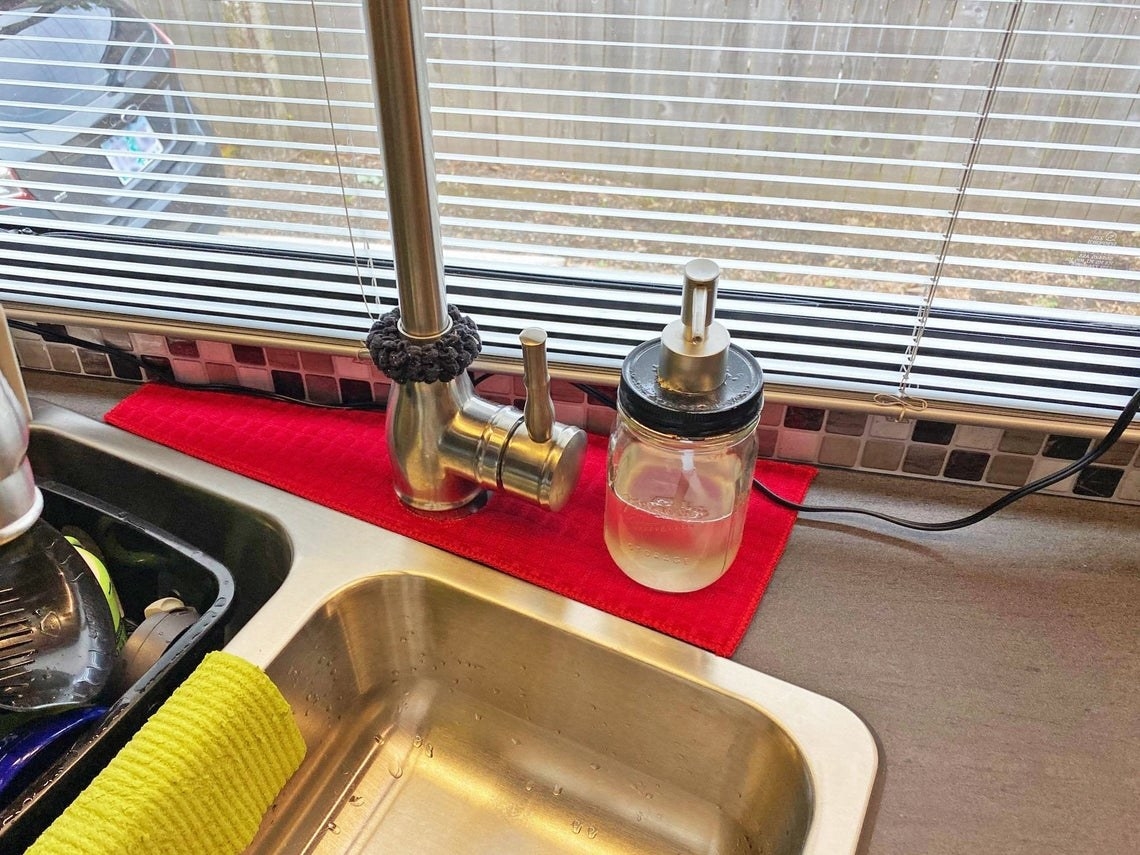 Hustle & Sew is a Saint Helens, Oregon-based Etsy shop specializing in quality handmade goods with personalized options.
Promising review: "If I could give more than five stars, I would because this faucet splash catcher is AMAZING! It fits perfectly on my kitchen faucet; no more drips and puddles! I bought gray and black and they're just perfect!" —Alice
Get it from Hustle & Sew on Etsy for $13.50+ (available in six colors and four sizes).
7.
A scrap collector to attach at the edge of your counter so you can effortlessly swipe scraps into this handy waste bin (instead of struggling over to the trash and dropping stuff on the way there).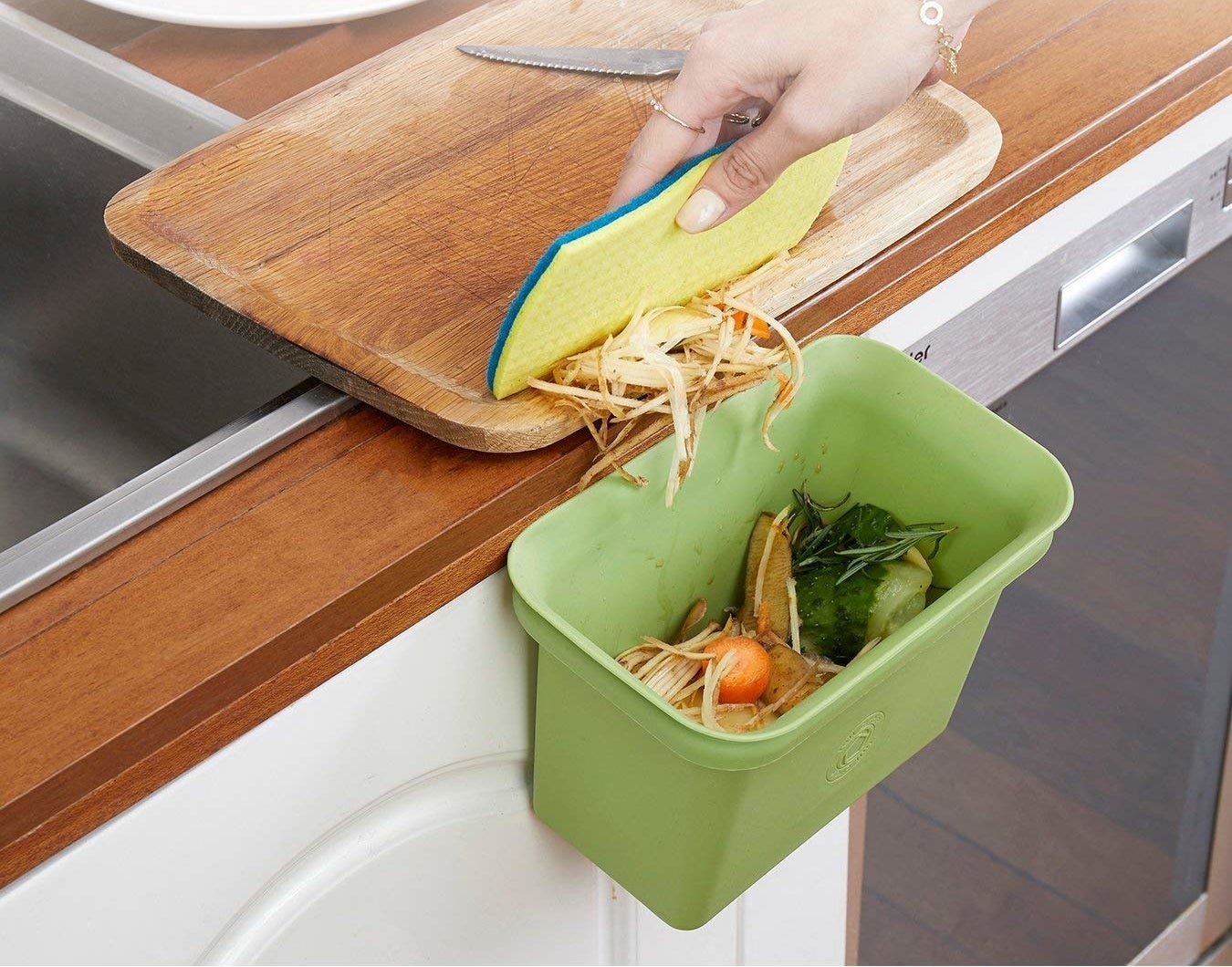 Promising review: "So useful! I use mine more as a small trash collector. I have mine next to the stove for eggshells and anything else I may want to toss quickly. Also, I line it with a plastic produce bag so that it doesn't get grimy and dirty. Not only this, but using this as a small trash can, I end up using my large kitchen trash bag as a bin for my smaller produce-bag-wrapped trash bags (and/or trash items that don't have a smell). This means my large trash can usually doesn't smell bad, since it's only ever full of smaller wrapped trash bags. Maybe it seems a little strange, but for someone who usually only cooks for one, I don't like my large trashcan to be partially full and already smell like it needs to be taken out." —Shaz
Get it from Amazon for $17.77+ (available in two colors).
8.
A can of Bar Keepers cookware polish for keeping your pots and pans spotless from grease stains and most definitely the baked-on tomato sauce you just can't seem to scrub off...
It's great for removing food stains, grease, rust stains, and lime buildup!
Promising review: "I love this product! I recently got new pots and pans that I absolutely love. They're stainless steel and I love the way they look. Unfortunately, I've burnt something on just about all of them, but this really helped to clean them up. I put this powder on the wet pans and use steel wool to scrub out any stains. It's amazing! You don't even have to scrub super hard. Overall, I love this product and it will forever be part of my cleaning routine!" —KARINA
Get it from Amazon for $6.73.
9.
An Angry Mama steamer to do your microwave cleaning sesh for you. Fill her up with vinegar, water, and lemon juice, and then pop her in the microwave to get to work. Go put your feet up while Mama cleans your microwave for you. (Ah, the life).
Promising review: "LOVE this purchase!! I wish I had taken a before picture. My disgusting roommates destroyed our microwave; it was filthy. They would've never cleaned it since they're slobs but this purchase saved me SO much time. All the food came off very easily and it looked brand new after! Amazing, wish I could give it 10 stars." —Marissa
Get it from Amazon for $8.99 (available in four styles).
10.
A blessedly effective carpet cleaner that'll have you saying, "What sorcery is this?!" You'll never have to call Stanley Steemer again.
Sunny & Honey is a family-run small business that prioritizes the health and safety of kids and pets when creating cleaning products. 
Promising review: "This is a wonderful product. I have an older dog who can't always wait until I get home from work so accidents occasionally happen. I have a Hoover Rug Scrubber and this product is very easy to use with my machine. Carpet Miracle works amazingly well on stains and odors, even those that have set for a while. I did the carpet in the 'room of shame' twice just to be sure, although for normal soil and odors once should be more than enough. It leaves behind a wonderful clean, fresh scent, and the carpet feels and looks wonderful. I plan on continuing to use this product to keep my carpets clean and my home smelling fresh." —Vicky Faurot
Get it from Amazon for $16.97.
11.
A pack of stainless steel cleaning wipes for keeping all of your appliances like your refrigerator, dishwasher, and sink free of water marks, stains, and fingerprints.
Promising review: "I purchased these wipes to clean my stainless steel refrigerator. I wanted something that would remove water stains and restore the shine, and these wipes delivered! After a few minutes of vigorously wiping back and forth along the grain, my refrigerator was looking brand-new. I was impressed with the results and noticed that the canister said the wipes could be used on sinks, so I tried one in my stainless steel sink to see what would happen. As you can see from the pictures (above), after just a few minutes of cleaning, my sink was sparkling and incredible! I began cleaning all of the stainless steel appliances in the kitchen, and just a few wipes and 20 minutes later my kitchen was looking better than ever." —Connor
Get a pack of two from Amazon for $11.92.
12.
A leather cleaner and conditioner since your car interior could use a full-on resurrection after all those drive-thru fountain sodas you've spilled on them. This'll work on any leather furniture pieces you have inside your home too!
It works with any leather color! And it's also safe to use on your leather jacket, shoes, and furniture.
Promising review: "I wear jeans all the time and the dye transfers onto the beige leather seats of my 2016 Camry (see before photo). I applied twice in immediate succession. Application one: seven sprays with immediate paper towel wiping. Application two: five sprays, waited 60 seconds, then paper towel wiping. 'After' picture shown here was taken after the first application. No discernible difference between application one and application two. One application does the trick!" —DDM11
Get it from Amazon for $24.99.
13.
An ink and stain remover that can even tackle permanent marker stains you may or may not have gotten on that new pair of jeans...
Promising review: "Amodex took ink out of my expensive scrubs. A pen leaked in my pocket and made a thick glob of ink stain on the scrub jacket and a little on the pants. After using the Amodex and washing in cold water, there is no evidence of a stain and the fabric looks exactly how it looked before the stain. There was no damage or discoloration of the fabric. Thank you, Amodex. This product just saved me the $75 that it would have cost to replace the scrubs." —Michelle hammer
Get it from Amazon for $11.98.
14.
A mop cleaning system so you no longer have to cry over spilled milk (seriously). This mop and bucket combo allows you to mop, rinse, and ring out excess water all in a few seconds. No more dragging a sopping wet mop across the floor. And it works with just plain old water! No harsh cleaners needed.

Promising review: "I love, love, love this mop. I just cleaned all six rooms/floors in my place. In the past I would have used like 10 Swiffer cloth pads for the same job. With this mop I never had to touch the microfiber mop head when it got dirty. I just spin the dirty water out and let me tell you it still looked clean when I was all finished cleaning my floors. I always love products they are simple, sustainable, and cost effective." —Aspiring Veganista
Get it from Amazon for $32.97.