148 Future Doctors Have Written An Open Letter To Peter Dutton About The Treatment Of Refugees On Manus Island
"We are watching."
148 final year medical students from Melbourne have signed an open letter to immigration minister Peter Dutton accusing the government of "wilful neglect" over the treatment of hundreds of refugees refusing to leave the closed Manus Island detention centre.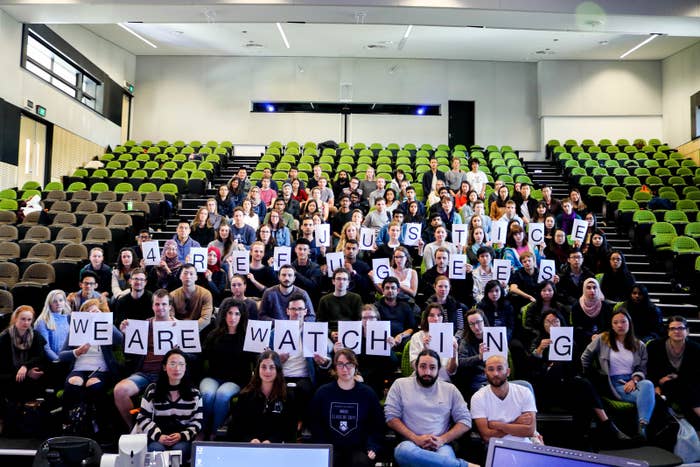 26-year-old Jessica Tavassoli, a final year medicine student at Monash University, told BuzzFeed News she decided to write the letter after reading about the unfolding stand-off between the hundreds of refugees at the Manus Island detention centre and the government.
More than 600 men are staying put in the Australian run detention centre — despite the government cutting off power, water, food and medical supplies last Tuesday — saying they fear for their safety if they are relocated to new premises at Lorengau on the island.

The Manus Island facility was closed at the end of October after the Papua New Guinean Supreme Court ruled in April 2016 that Australia's detention of refugees was illegal and unconstitutional. Six people have died on Manus Island, including one who was murdered, since it reopened in 2012.
Conditions are worsening inside the centre and PNG soldiers have been instructed not to allow anyone to bring food to the refugees. Men have cleaned out rubbish bins to store rainwater to use for the toilets and showering, but say they are determined to stay.
Tavassoli said she's spent the last week unable to concentrate on her final medical school lectures at Monash School of Medicine because she's horrified by the "national disgrace" unfolding in Australia's offshore detention centres.

"The irony of sitting in class talking over the treatment for medical emergencies whilst 600 men are abandoned by our government has not escaped me," she said.
"On Wednesday, I read reports of detainees digging into the ground with poles to find water which they will later boil and add salt and sugar to for sustenance and I broke again.
"And on Friday, my final day of medical school, I read an SOS call out Médecins Sans Frontières/Doctors Without Borders and International Committee of the Red Cross to urgently intervene.
"This is nothing short of a national disgrace."
Tavassoli said she and 147 of her Monash classmates wrote the open letter to the immigration minister because they could not remain silent while there was an unfolding humanitarian crisis.
She said as future doctors they have a responsibility to care for the sick and vulnerable and speak out against injustice.
"We want the Australian government to understand that as the upcoming medical workforce we say no to the wilful neglect and mistreatment of detainees," Tavassoli said. "Cutting off access to food, water, electricity, shelter and medication without an adequate plan is an act of wilful negligence and it is abhorrent."
The students want the immigration minister to know that they will hold the government to account for its "appalling behaviour".
"This week was the week you decided to cut off electricity and stop providing food and water to the men under your 'care' on Manus Island ... And this week was the week that we graduated from medical students to doctors, that is, we graduated into a profession whose very privilege is to be entrusted with the honour of caring for the sick and vulnerable," the letter reads.
The students have called on the government to end the stand-off and restore basic human rights to the hundreds of refugees.
"We do not, cannot and will not support the neglect of people, irrespective of their refugee status, under Australian care," it says. "All detainees must be given access to food, water, shelter, safety and adequate medical care immediately."
On Friday the United Nations dubbed the situation an "unfolding humanitarian crisis" and said both Australia and PNG were responsible under international human rights law to protect the safety and wellbeing of the men.

The UN has asked the Australian government to provide immediate protection, food, water and other supplies to the men.
Immigration minister Peter Dutton has remained steadfast that the government won't budge.
"The government's position is absolutely clear, it's meant we've been able to stop boats and we've been able to stop deaths at sea," he told reporters in Perth.
"If we allow people who've sought to come to our country by boat, to come to Australia to reside permanently then that will mean that people smugglers are back in business."
Thousands gathered at rallies in Sydney and Melbourne this weekend, calling on the government to bring the refugees to Australia.
On Sunday, prime minister Malcolm Turnbull refused Kiwi counterpart Jacinda Ardern's renewed offer to immediately resettle 150 refugees in New Zealand.