Thanks, But No Thanks: Australia Rejects New Zealand's Offer To Resettle 150 Refugees
Hundreds of men are refusing to leave the closed detention centre, despite water, electricity and food being cut off.
Australian prime minister Malcolm Turnbull has rejected an offer to immediately resettle 150 refugees from Manus Island in New Zealand, despite hundreds of men refusing to leave the closed Papua New Guinea detention centre.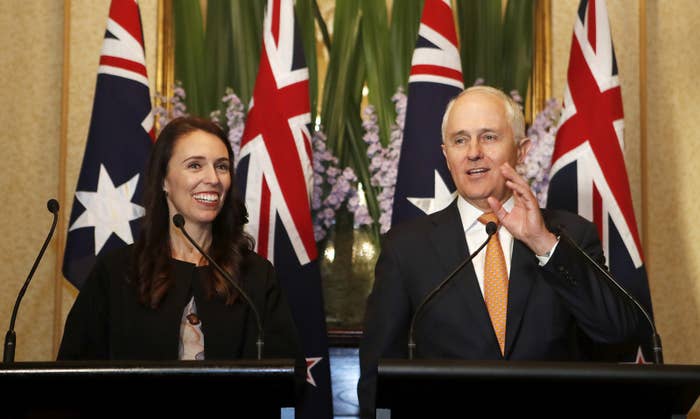 Turnbull met New Zealand prime minister Jacinda Ardern for the first time in Sydney on Sunday for a "frank" conversation across a range of issues, including Australia's offshore detention centres.

Ardern — who was sworn in as New Zealand prime minister last week — renewed New Zealand's offer to resettle 150 refugees from Manus Island or Nauru.
Her offer was rejected.
"We thank New Zealand for making that offer, we are not taking it up this time," Turnbull said.
The Australian prime minister said the government won't consider any alternative resettlement options, until the people swap deal which could see the United States take up to 1250 people, is concluded. More than 50 people from Manus Island and Nauru have been resettled across the United States, with others currently being vetted.
"In the wake of that we will consider other ones. The priority right now is the US arrangement," Turnbull said.
New Zealand's offer to resettle 150 refugees was originally made in 2013 by former PM John Key, and the quota remains in the country's forward planning for humanitarian resettlement.
But no Australian prime minister since — Tony Abbott or Malcolm Turnbull — has accepted the offer, as the government fears it could create a backdoor entry into Australia.
Refugees resettled in New Zealand can apply to become citizens after five years. New Zealand citizenship would give those people the right to travel and work in Australia.
Turnbull reiterated his concerns that resettlement in New Zealand could be seen as an incentive for refugees to board boats.

"We will determine which refugees will come to Australia we will not have our immigration program, our sovereignty, our borders, outsourced to people smugglers," Turnbull said.

Ardern said the resettlement offer is "very genuine" and "remains on the table", but she won't speak directly to the PNG government while its still being considered by the Australian government. Her government aims to increase New Zealand's refugee intake by 1,000 in the next year.
Opposition leader Bill Shorten has called on the government to reconsider New Zealand's offer as the standoff between refugees and PNG officials at the Manus Island detention centre enters day five.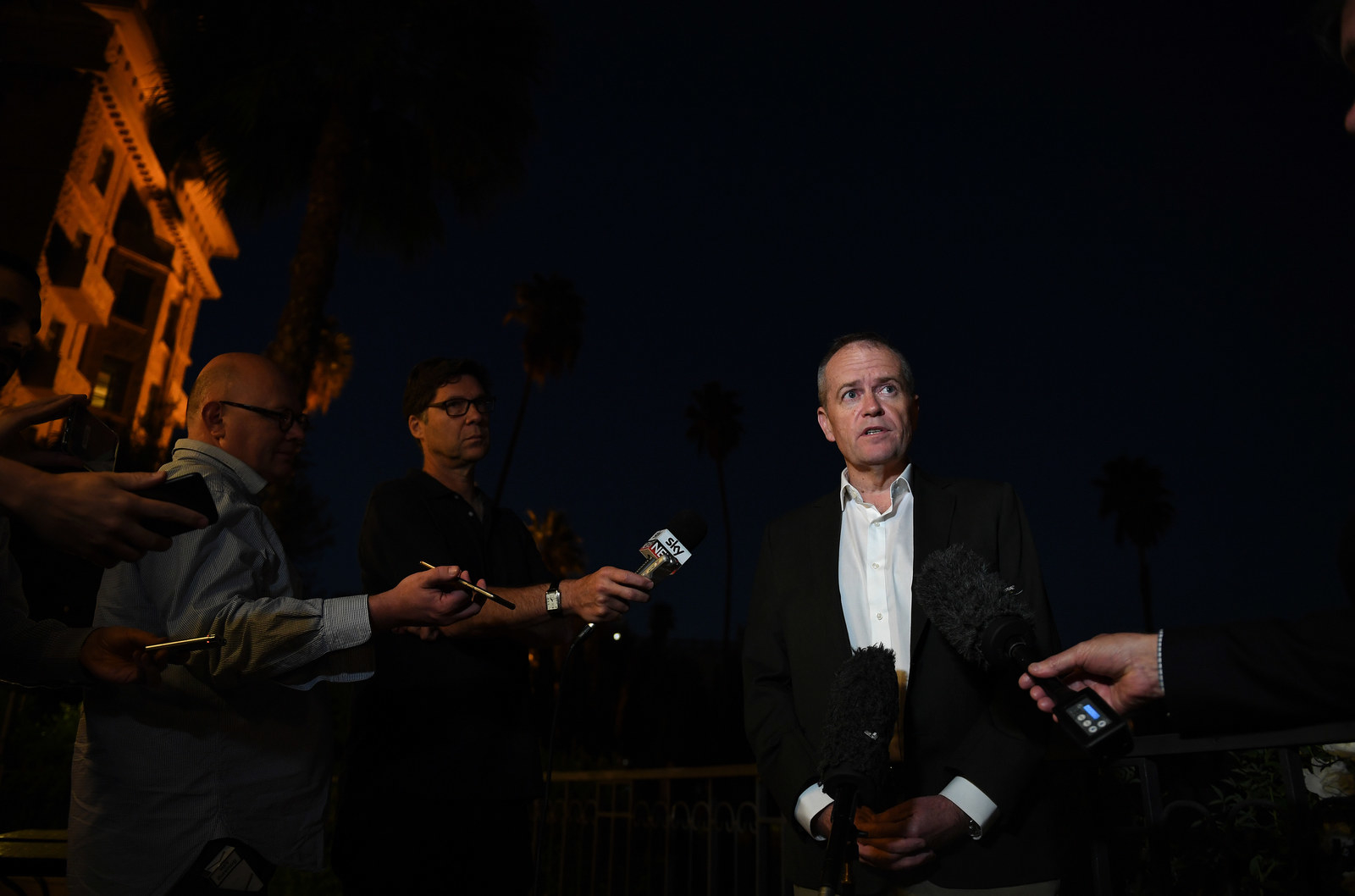 More than 600 men are refusing to leave the centre, despite the Australian government cutting off power, water and food supplies on Tuesday, saying they fear for their safety if they leave.

The government closed the Manus Island facility after the PNG supreme court ruled in April 2016 that Australia's detention of refugees was illegal and unconstitutional. Six people have died on Manus Island, including one who was murdered, since it reopened in 2012.
Conditions are worsening inside the centre and PNG soldiers have been instructed not to allow anyone to bring food to the refugees.
Men have cleaned out rubbish bins to store rainwater to use for the toilets and showering, but say they are determined to stay.
"We don't want to see the people smugglers back in business, but I think there is something going on at Manus which is deeply disturbing to the Australian people," Shorten said. "Where you have got 600 people without food and water for days, the government needs to take an active interest in their welfare."
Liberal backbencher Kevin Andrews has echoed Shorten's calls, telling Sky News the government should consider New Zealand's offer as long as it doesn't create a backdoor entry to Australia.
"The reality is we have a intractable problem at the present time - yes the United States are going to take some of these people, but there's still a large number there," Andrews said on Sunday.

"The concerns about New Zealand is that is doesn't establish a pull factor again for people seeking to come to Australia and secondly I think there would be a concern that this doesn't become a back door entry via New Zealand to Australia."
Thousands gathered at rallies in Sydney and Melbourne this weekend, calling on the government to bring the refugees to Australia.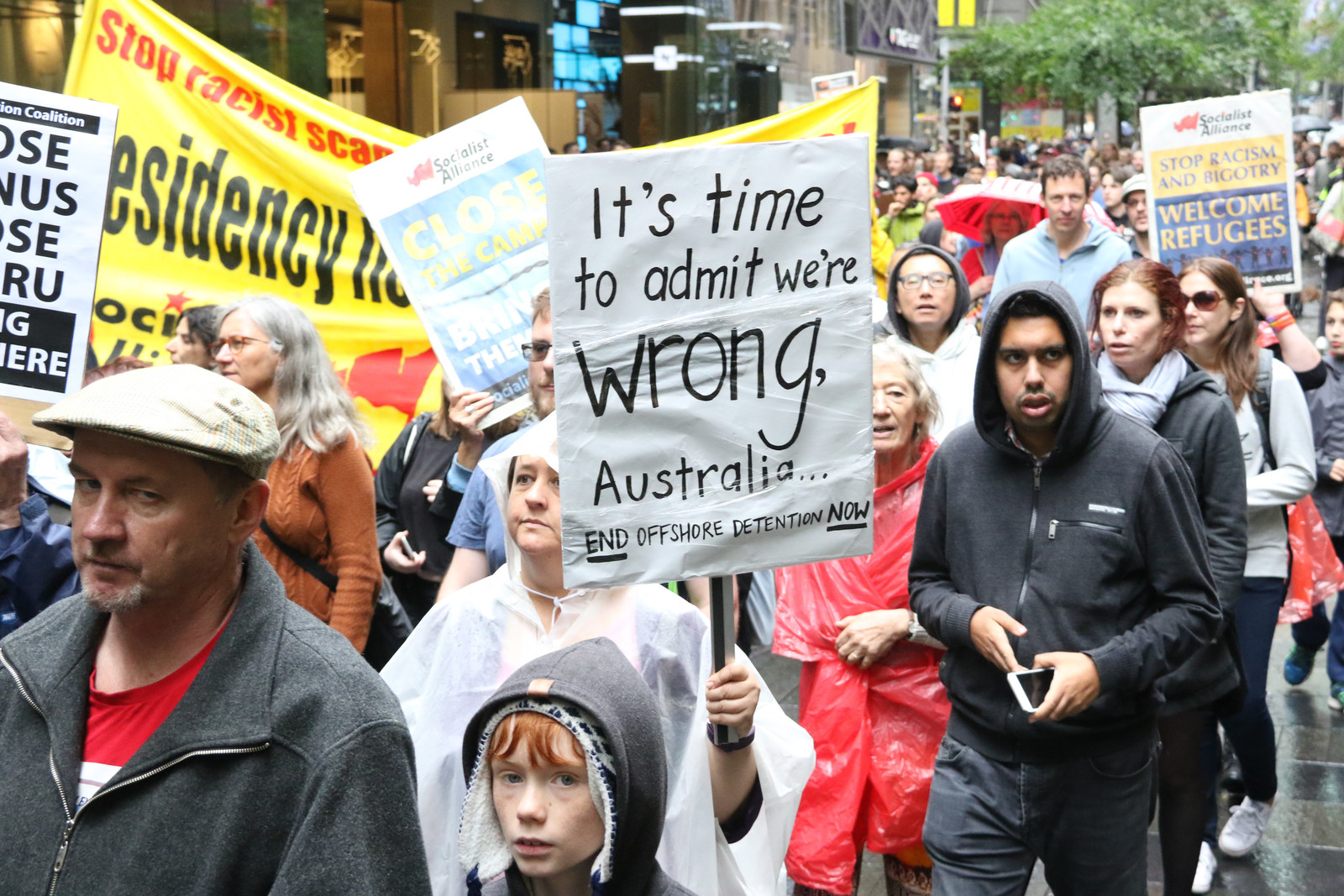 On Friday the United Nations dubbed the situation an "unfolding humanitarian crisis" and both Australia and PNG were responsible under international human rights law to protect the safety and wellbeing of the men.
The UN have asked the Australian government to provide immediate protection, food, water and other supplies to the men.
Immigration minister Peter Dutton has remained steadfast that the government won't budge.
"The government's position is absolutely clear, it's meant we've been able to stop boats and we've been able to stop deaths at sea," he told reporters in Perth.
"If we allow people who've sought to come to our country by boat, to come to Australia to reside permanently then that will mean that people smugglers are back in business."
Greens MP Adam Bandt labelled Dutton a "terrorist" at a 1,000 strong sit-in at Federation Square in Melbourne on Saturday.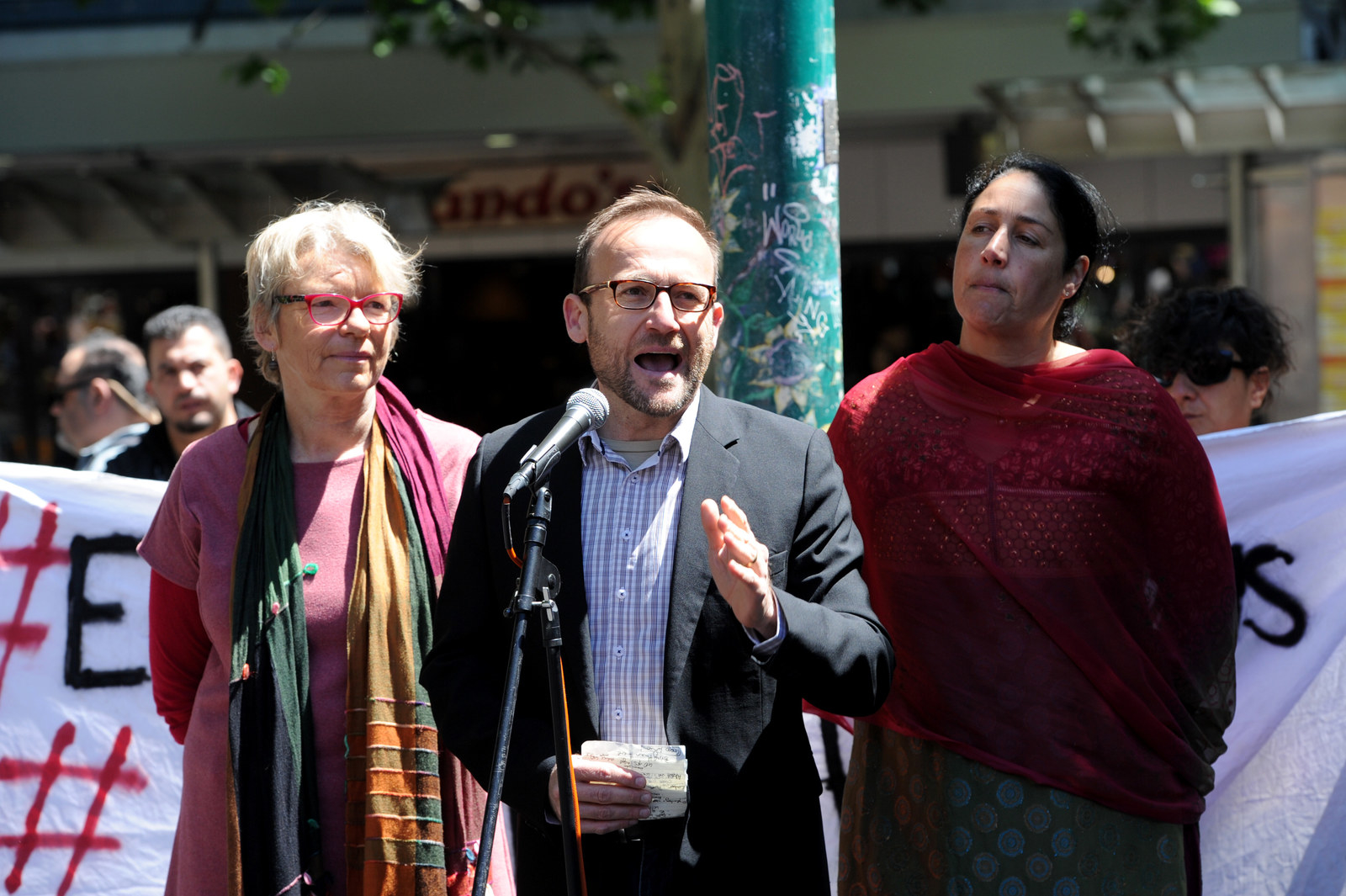 "If the definition of terror is to use violence and threaten people's lives for political purposes, then Peter Dutton is a terrorist," Bandt told the rally.
Greens leader Richard Di Natale stood by the comments on Sunday, saying Dutton should be likened to terrorist because he threatens people's lives for political purposes.
"Amnesty International have said that Peter Dutton presides over a regime that tortures people," he told the ABC TV show Insiders on Sunday morning. "Well, we're talking about people who have been attacked and assaulted in the camps."
"Where people who have been raped have been denied terminations. Where people have had their medication withdrawn. He does seek to exploit those circumstances and the violence that's associated with indefinite detention for his own political purposes and if the prime minister had one bit of integrity left, a shred of decency, he would immediately bring those people to Australia where we could look after then, where they could make a contribution to this nation."