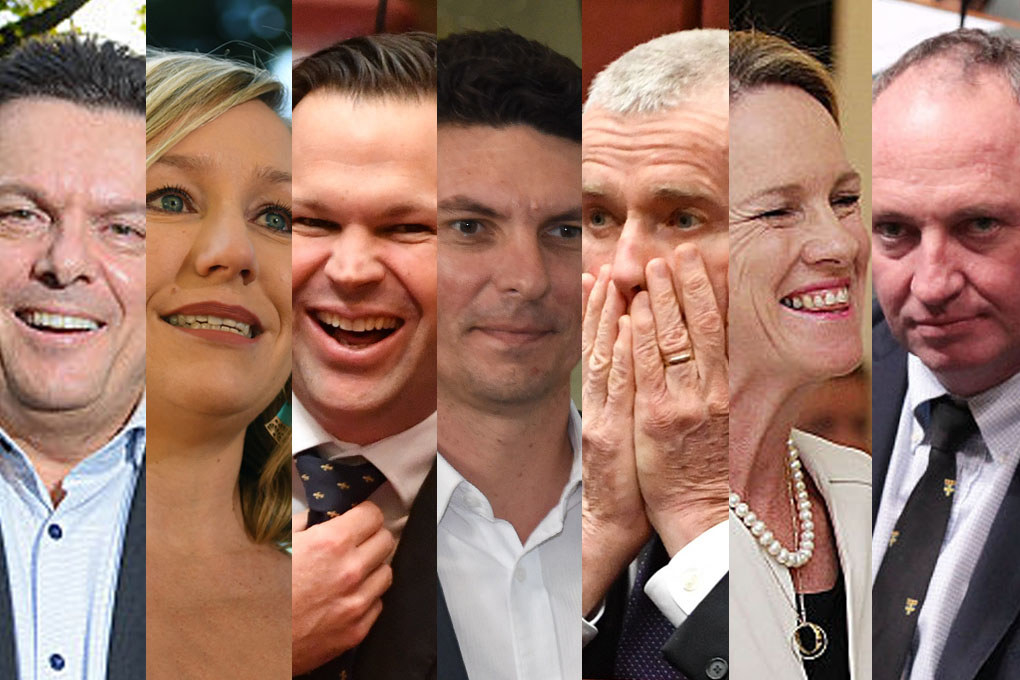 Seven politicians — Barnaby Joyce, Fiona Nash, Matt Canavan, Malcolm Roberts, Nick Xenophon, Larissa Waters and Scott Ludlam — are awaiting a ruling on whether their dual nationality make them ineligible to serve in Australian parliament.

The High Court will hand down its decision at 2.15pm AEST today, with the judgment expected to be uploaded on the High Court website by 2.30pm AEST.
The citizenship saga began on July 14 when former Greens senator Scott Ludlam resigned from parliament after discovering he was still a dual New Zealand citizen, having been born across the ditch.
His Greens colleague Larissa Waters, who was born in Canada, resigned from the Senate days later.
Nationals senator Matt Canavan stood down as resources minister on July 25 after he initially claimed his mother had signed him up for Italian citizenship. He later said in court that he had in fact been an Italian citizen since the age of two. Canavan has stayed on as a backbench senator.
Deputy prime minister Barnaby Joyce revealed on August 14 he had inherited New Zealand citizenship from his father. Unlike Canavan he has refused to step aside from his role as deputy PM and his ministerial duties.
Deputy Nationals leader Fiona Nash announced she was a British citizen, through her Scottish father, on August 17. Like Joyce she has remained in cabinet.
One Nation senator Malcolm Roberts was referred to the High Court on August 9, after it was revealed he did not renounce his British citizenship until five months after he entered Parliament. Roberts was born in India to a Welsh father.
South Australian senator Nick Xenophon rounds out the citizenship seven, with his peculiar form of dual British citizenship. Xenophon inherited the sub-class of citizenship from his father who was born in Cyprus when it was a British colony.
The eagerly anticipated decision could have tremendous ramifications for the Turnbull government, and possibly trigger a by-election in Joyce's NSW seat of New England.
If Joyce is disqualified, the earliest date for a by-election is December 2, which would leave the government without its one seat majority for one week of parliament.

The court has spent two weeks deliberating whether the dual citizenship held by the seven current and former politicians makes them ineligible to sit in parliament.

Section 44 of the Australian Constitution states that a person who "is under any acknowledgement of allegiance, obedience, or adherence to a foreign power, or is a subject or a citizen or entitled to the rights or privileges of a subject or a citizen of a foreign power" is ineligible to sit in, or be elected to, parliament.
The court has to decide whether each of the elected members of parliament took reasonable steps to renounce their apparent dual citizenship, even if they weren't aware that they were entitled to such citizenship.
There are a number of possible outcomes.
If Joyce is found ineligible, the government and Joyce's former opponent in the seat of New England, Tony Windsor, have argued that there should be a by-election in his seat.
Joyce has already renounced his Kiwi citizenship, so he would be good to run again. If Joyce was defeated in a by-election, the government would lose its deputy prime minister and its one-seat majority in the House of Representatives.
If Nash is found ineligible, it would cause a reshuffle in the Turnbull government ministry and would require a new deputy leader for the Nationals. It would also mean one fewer National senators in parliament, as next on the ticket in the event of a count back would be Liberal candidate Hollie Hughes.

If Canavan is found ineligible, Fairfax reports that former Liberal Nationals senator Joanna Lindgren would be his replacement on count back, and that in order to keep peace within the Coalition she would have to switch from sitting in the Liberal party room to the Nationals party room.

If Roberts is found ineligible there will be a count back on the Queensland Senate vote, and the next in line on the One Nation ticket — Fraser Anning — will be elected. Anning is no longer facing bankruptcy proceedings that would have made him ineligible.

Xenophon has already announced he is quitting federal parliament to contest a lower house seat in the South Australian election in 2018. If he is found eligible, his resignation will mean that NXT will get to pick his replacement. If he is found ineligible, the next person on the NXT ticket will be elected.
Ludlam has already announced he is not coming back to parliament, so if he is found eligible it will trigger a casual vacancy and the Greens party has announced 22-year-old Jordon Steele-John as his replacement.
If Waters is found eligible it will trigger a casual vacancy that the Greens can then fill, and Waters has hinted she may want to return. If she is found ineligible, then a count back will occur and Andrew Bartlett would be her replacement as next on the ticket.