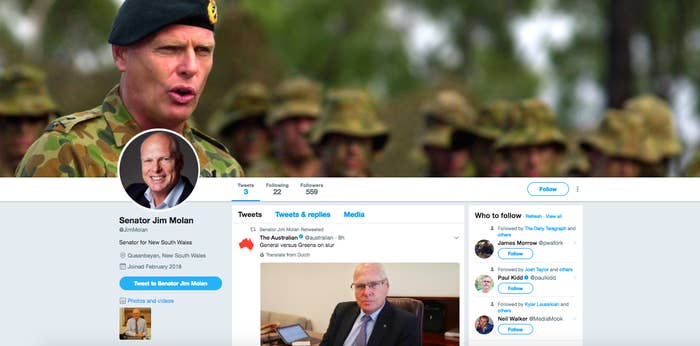 New Liberal party senator Jim Molan has come under fire from the Australia Defence Association for posting photos of himself in uniform on his social media pages.
The former army general, who had a decorated 40-year military career and was the head of coalition operations in Iraq, has a large banner picture of himself in uniform displayed at the top of his official senator Twitter account, launched on Wednesday. The same picture was uploaded as a cover image to his senator Facebook account, also created this week.
"It's a breach of convention and he should know better," Neil James, the executive director of the ADA, told BuzzFeed News.
"Given its prominence and the absence of context, the strip-photo across the top of this Twitter account risks implying that the ADF [Australian Defence Force] identifies itself with his position as a Liberal senator," he said. "The ADA view is that is constitutes a breach of the non-partisanship convention."

The ADA describes itself as Australia's only independent and non-partisan "public-interest watchdog organisation ... covering stategic security, defence and wider national security issues".
James says that by placing the picture at the top of his social media accounts, which only describe the Senator as a Liberal party politician, it places Molan's service out of context and breaches the non-partisan convention that the Australian Defence Force (ADF) should be kept independent and politically neutral.
"In Jim's case the problem is that he served for 40 years, so he doesn't have wider life experiences ... but he has been out of the military for a few years now so he should have photos of himself as a civilian," James said.
The ADA's main concern is images being taken out of context, leading to people mistakenly believing that the defence force supports a certain political party or politician.
"In the last election there were both Labor and conservative politicians who had photos of themselves in uniform on their corflutes, which could confuse someone walking by," James said.

Liberal MP Andrew Hastie was dumped from the Army Reserve, and Labor MP Mike Kelly was forced to quit the active reserve, after ignoring the ADF's instructions to not use photos of themselves in uniform in their 2016 campaign materials.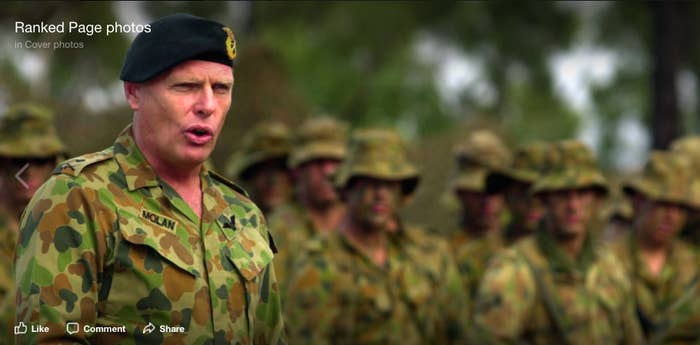 BuzzFeed News understands Molan is no longer a serving reservist, which means the ADF has no power to tell him to take the images down. The ADA argue that's irrelevant because the non-partisan convention should be reciprocal.
"As less and less Australians have any personal experience with the defence force the risk of confusion arises," James said. "This is a subtle problem...that's getting worse."
James said he wouldn't object to Molan using a picture of his service lower down on the page, with an explanation of his time in the ADF.

This isn't the first time the new senator's social media accounts have come under scrutiny, following his decision to share on Facebook in March last year videos from far-right organisation Britain First.
At the time of publishing, Molan had not responded to BuzzFeed News questions about his social media accounts.