This Politician Said He Shared Anti-Muslim Fake News On Facebook To "Generate Debate"
Liberal senator Jim Molan shared videos from far-right group Britain First almost a year ago.
Newly-sworn in Liberal senator Jim Molan has come under fire for sharing anti-Muslim videos on his Facebook page from far-right group Britain First.
Molan was sworn in on Monday to replace Nationals deputy leader Fiona Nash, who was forced out of parliament due to holding dual citizenship. The former major general in the Australian army, conservative, and close ally of former prime minister Tony Abbott, immediately had to defend himself over posts shared to his Facebook page last year.
The two Britain First videos, shared on Molan's page in March last year, purport to show French police being attacked in a Muslim area of France, while the second video (which now appears to have been removed) allegedly showed Muslim men harassing women in the Netherlands and France.

The latter video was debunked by Snopes, which pointed out that the men involved in the video were never identified by their religion. It was first reported by Fairfax.
A spokesperson for Molan told the ABC that he posted the videos on his page to "generate debate" and didn't necessarily agree with the videos' content.
"The sharing of any post does not indicate endorsement," the spokesperson said.
This is some of the "debate" generated in the comments of his post.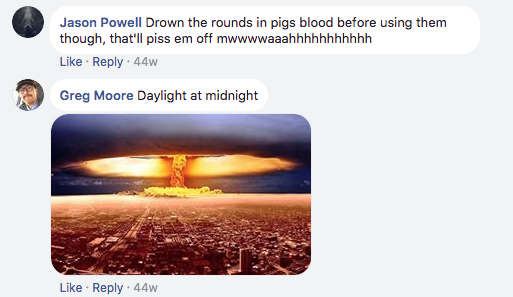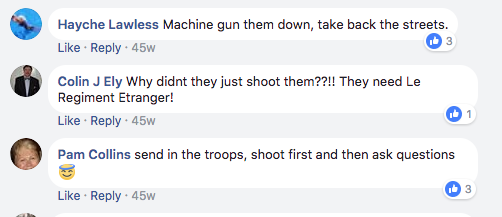 Molan did not engage in the debate in the comments himself, and many of the other articles shared on his page since 2016 align with Liberal Party and conservative viewpoints.
Molan, who has not posted publicly on the Facebook page since mid-2017, rose in the Senate last night during the adjournment debate to say he didn't share the videos for being anti-Islam or racist.
"Gratuitous violence, antisocial behaviour and rioting are what I am against — not race, not Islam," he said. "Supposedly these videos were false, I'm told, because someone in the trail of activities after the videos said that they were false. To me they look to this day very real."
Molan said that he couldn't have lived and worked effectively overseas if he was racist.
"I fought for Muslims in Iraq, and many Iraqis were alive when I left because of the actions that I took — not racist, not anti-Islam," he said. "Linking me to Britain First is absolutely absurd."
On Tuesday opposition leader Bill Shorten called on Molan to disavow the comments, and to ensure that similar videos aren't shared in the future.
Britain First first gained the global spotlight in November when three anti-Muslim videos tweeted by the deputy leader of the far-right political party were retweeted by US president Donald Trump.
The Twitter account in question was later suspended.
UPDATE: In Question Time on Tuesday, prime minister Malcolm Turnbull defended the new senator.
"The leader of the opposition wants to describe him as a racist. That is deplorable. It is disgusting," he said. "Jim Molan is a great Australian soldier. We are lucky to have him in the Senate. He doesn't have a racist bone in his body. He has stood up for freedom, stood up against extremism."