New Zealand's education minister Nikki Kaye has called on Australia to "get on with" legalising same-sex marriage.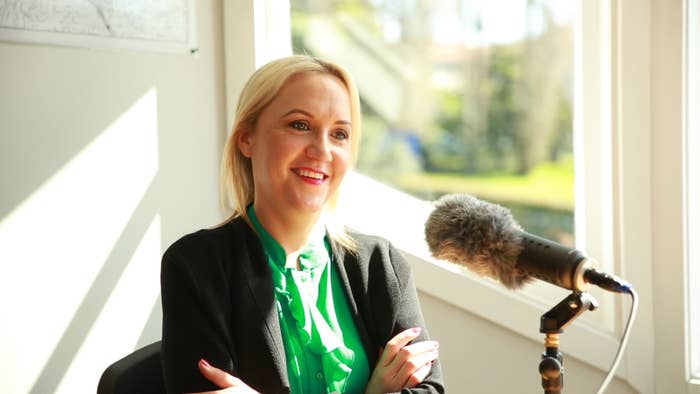 In an interview with BuzzFeed News ahead of New Zealand's national election on Saturday, Kaye said she didn't know why Australia was hesitating with a lengthy and expensive postal survey.

"I think that it's about love and it's about actually respecting people's right and in my view Australia needs to get on with it," Kaye, 37, said.

"I hesitate to interfere in Australian politics...but I do think, you know, they just need to get on with it."
Kaye, a member of the centre-right National party, thinks Australian prime minister Malcolm Turnbull should "just do it" by following the New Zealand parliament's lead and holding a conscience vote on a private members' bill.
Marriage equality is currently being debated in Australia as the government runs a national postal survey, asking 16 million voters to weigh in on whether same-sex marriage should be legalised.

New Zealand became the first country in the Asia Pacific to allow same-sex marriage, when parliament voted 77 to 44 to change the law in 2013.
As education minister Kaye introduced extra funding for an anti-bullying program in schools called Rainbow Youth, similar to the heavily criticised Australian schools program Safe Schools.

"The reality is no," Kaye said when asked if anything has changed since same-sex marriage was legalised in 2013.
"For all other [people], nothing will change. But for a group of New Zealanders or Australians their life will change because they will feel respected, they will have the ability to be recognised in terms of their love of their partner and that's the right thing to do.
"I think the reality is, everybody said at the time that this would be very significant for a group of people, but everybody else's lives would continue on.

"And I think that's the experience, that's what happened."

Kaye thinks even conservatives in New Zealand have mellowed in their objection to same-sex marriage since it was legalised, including the country's staunch Catholic prime minister Bill English.
English, who voted against both the civil union bill in 2004 and the definition of marriage in 2013, said if another vote was held he would vote in favour of same-sex marriage because he's witnessed the positive impact it's had on gay couples.

"I'd probably vote differently now on the gay marriage issue," he said in December 2016. "I don't think that gay marriage is a threat to anyone else's marriage.
"Just seeing the impact it has had for couples and the fact that it doesn't erode marriage. In some ways, it's an affirmation of the concept."
The full interview with Nikki Kaye and Labour leader Jacinda Ardern will feature in the New Zealand election special of Is It On?, BuzzFeed Australia's political podcast. You can listen to it from Friday on your favourite podcasting app and subscribe here.