Anti-people smuggling adverts paid for by the Australian government have appeared in Iraq's capital Baghdad, warning people they will be sent home if they try to come to Australia illegally by boat.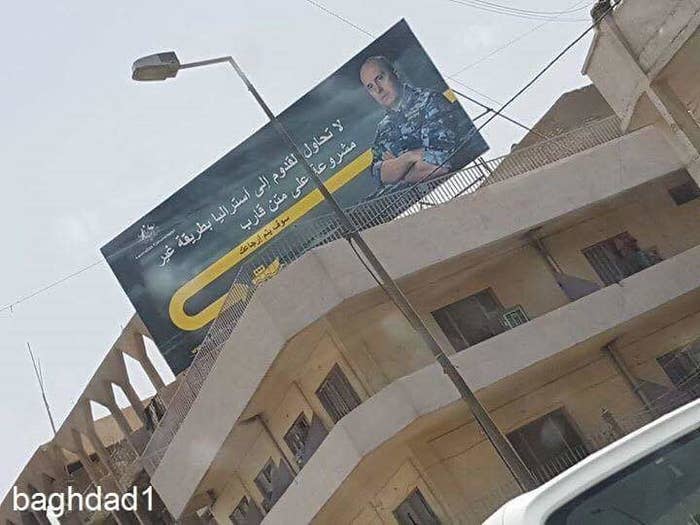 Written in Arabic, the ads translate to: "Do not try to come to Australia illegally by boat, you will be turned back".

Images of the billboard were posted on a popular Iraqi Facebook page on Friday and have received thousands of comments.
One person said the adverts are a recognition of the "failure and corruption" of the Iraqi government, that citizens would rather expose themselves to the risk of drowning in order to reach Australia than live in Baghdad.
Another compared the ads to those in occupied Germany after World War II.
The Immigration Department confirmed to BuzzFeed News the billboards are one part of the government's ongoing Operation Sovereign Borders anti-people smuggling campaign.
"The campaign uses a range of communication channels in source and transit countries for irregular migration to engage with and influence the behaviour of people who might otherwise attempt to reach Australia illegally by boat," a spokesperson from the Department of Immigration and Border Protection told BuzzFeed News.

Other campaign material warns potential illegal immigrants that Australia's tough border protection policies have not changed, and tells them not to be misled by the "lies of people smugglers".
"Don't waste your money or risk your life... you will be caught!"

"If your loved ones want to travel illegally to Australia by boat. Don't let them go!"
The Immigration Department would not divulge the cost of the ads, but previous campaigns run in the Middle East and Asia have cost over $70 million.
Immigration minister Peter Dutton said that, as of last week, more than 1,050 days (nearly three years) have passed since the last successful people-smuggling boat reached Australia.
Under the Turnbull government's immigration policy, asylum seekers who attempt to reach Australia by boat will be turned back to their country of departure.
Dutton is also attempting to tighten the process to become an Australian citizen, with permanent residents forced to wait at least four years (rather than one) before applying for citizenship.