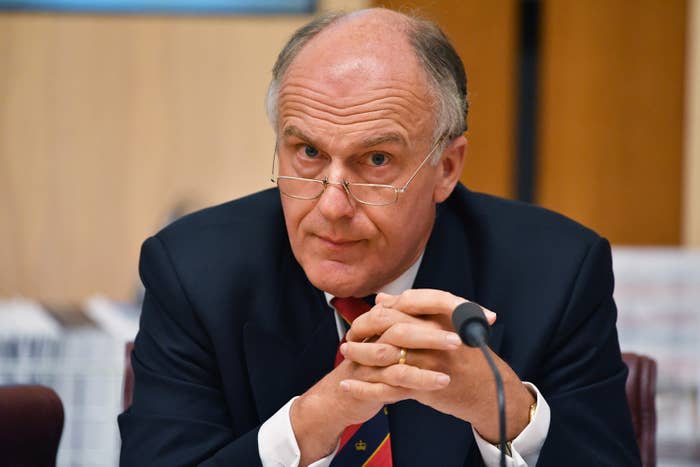 Liberal senator Eric Abetz says that legalising same-sex marriage in Australia could lead to people marrying the Sydney Harbour Bridge.

In an interview with BuzzFeed News, Abetz said that if the parliament legalises same-sex marriage following a "yes" result in the upcoming postal survey, it could lead to humans legally marrying inanimate objects.
BuzzFeed News: If we change the marriage laws in Australia that it could lead eventually to people being able to marry objects such as…the Harbour Bridge?

Abetz: Why not? Why not.

Look, I would like to think that that is taking the argument to the limit, but the issue is if we are judging this solely on a person's view of what love is to them, and people [ask] me, 'how can you judge somebody else's love?', then I think you've got to accept that love is love and that's the slogan.

Having said that, whilst we very much believe that marriage has something to do with love, the marriage act does not require it...

BuzzFeed News: Are you equating the love between two same-sex people with the love a person could have with the Eiffel Tower in Paris?

Abetz: The sad thing is, I'm not doing it. There are people that are actually saying they want to marry the Eiffel Tower. There are people that say we want a threesome marriage, and 'who are you to judge that marriage should only be between two people?'.

And indeed, that was the, I think very cogent argument of the chief justice of the United States Supreme Court, chief justice Roberts, in his dissenting judgement where he pointed out that once you remove that vital element of it being a man/woman thing, and you just say love is love etc, then basically you open the floodgates to anything.

I think our society would not accept people being able to marry the Eiffel Tower, but if you just limit it to people then there are issues in relation to polyamory.
In 2007, an American woman changed her surname to "La Tour Eiffel" after holding a commitment ceremony with the tower, which she described as her partner of 10 years.

In Australia it is not legal to marry an object and no one has ever proposed that it should be legalised.
Abetz admitted his analogy was taking the argument to its extremes, but insisted that it was a valid point in the marriage equality debate.
Prime minister Malcolm Turnbull has promised there would a respectful debate during the postal survey but within the last week "no" campaigners have conflated same-sex marriage with bestiality and polygamy, and claimed marriage equality will create a "stolen generation" of the children of LGBTI Australians.
Earlier this week, Liberal MP Kevin Andrews compared people in same-sex relationships to the relationship he has with his cycling buddies.
"Yes, there are all kinds of affectionate relationships ... I have an affectionate relationship with my cycling mates who we go (sic) cycling on the weekends, but that's not marriage. Why doesn't the law have a place in those sort of relationships?" Andrews said.
The government has taken steps to pass a special law to set the ground rules for a fair and balanced debate, but it won't be considered by parliament until two High Court challenges are resolved.
The Harbour Bridge comments follow an article Abetz penned for the August edition of Family World News (a newsletter put together by veteran conservative politician Fred Nile), where he writes that if "marriage equality" was given its genuine meaning it would make marriage open for anyone to marry anyone, or anything.

"If this is the standard then who is to judge the quality/type/validity of any love — within families, with more than just one other, or indeed why not the Eiffel Tower?" he said.
Abetz, who plans to campaign for the "no" vote, said that he wants Australia's anti-discrimination laws to be changed to allow individuals to refuse service to gay people. Currently, only religious bodies and organisations can refuse service on the grounds it would injure their religious beliefs.

He wants provisions included in the private members' bill that would be passed by parliament following a "yes" result that would allow any service provider, such as a taxi driver, to refuse service to any gay person.
"My view is that if we were to make this unfortunate decision as a nation, then the legislation should have a no-detriment provision," he told BuzzFeed News.
"So in other words, if you do not support same-sex marriage, you don't have to do anything to support it."
The full interview with Eric Abetz will feature in Is it on?, BuzzFeed Australia's podcast. You can listen to it from Friday. View it on iTunes and subscribe here.

Do you have questions about Australia's upcoming postal survey on same-sex marriage? Same. Here's a list of everything you need to know, and more.