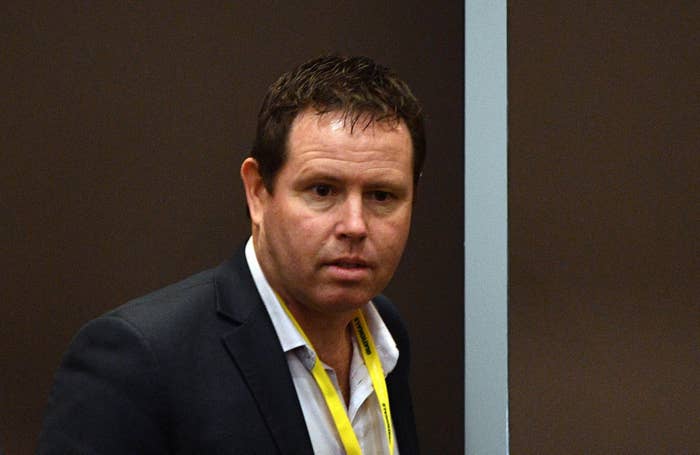 Nationals MP Andrew Broad has resigned from the Morrison Coalition government frontbench after he allegedly sent racy text messages to a young woman he met through a "sugar daddy" dating website.
Deputy prime minister and Nationals leader Michael McCormack said he had accepted Broad's resignation as the assistant minister to the deputy prime minister on Monday morning.
"It was a very short and polite conversation," McCormack told a press conference. "I have accepted his resignation. It was the right thing to do."
McCormack said he had taken "swift and decisive action over the past 24 hours", despite knowing about the allegations against Broad for a couple of weeks.

The deputy prime minister said due to the nature of the allegations made, it was appropriate for the Victorian MP to resign. Broad has referred the allegations to the Australian Federal Police at McCormack's insistence.
Broad is alleged to have sent the woman, Amy – who goes by the online alias "Sweet Sophia Rose" – a series of sexual text messages, according to New Idea magazine.
"I'm here to make you laugh, ensure you feel safe in my company, make you feel like the most beautiful woman in the room... and then get you naked," Amy alleges Broad messaged her.
In other messages the 43-year-old married politician allegedly described himself as a "country guy" who knows how to "fly a plane, ride a horse, fuck my woman".
"I pull you close, run my strong hands down your back, softly kiss your neck and whisper 'Gday mate'," Broad allegedly messaged her.

Amy alleges Broad took her to dinner at the expensive Aqua restaurant in Hong Kong last month. She said during the dinner he bragged about his "important" position in Parliament, placed his hand on her leg and referred to himself as "James Bond".

Mr Broad told New Idea: "I have been advised that the person making the allegation may have engaged in criminal activity. This matter has been reported to the Australian Federal Police and I will not be making any further comment."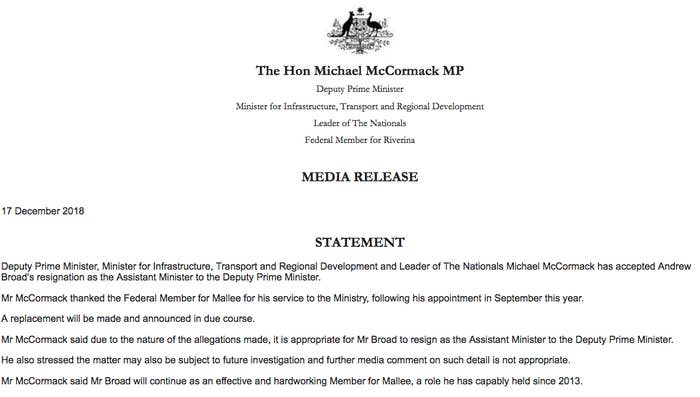 Broad was among the first MPs to call for former leader Barnaby Joyce's resignation after it was revealed he was expecting a baby with his former staffer.

Last year he claimed a Tinder profile using his image was fake.

Broad also came under fire in 2016 after he likened same-sex marriage to farm animals having sex in a paddock.
"I think a bicycle is not a tricycle, and relationships can have different names," he said in 2016. "I can put the rams in a paddock and they might mount one another, but no lambs will come out."
Shadow treasurer Chris Bowen wouldn't comment on the allegations against Broad but said his resignation wouldn't help the "chaos and dysfunction at the heart of the government".