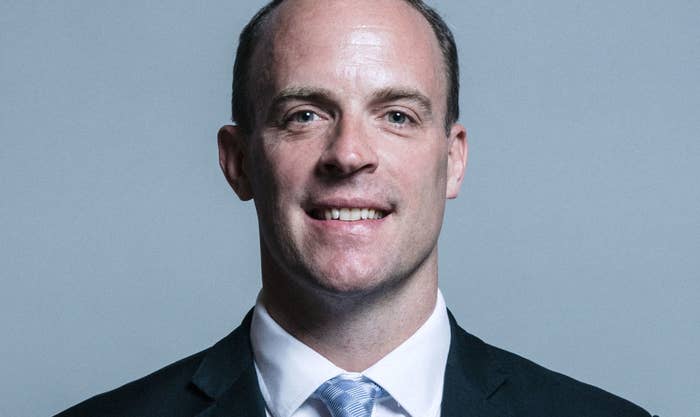 The Conservatives' new housing minister, Dominic Raab, belonged to a private Facebook group that argues for council housing to be sold off at market value, healthcare to be privatised, and the return of workhouses for the poor.

Raab was, until Thursday morning, one of 14 members of a closed group called the "British Ultra Liberal Youth — The Ultras", which was set up about seven years ago. He withdrew from the group after being approached for comment.
Raab told BuzzFeed News: "I wasn't aware of this group, let alone that I had inadvertently and mistakenly been linked on Facebook. I have corrected it, and needless to say I do not support its aims."
Because the group is closed, BuzzFeed News is unable to see activity within the group — just the description and membership. There had been no new posts or new members in the last 30 days.
According to the group's "About" page, it believes that "Britain is a nation that has been shooting at it's [sic] own feet for too long" and that "too much tolerance of socialism has cost us a trillion pounds".
"If this were a football field," the description continues, "we would be racing down the right wing so close to the touchline, we would be doing so very carefully making sure we don't put our feet outside the field of play."

It is the duty of members, it adds, to pressure mainstream Conservatives into realising that selling off council housing, ending free healthcare, and bringing back workhouses for debtors are policies that "have found their time to enter Britain".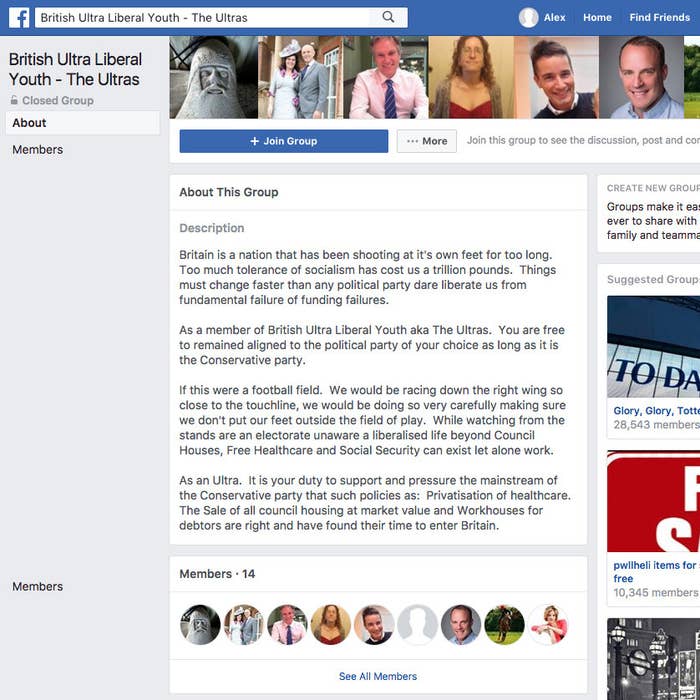 At the time of publishing, the 13 other members appeared to include another current Tory MP, Henry Smith; a former Tory MP; and others who have stood unsuccessfully for parliament for the Conservatives or UKIP.

Smith was unavailable to comment because he is travelling, but an aide said he wouldn't have voluntarily joined the group, and that he hasn't used that Facebook account for more than a year. "Certainly someone may have added him to the group and he clearly didn't notice but he definitely does not join any such groups himself," the staffer said.
According to Facebook, you can be added to a closed group if you're friends with someone in that group, and you'll receive a notification that you've been added.

Raab joined Facebook in 2010 and uses his account to publicise his work as an MP and minister. In one recent post, he promoted an opinion piece he wrote for the Daily Telegraph about the government's £866 million investment in local housing projects. Housing is "one of the great social challenges of our generation", Raab wrote.
Raab, 43, was appointed housing minister in Theresa May's new year reshuffle, putting him in charge of one of the Conservatives' top policy priorities. Addressing the housing crisis has been one of the party's main concerns after it polled significantly worse than Jeremy Corbyn's Labour among voters under 40 at the last election, and the prime minister has said she will make it her personal mission to get more people into homeownership.

Raab was a City lawyer and Foreign Office official before becoming a parliamentary aide to David Davis. He was elected MP for Esher and Walton in 2010 and was a minister in the Justice Department before moving to housing last month.
Having been tipped as one of the rising stars on the Tory right, Raab was seen as unlucky not to be given a cabinet position during the reshuffle last month.
He was criticised during last year's general election campaign for saying on the BBC's Victoria Derbyshire show that food bank users typically aren't poor but have a "cashflow problem episodically".