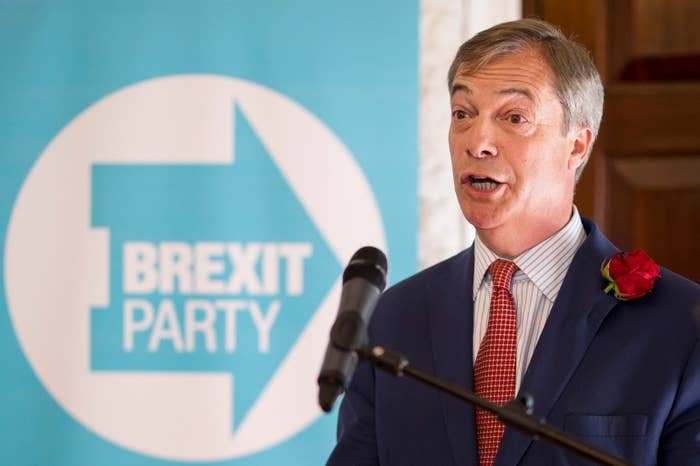 Nigel Farage's Brexit party was the top-spending political campaign on Facebook in Britain last week as it ramped up a push for the support of over-40 voters in the European elections.

Widely perceived as a serious threat to Theresa May's Conservatives, Farage's new party spent £11,523 pushing its pro-Brexit messages on the UK's most widely used social network, according to Facebook data — nearly twice as much as that of the main parties, Labour and the Tories.
In total, the Brexit party has spent around £20,000 since it formally launched two weeks ago. In contrast, the Remain-supporting Change UK, another new party with big ambitions for next month's European ballot, only just started its Facebook push today.
Separate data reviewed by BuzzFeed News reveal that Farage's new party has been given a significant publicity boost by Facebook users organically sharing news articles relating to the launch, without the Brexit party having to pay anything for it.
A column written by Farage for the Daily Telegraph newspaper on the morning of the Brexit party launch on April 11 received more than 110,000 engagements on social media, making it the fourth-most-shared UK politics story of the last month, according to BuzzFeed News' analysis of data from BuzzSumo, a company that tracks social sharing.
The main amplifier of the article was Farage's own official Facebook page, which has a community of more than 830,000 viewers. News articles about the Brexit party have also been given a huge bump by the Facebook account of Leave.EU, the pro-Brexit campaign backed by Arron Banks.
Facebook's data suggests that the Brexit party's advertisements have so far been viewed up to 2.2 million times, helping raise the profile of Farage's new venture as he seeks to become the biggest party in the May 23 poll. Broken down by gender, the audience for the ads appears to be heavily skewed towards men. Viewed by age group, the audience is overwhelmingly over 45.
A spokesperson for the Brexit party said the gender imbalance isn't intentional but confirmed that they're deliberately targeting older voters. It's not clear which criteria the party is using to reach its target audience. Facebook's platform allows campaigners to microtarget particular audiences based on factors such as age, location, and interests.

Some of the ads have been used to muster support for campaign events, including one on Wednesday in Clacton-on-Sea, Essex. Others have been attacks on the party's political enemies, including one about Theresa May saying: "Go home, Theresa, you're embarrassing us."
The most-viewed ad, seen more than a million times, featured a clip of Farage in a tweed flat cap standing above the white cliffs of the English coast. "We have been betrayed," Farage says in the clip, before urging voters to register as a supporter of his new party.
On Wednesday, Facebook flagged that ad with a note saying it had been "taken down because it goes against Facebook Advertising Policies". A spokesperson for Facebook provided no information when asked how the ad violated the social media giant's policies.
Change UK, the group of centrist former Labour and Conservative defectors also known as the Independent Group, began running Facebook ads Wednesday urging voters to join their fledgling party.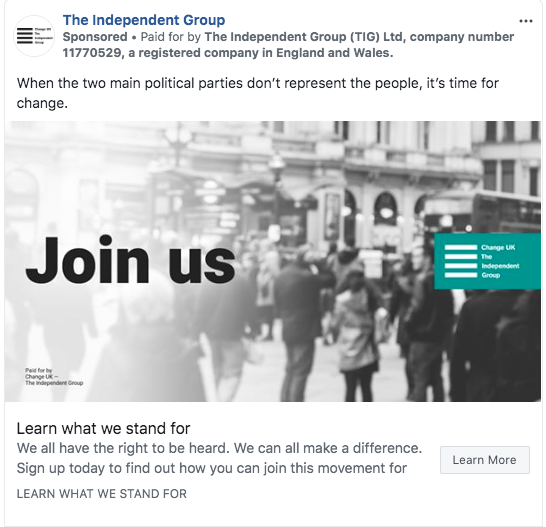 In recent months, political advertising on Facebook has been dominated by third-party campaigns. The People's Vote campaign, which supports a second referendum, has been the biggest spender on the platform, racking up expenditures of £433,384 since Facebook started disclosing the figures in October.

Britain's Future, a mysterious hard-Brexit campaign whose website is edited by a 30-year-old freelance writer and Tory activist named Tim Dawson, is next in the ranking, having spent £422,746. Britain's Future and a similar group, We Are the 52%, have come under scrutiny because they have given no information about their origins or sources of funding other than to say it is funded by donations. At a parliamentary select committee hearing Tuesday, the information commissioner, Elizabeth Denham, said her office is examining the groups as part of a wider investigation into the use of data by political campaigns.
Having spent tens of thousands of pounds a week on Facebook ads in the first few months of this year, Britain's Future appears to have terminated its campaign April 1, according to Facebook's publicly searchable archive.
UPDATE
After this story was published, the Brexit Party advertisement that had been flagged as a violation of Facebook's policy was restored. A spokesperson for the social network said: "This ad was disabled in error. Upon review, the content does not violate Facebook's advertising policies and it has been reinstated in the Ads Library."