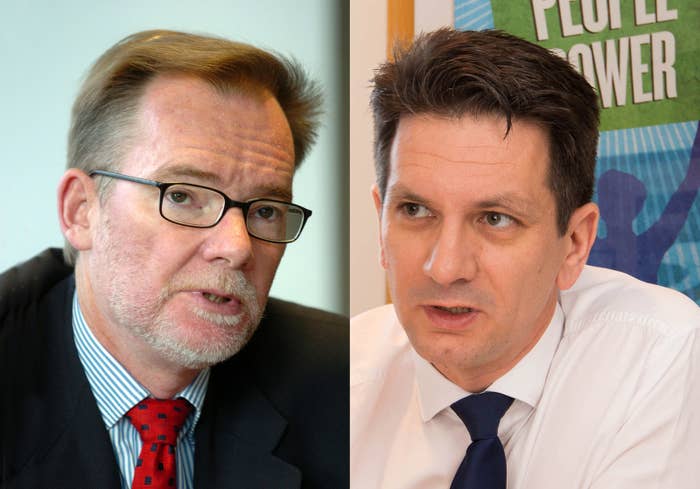 Labour has asked Whitehall's ethics watchdog to investigate whether a Conservative Brexit minister and the UK's chief trade negotiator broke government rules by not declaring multiple meetings with an influential policy adviser who worked for a right-wing think tank.

BuzzFeed News revealed on Tuesday that Steve Baker, the Brexit minister, and Crawford Falconer, the second highest-ranking civil servant in the Department for International Trade, had numerous meetings in the second half of last year with Shanker Singham of the Legatum Institute.
Singham – who is now at the Institute of Economic Affairs – is a trade specialist who has been highly influential among the Conservative Eurosceptics lobbying for a hard break from the European Union. He was friends with Baker and Falconer before they joined the government last summer, and continued to see both men after they took on their official jobs, BuzzFeed News revealed.
Under the UK's ministerial code, ministers are meant to arrange meetings relating to official business through their departments, and have officials present. If a minister finds themselves discussing official business without someone from their department present, including at a social function, they're meant to report this back as soon as possible. These meetings are then published quarterly.
Top-ranking civil servants also publish details of official meetings every three months.
Representatives for Baker and Falconer didn't dispute that they met Singham numerous times after they became government employees last year, but insisted there were no meetings with Singham at which official business was discussed. Any meetings were purely social, and therefore didn't have to be publicly disclosed, they said.
But Labour has now written to Sue Gray, the Cabinet Office's outgoing director general of propriety and ethics, and her replacement Helen MacNamara, demanding that they investigate the meetings and determine whether the decision not to publish details of them was a breach of the professional codes governing the conduct of ministers and civil servants.
"It is likely these meetings breach the relevant professional codes," Jon Trickett, Labour's shadow Cabinet Office spokesperson, wrote in his letter seen by BuzzFeed News.

The Liberal Democrats' Brexit spokesperson Tom Brake has also written to the Cabinet Office demanding an investigation.
Brake, in conjunction with the anti-Brexit campaign group Best For Britain, wrote to the Cabinet Office on Tuesday saying he believed there was "prima facie" evidence that the rules on transparency had been broken.
"It is stretching our credulity to suggest that this trio of trade conspirators were talking about Coronation Street or the school run in their regular meetings," Brake said after sending his letter.
Stephen Gethins, the SNP's Brexit spokesperson, said: "The UK government's plans to leave the EU have been shrouded in chaos and confusion since the very beginning, but these worrying revelations shine a light on the murky, backdoor Brexit briefings and access to high level government officials, which are shaping the UK government's disastrous Brexit plans."

Trickett, in his letter, said it is not unusual for ministers and civil servants to meet policy specialists and lobbyists in their fields. But this case raised particular concerns, he said, because Singham advocates a specific vision for Brexit and the UK's trade policy, has been closely involved with the European Research Group – the alliance of backbench Tories lobbying for a "hard" Brexit, which Baker chaired before he became a minister – and has had extensive contacts with other senior figures in government who are working on Brexit.
Trickett said: "Revelations that two senior government figures had several meetings with a prominent campaigner whose work is based around their area of responsibility is a cause for concern due to the fact that these meetings were undisclosed, and out-of-hours.
"As such they could not be held to account by Members of either House or the British public."

Trickett said that all the pair's meetings with Singham should be disclosed to the public retrospectively.

Asked about the meetings on Tuesday, a spokesperson for Theresa May said: "It's clear that any meetings on official business have been declared in the usual way."
Here is the full text of Labour's letter to the Cabinet Office:
Dear Sue and Helen,

I am writing to request an investigation into Steve Baker MP and Crawford Falconer for breaches of this Government's policies on propriety and ethics following news reports regarding Steve Baker MP and Crawford Falconer having meetings relating to their Governmental responsibilities without declaring these appropriately according to the rules this Government has set on transparency.

As you know, Steve Baker is the Parliamentary Under-Secretary at the Department for Exiting the European Union. Crawford Falconer is Chief Trade Negotiation Adviser and Second Permanent Secretary for the Department for International Trade. Both will have significant influence over the UK's position in the world after our exit from the European Union.

It was reported on the 22nd of May 2018 by Buzzfeed that Messrs Baker and Falconer had attended multiple, regular meetings with Shanker Singham, who works within the trade and competition unit at the Institute of Economic Affairs, and was formerly the Director of Economic Policy at the Legatum Institute.

Beyond that which is included in his professional role, Mr Singham is a notable campaigner on issues of free trade, particularly within the context of the UK's exit from the European Union. He describes himself as "promoting the notion of free trade, competitive markets and property rights protection around the world."

No record of these meetings appears to be present in any of the appropriate transparency releases for either Mr Baker or Mr Falconer.

It is not unusual for Ministers or Civil Servants to meet stakeholders or think tanks engaged in their policy area. Yet revelations that two senior government figures had several meetings with a prominent campaigner whose work is based around their area of responsibility is a cause for concern due to the fact that these meetings were undisclosed, and out-of-hours. As such they could not be held to account by Members of either House or the British public.

It is likely these meetings breach the relevant professional codes. Point 8.14 of the Ministerial code, which applies to Mr Baker, states that "Meetings on official business should normally be arranged through Ministers' departments. A private secretary or official should be present for all discussions relating to Government business. If a Minister meets an external organisation or individual and finds themselves discussing official business without an official present – for example at a social occasion or on holiday – any significant content should be passed back to the department as soon as possible after the event. Departments will publish quarterly, details of Ministers' external meetings." If these reports are true, Mr Baker has clearly failed on this basic requirement of the Ministerial Code.

Permanent secretaries are expected to do the same, publishing meetings with external attendees quarterly, as outlined in the government's response to a report by the Public Administration Select Committee on Lobbying. Clearly, Mr Falconer has similarly failed this basic transparency requirement.

It has been reported that a spokesperson for the Department for International Trade said that meetings attended by one of their senior officials were purely social. However, concerns have been raised about Mr Singham's influence over this Government's Brexit policy, with the Secretary of State for International Trade appointing Mr Singham to a five-member "committee of experts" set up to advise his department on trade and investment. It has also been reported in the news report mentioned above that Mr Singham has had regular access to ministers and officials who are closely involved in delivering Brexit. Also, reports suggested that he has a close relationship with the European Research Group, and has attended their meetings, which has lobbied the Government for a specific vision of Brexit. This gives reason to believe that it is possible these meetings will have fallen into those which require declaration by both Mr Baker and Mr Falconer.

With the above in mind, I would like to request an an investigation of both Mr Baker for a breach of the Ministerial Code and Mr Falconer for breaching his responsibilities in his position as Second Permanent Secretary at the Department for International Trade. If nothing else, can you please ensure the record is set straight and the details of every meeting taken place which have not complied with the transparency code published?

I eagerly await your response.

Yours sincerely

Jon Trickett MP

Shadow Minister for the Cabinet Office