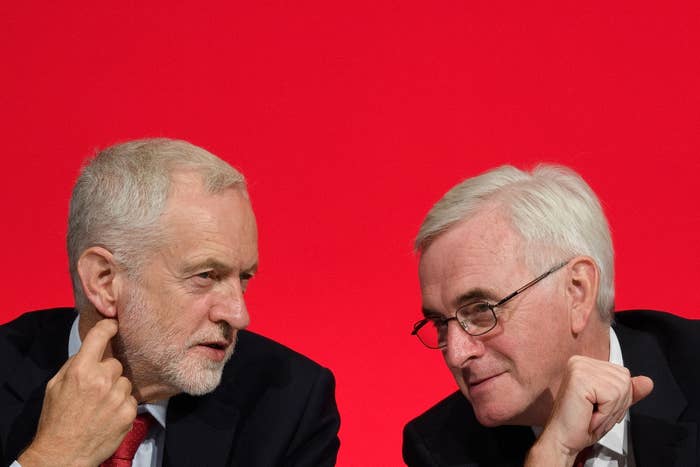 One of the first visitors to Downing Street on the morning Jeremy Corbyn becomes prime minister would be Mark Carney. Hours after Labour took power in a dramatic early election, the governor of the Bank of England would arrive in full view of the national media in a conspicuous statement of the new government's seriousness – one that Corbyn's lieutenants hope would reassure jittery investors and stop a run on the pound.

The Carney visit is one of numerous ideas that people close to John McDonnell, the shadow chancellor and Corbyn's closest ally, have discussed in recent months in anticipation of Theresa May's Conservative government collapsing because of Brexit.
McDonnell, according to sources familiar with this thinking, is genuinely convinced that May's fragile government won't make it through its full five-year term, and that Labour can win an early election.
"I'm telling you today that we are planned, ready and prepared," the shadow chancellor told Labour's annual conference in Liverpool on Monday. "Not just to fight another election campaign but to implement our programme when we win."
The 67-year-old is the most important and influential figure in the party now besides Corbyn, and responsible for much of the strategic thinking behind the leadership. Increasingly he has been urging his colleagues to adopt the posture of a future government, while preparing to implement a radical programme of reforms when they get in.
McDonnell is said to be deeply irritated that the party lost the summer to a damaging row about anti-Semitism, when it wanted to be on the front foot pushing its anti-austerity messages and taking advantage of the Conservatives' divisions over Brexit. And so he saw the Liverpool conference as a chance to regain the narrative – and effectively kick-start their election campaign.
Speaking to BuzzFeed News ahead of conference, McDonnell said: "If the [2017] election had been in another couple of weeks we'd be in power now.
"At the last general election we were 38% in the polls. We're now consistently in between 38 and 42. The Tories have fallen back.
"We need another 5 or 6% to make sure we have a clear overall majority. We think once we get into an election campaign and we are legally obliged to get a semblance of balanced coverage in the broadcast media we think we'd get our policies across and we'll be in power."
A year ago, at Labour's last annual conference in Brighton, McDonnell caused a stir when he told a fringe event that Labour was preparing for government by "wargaming" a run on the pound. Since then, insiders say, the shadow chancellor and his team have done a lot more work to prepare for an election and for government.
McDonnell has said on numerous occasions that Labour will be ready to move quickly to implement its radical reforms if it's elected. He claims to have the first Queen's Speech prepared and draft legislation ready that would implement policies such as the nationalisations of the water and energy companies.
One Labour source who is familiar with their planning told BuzzFeed News this was overstated – that McDonnell has a small team which doesn't have the resources to do all the planning required for such far-ranging reform. Some of the discussions that have taken place have focused on matters that seem trivial compared to the scale of the task, such as who will sit on the boards of particular departments in Whitehall. However, the source also said that serious thinking had been taking place.
One of McDonnell's main concerns is reassuring big business and investors that Labour's plans won't lead to economic disaster. His team are anxious that a bond market strike or a run on the pound would wreck their reform agenda, and so they've dedicated a lot of energy to thinking of ways to reassure the markets. Hence the plan for the reassuring optics of a Carney visit Downing Street soon after a Corbyn victory.
McDonnell has also been having regular meetings with business leaders, trying to convince the City and corporate Britain that a Corbyn government isn't a threat.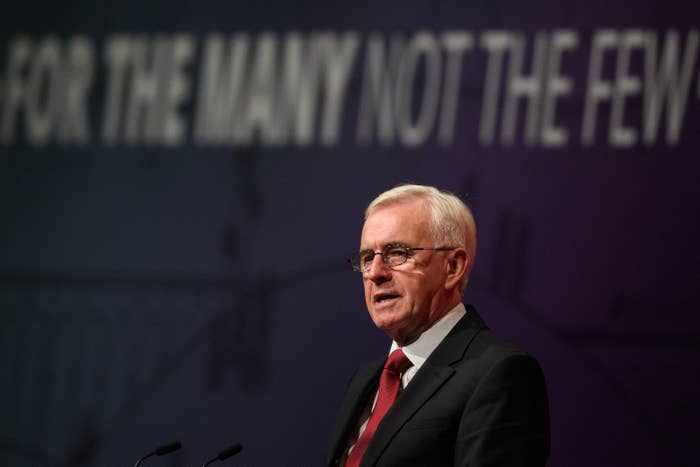 Anticipating an early election, Labour's central operation has been on a "war footing" in recent months, a Labour source said. And there's been a noticeably harder political edge to the Corbyn team's decision-making. Corbyn's decision earlier in the year to change his position on the customs union, despite their ideological aversion to it, was down to McDonnell calculating that it would win them votes, insiders said.
Likewise, McDonnell's insistence on Monday morning that Labour won't support a second referendum on remaining in the European Union – against the wishes of many of the party's members – was being read as a sign of his growing electoral pragmatism.
The challenge for McDonnell, as a potential chancellor, has been to walk the line between being radical for the party's supporters and reassuring for business. He is both trying to make the case for a drastic overhaul of the British economy without scaring voters so much that they never give him the chance to do it. That tension was illustrated by McDonnell's speech to the conference on Monday, which was, by his standards, measured.
He set out more detail about his plans to transform British capitalism, including a plan to hand 10% of the ownership of big companies to their employees and to nationalise the UK's water industry. It was red meat for the party faithful, who responded with a standing ovation, but less markedly radical than some of his previous conference speeches.
Just as notable was what he didn't say. In setting out plans for nationalising the water industry, McDonnell avoided giving detail about how Labour plans to compensate the shareholders of those companies – avoiding addressing one of the main questions that has nagged him since Labour set out its plans for nationalisation, and something that is sure to come up regularly during an election campaign.
The Social Market Foundation think tank estimates taking all the water companies into public ownership would cost around £90 billion, increasing the government's borrowing by around 5%. McDonnell's team believe they wouldn't have to pay the full takeover price that the company's shares would fetch in a normal commercial transaction; instead they've been working on a plan to take control of the water companies by paying less than full market value.
Such a move would be hugely controversial, and bitterly resisted by the business world. Rather than confronting the issue head on, though, McDonnell left it out, choosing to have the fight another day and to make the speech less provocative.
But even though he toned down the ideological rhetoric, business groups still kicked back against the proposals for nationalisation and worker ownership.
Carolyn Fairbairn, director of the CBI, said McDonnell's vision would "crack the foundations of this country's prosperity" and lead to a drop in living standards. Adam Marshall, director general of the British Chambers of Commerce, said it was "both a tax grab and an unprecedented overreach" that will damage investment.
On the conference floor, though, delegates were enthused. And coverage of the speech was largely positive. If anything, McDonnell will be emboldened after today. "Yesterday the press reported the Tories were drawing up secret plans for a quick general election," he told conference. "So the message from this conference is bring it on."