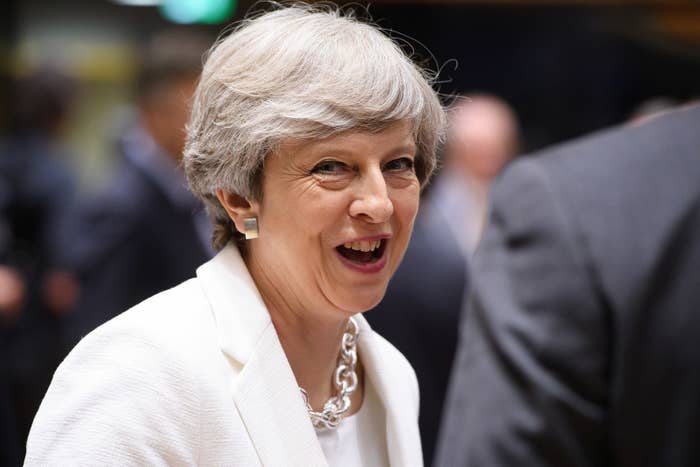 Theresa May was attacked as "cold and heartless" by political opponents on Friday after George Osborne claimed she had blocked moves to guarantee European Union citizens the right to stay after Brexit.

In an editorial in the Evening Standard, which he now edits, the former chancellor sensationally claimed that David Cameron wanted to give public reassurances to EU citizens in the days after the referendum last summer – and that May stopped him.
"All his Cabinet agreed with that unilateral offer, except his Home Secretary, Mrs May, who insisted on blocking it," the editorial said.
May was asked about the claim on Friday afternoon at a press conference in Brussels, where she had met other European leaders. "That is certainly not my recollection," the prime minister said.
"I've been very clear all along that the issue of EU citizens' rights should be addressed at an early stage of the negotiations," May added.

The accusation comes hours after May presented her proposals for the post-Brexit status of 3 million EU citizens living in Britain to European leaders in Brussels on Thursday night.
The Liberal Democrats, who have campaigned for the 3 million EU citizens who live in the UK to be given the indefinite right to stay after Brexit, jumped on the Standard's claim.
"It's a badge of shame that Theresa May blocked attempts to guarantee the rights of EU nationals after the referendum," Tom Brake, the party's Brexit spokesman, said. "It shows how cold and heartless she is."
Sadiq Khan, the Labour mayor of London, criticised May's "generous offer" to allow EU citizens to stay in Britain after Brexit if British expats are given the same rights on the continent, saying it was inadequate.
"It has taken a full year since the EU referendum for the prime minister to come up with this plan which does not come close to fully guaranteeing the rights of EU nationals living in the UK," Khan said.
May's offer, which will be outlined in full on Monday, does not give the reassurances to EU citizens that they would need to make long-term plans for their families, the mayor said.