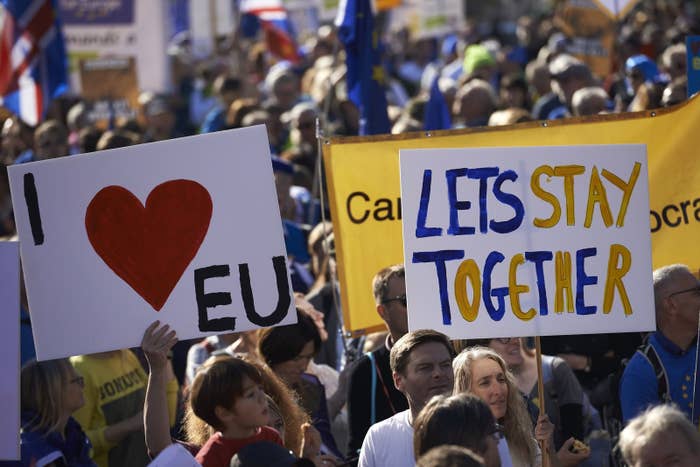 Campaigners trying to keep Britain in the European Union via a second referendum are winning the war for attention on social media, according to an analysis conducted by BuzzFeed News of the most-viral Brexit-related stories of the year.

Data tracking the social distribution of media articles on platforms such as Facebook and Twitter reveals that news reports and opinion pieces portraying Brexit in a negative light are far more likely to be widely shared than those giving a positive impression of leaving the union.
Of the 100 most-viral stories about Brexit this year, 61 were negative in sentiment, according to BuzzFeed News' review of data from BuzzSumo, a company that tracks sharing across social networks. The groundswell of anti-Brexit activity on these platforms has been a crucial factor in the campaign for a second vote, which has been gathering momentum since the summer, activists said.
In stark contrast, only eight of the 100 most-shared articles conveyed a positive view of Brexit, according to BuzzFeed News' analysis. Two of those were columns by former UKIP leader Nigel Farage on the Telegraph website decrying the government's "betrayal" of the Leave vote.
The rest of the articles were classified as neutral.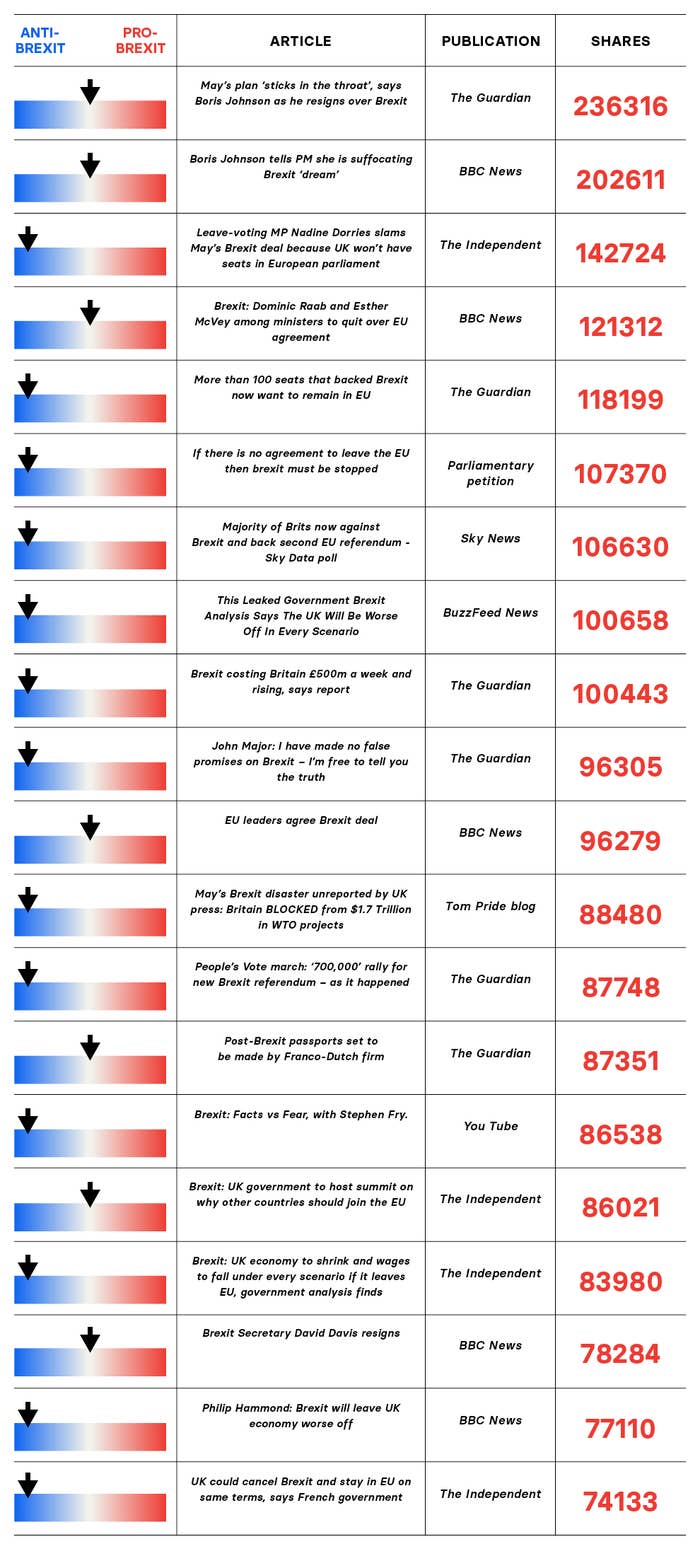 Common among the most-shared articles were sympathetic reports or opinion pieces about a second referendum and stories warning of the potentially severe economic consequences of Brexit, particularly if Britain fails to reach a deal with the EU.

The data suggests that interest in a second referendum has picked up among social media users in recent months, as the Brexit negotiations approached the difficult climax and Theresa May's proposals sparked open hostility in Westminster and among Tory grassroots activists.
Recent opinion polls have suggested that some voters may have changed their minds since the 2016 referendum and that support for remaining in the union has grown. The analysis also suggests that warnings about potentially dire economic consequences of leaving the union have struck a chord with many people, even though they have been dismissed by some politicians and commentators as overblown.
The data does not provide a comprehensive picture of the public's current attitudes to Brexit; further, it is not guaranteed to capture every story about Brexit that has gone viral. But it does provide a useful insight into the issues and developments that have generated the most discussion in a significant, and politically engaged, portion of the electorate.
About 44% of Britons use social media platforms as a source of news, according to Ofcom.
Stories that circulate widely on Facebook, Twitter, and Reddit are not always those that television bulletins and newspapers put at the top of their news agendas, so the data sometimes highlights issues of concern to a large number of voters that have been missed or underestimated by politicians and journalists.
Since May unveiled her controversial Brexit strategy in early July, much of the traditional media's coverage has reflected the concerns of Tory Eurosceptics and their attempts to push the prime minister to a harder exit. Online, however, a very different narrative has been playing out.
Certainly, Brexiteers have a powerful and passionate base of support on social media. Arron Banks's Leave.EU campaign, for example, has a far larger presence on Facebook than any of the pro-European groups, with around 910,000 followers. Farage has more than 800,000 followers on his personal Facebook page and 1.2 million on Twitter.
But their arguments about the benefits of leaving the union are far less likely to be widely shared online than anti-Brexit articles, the data shows.
Tory-supporting newspapers have published numerous articles by Eurosceptic politicians making the case for a hard Brexit in recent months, including several columns by Boris Johnson in the Daily Telegraph. But while these pieces may be influential in Westminster and are often followed up by other publications, they seldom seem to get as much traction on social media as they do offline.

None of Johnson's recent Telegraph columns attacking May's deal and making the case for a hard departure appear in the top 100 most-viral Brexit stories, according to the BuzzSumo data. (The circulation of Johnson's Telegraph columns may be limited by the newspaper's online business model which restricts some content to subscribers.)
In contrast, a Guardian comment piece by the former prime minister Sir John Major that argued vehemently against Brexit was the 10th most widely circulated with more than 96,000 shares.
In the social media world, it is usually not the conventional political voices that set the conversation. Often, stories go viral because they've been pushed by Remain-supporting celebrities with large personal followings, such as J.K. Rowling and the actor and comedian David Schneider. Sometimes they're driven by pro-Remain politicians whose social presence gives them a lot more clout outside Westminster than in it, including the Green MP Caroline Lucas and the Labour backbencher David Lammy.
Campaign groups that circulate links to news articles and opinion pieces that support their arguments to communities of like-minded people — which in some cases are as large as the circulations of small national newspapers — are another major driver of activity. One of the major drivers of engagement is Scientists for EU, part of the People's Vote coalition, the alliance of activists lobbying to stop Brexit by way of a second referendum. Founded in 2015, it has around 265,000 followers on Facebook.

Nearly a fifth of the top 100 viral stories related to a second referendum, more than any other single subject, according to BuzzFeed News' analysis. A piece in the New European newspaper about the former BBC presenter Gavin Esler backing a second referendum was shared more than 67,000 times; a Sky News report about Gary Lineker joining the campaign reached more than 60,000.
Another major theme of the most-shared articles was the legitimacy of the 2016 referendum. Reports about the Vote Leave and Leave.EU campaigns' compliance with election rules have been shared widely, the data suggests.
Mike Galsworthy, a health researcher and left-wing activist who founded Scientists for EU, said pro-European campaigners had been slower than the Eurosceptic activists to appreciate the importance of social media, but have radically stepped up their activity in the last few years. The activity is more than just a social media bubble, he said. The groundswell of interest on social platforms has translated into real-world impacts, helping the People's Vote to drive people to its public events and to put pressure on individual MPs to come out against May's exit deal.
"We've got a dam breaking on this," Galsworthy said.