There are few chances in this world to behold a real treasure. Kids of the '90s who watched the iconic television show Legends of the Hidden Temple know this truth well.
To prep for the new series reboot, we took a deep dive into these stories to remind ourselves just what to look forward to:
1.
"I was little and way too young — I was that idiot who didn't know what to do."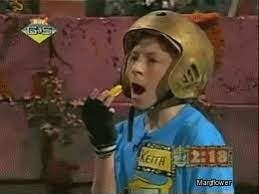 2.
"I thought the moat challenge was fun, and we happened to make it across first. The episode of older kids that filmed right before us (and had the same moat challenge) was so terrible that everyone was so soaked they had to change clothes and reshoot the entire sequence."
3.
"I was on the King Henry VIII episode (Season 1, Episode 16). I made it to the semifinals (didn't get to run the temple). I don't remember the moat depth at all."
4.
"We never saw the host off camera. He never came to our holding room to introduce himself, and never spoke to us on set unless they were filming. As for the lag time — there was A TON. They film four episodes at once."
5.
"According to the broadcast, I won a game called 'Magical Maze.' What actually arrived on my doorstep was Moon Shoes. I'm not sure if there was a mix-up or if they just randomly plug certain products as 'prizes' for marketing purposes."
6.
"We had to arrive at 6:30 a.m. I was released from filming in the early afternoon. They fed us breakfast and lunch. So yeah, for roughly seven or so minutes of fame it took about eight hours."
7.
"At least one-third of the contestants never saw the show before they were contestants because each season was completely filmed before each one aired, and there were 3 seasons of 40 episodes each."
8.
"My friend was a contestant on that show. He said the temple guards were kind of pushy jerks." —u/bmoviescreamqueen
9.
"There was a former Legends of the Hidden Temple contestant interviewed in some magazine many years ago, and I know they talked about the temple guards. I have been looking for that magazine article for years."
10.
"I used to work for a construction company that would be contracted by Nickelodeon for building/dismantling some of their TV sets. Legends of the Hidden Temple was actually one of the sets we did."
11.
"The producers coordinated with talent to decide who was going to be on which team. I was mostly working with the technical aspects of the production. I got to know those folks but didn't work much with the kids." —u/LegendsGutsArcade
12.
"One of my challenges was to tie all the elements together: computers, audio/MIDI triggers, and video graphics."
13.
"I was at the taping of Legends for the first season, so we didn't know WHAT to expect."
14.
"A few years ago, at a summer nerd camp I attended, there was a girl who introduced herself to everyone as a former contestant on Legends of the Hidden Temple. This is probably the best way of making friends with dorks who feel nostalgic about the '90s, bar none."
Were you or someone you know on Legends of the Hidden Temple? Let us know in the comments.