This "Proudly Feminist" Restaurant Is Run Entirely By Asylum Seeker Women
A night of feasting at the roaming restaurant that's giving hope and employment to refugees and asylum seekers in Sydney.
There's something a little bit thrilling about stepping into a familiar lunchtime cafe after nightfall. Like a member of a clandestine society, we've been let in on a city's secret. Tonight, Lush Bucket has been transformed. From an Ultimo cafe selling quinoa and beetroot salads to sun-starved ABC staff, into a pop-up restaurant by the women of Mazi Mas Sydney, a social enterprise that trains female asylum seekers to put on home-cooked style dinners for the public.

The tables are simply dressed, with white tablecloths, a candle and a bright posy of flowers. A smiling woman in a navy and white striped apron takes us to our seats, and soon we are drinking our complimentary welcome cocktails - the Mazi Mas Garden Sling, made from Tanqueray gin, elderflower cordial, ginger beer, cloudy apple juice and a slice of fresh cucumber.
I look around the room, as small groups of young professionals take their seats and look at the wine list. Buzzing with chatter and clinking glasses, we could be at any small restaurant in the city. It certainly doesn't feel like a place where you could get a home cooked meal.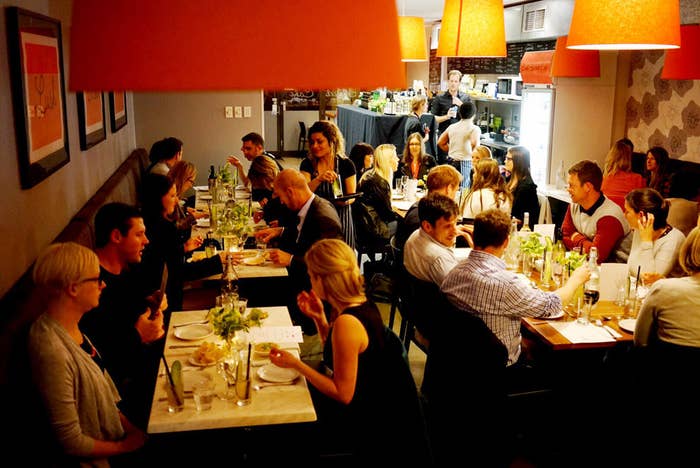 It's a small outfit, but this not-for-profit dining project has some big aims: Give women an independent income, grow their cooking skills in a professional environment and foster a sense of community amongst a diverse group of women, all while showcasing their recipes and cultural heritage.
Mazi Mas, which means "with us" in Greek, was founded in London in 2012 by Nikandre Kopcke, in honour of her Greek godmother. Kopcke describes the project as a proudly feminist business, coming from her "zealous determination to stop talking about feminism and start doing it".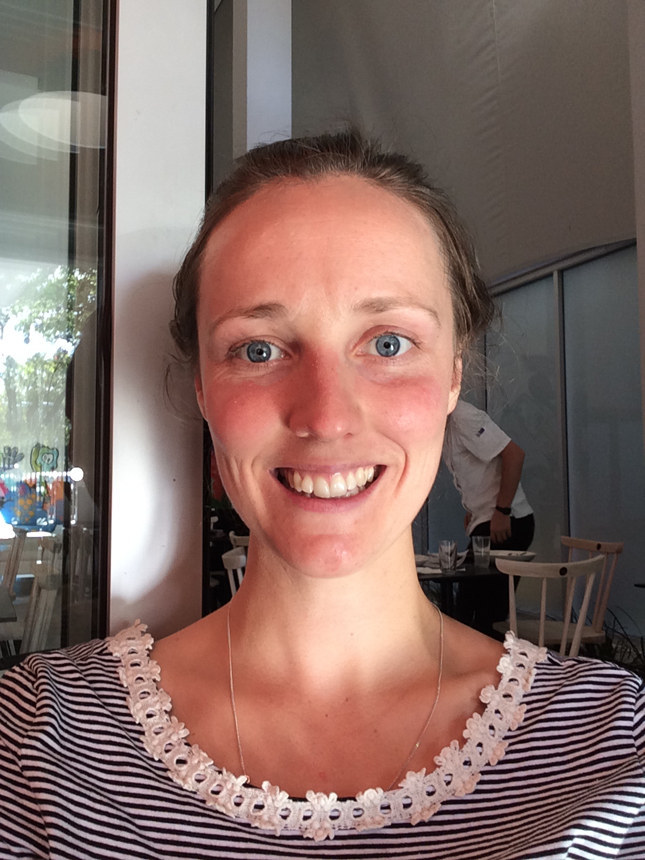 It came to Australia by way of Maggie Lloyd, who studied with Kopcke in London. She saw there were similar issues with underemployment of migrant women in Australia and founded Mazi Mas Sydney this year.
Here's how it works: Mazi Mas partners with the Asylum Seekers Centre in Newtown in Sydney's inner-west to find women in their employment assistance program who are interested in hospitality. Then, partnering with training academy Diageo, the women complete certificates in food safety and bar training.
"This is our fourth dinner," Lloyd told BuzzFeed News.
"We work in cafes that would otherwise be closed at night, and generous people have lent their space and kitchen to us pretty much for free. There's fully paid work for the team in a respectful and fun environment.
"Each time we put on a dinner, we have one or two women who are the lead chefs, so they design the set menu for the night."
Tonight's meal is Sri Lankan and Pakistani cuisine, cooked by Sara and Harshani. Talking to them in the kitchen after the dinner, they ask me politely not to use their real names, as they fear repercussions for their families in their home countries if they appear in the media.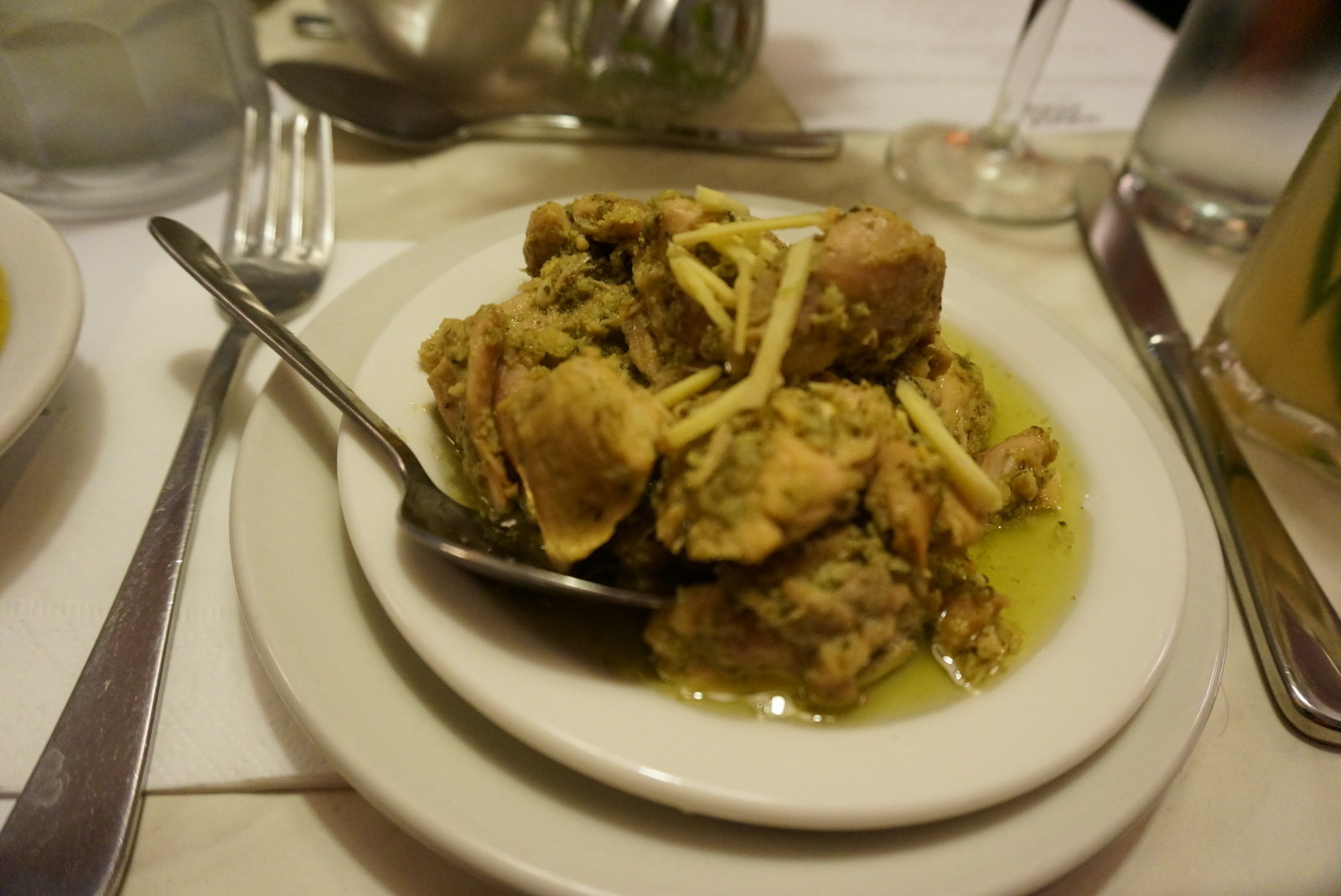 Our entree is a Pakistani dish, Haray Masalay Ki Chicken. Beautifully tender pieces of green spiced chicken topped with sliced fresh ginger, with vibrant yellow daal and mini papads on the side. It's pleasingly substantial for an entree, and incredibly tasty.
There are nine asylum seekers running the show tonight. Helping the two lead chefs with food prep, making drinks, and providing service on the floor are women from countries all over the world, including Uganda, Rwanda, Iran, Burundi, Fiji and Nigeria.
"One of the great things about this program is that they're not just reproducing their own cuisines, everyone involved gets to learn the recipes from different cultures and backgrounds" Lloyd tells me.
For her, it's about helping people realise that they have domestic skills with important economic value.

"The thing we like to celebrate is that they are coming here and they're able to get recognition for skills they've always had that they've learned in the home. When people eat with us, they're generally so impressed by meals that they haven't tried before, which gives the participants a lot of confidence and makes them feel very proud about what they've been doing at home and never had recognition for," she said.
She adds that there's a valuable message for all Australians about gender equality in the workforce, with only 16% of chefs in Sydney being female, and 24% nationwide.
"It's kind of shocking that even though women are still doing the lion's share of cooking at home. This project is a way of saying that these skills should be recognised in the real economy."
They are particularly proud that in the short time the program has been running, four Mazi Mas women now work at Mary's in the Sydney CBD, a cult burger joint that has people in suits lining up on Elizabeth Street every lunchtime.

Angela Keefe works with the Mazi Mas women through the employment assistance program at the Asylum Seekers Centre, and says many of them come from a professional background.
"One of the women who works in the restaurant runs a major NGO in Africa, another is an insurance executive in Malaysia. There is a phenomenal pool of talent in that room, but when you are on the run, you don't have what you need to get back into your profession."
"One of the women who works in the restaurant runs a major NGO in Africa, another is an insurance executive in Malaysia," she told BuzzFeed News.

"There is a phenomenal pool of talent in that room, but when you are on the run, you don't have what you need to get back into your profession. We try and help people get back out there and into work, and Mazi Mas helps their state of mind, and opens their eyes to different kinds of work.
"Restaurant work wouldn't be in their sphere of knowledge, and they wouldn't have thought of doing hospitality, but they work with Mazi Mas and gain understanding of a real industry, and it opens up their mind to something they could do, which helps them settle in Australia."
Next up for dinner, there's a slow-cooked Sri Lankan chicken curry in a spicy coconut sauce and fried eggplant pickle called Brinjal Wambatu Moju, but the green apple curry is the standout.
"My god, it's so smoky!" exclaims a businessman on the table next to us when he tries it. 'White people', I think smugly to myself, until our apple curry arrives. It's damn smoky! And sweet and delicious and absolutely unlike anything I've ever had before.
As we get stuck into it, I realise there are subtle differences to the cuisines that I hadn't picked up on before. In inner-city Sydney, we like to fancy ourselves as being well-versed in the incredible array of multicultural food available to us, but many would falter when it comes to specifics. Do I know the difference between Pakistani and Sri Lankan curries, and how they're different to Indian or Nepalese food for example? Not really, I'm ashamed to admit.
After mains, the women gather in front of the diners and give a quick presentation about the menu. Harshani talks us through her dish.
"The recipe comes from my mother, but I have changed a few things," she says.
"More chilli!" another woman from Mazi Mas pipes up.
"Yes," she says, with a small smile. "I hope it is not too spicy for you."
And it is pretty hot. But I like that Harshani didn't water down her recipes for us, and given us what would have been the Sri Lankan equivalent of honey chicken. The food is bold and unapologetic, and you get the very real sense that under her shy exterior, Harshani is exactly the same.
It's clear that this program isn't just about educating asylum seekers, but the customers as well, who get a small glimpse into the lives of these women who have left their careers and their families to start again in Australia. The program is also an education for potential employers, who are too often reticent to employ people on working visas.
"Some businesses just don't have the lateral thinking to understand transferrable skills," Keefe explains. We get someone into the centre who is a human rights lawyer in Bangladesh, but they can't practise law here. But because of their professional background, they have incredible customer service and relations skills, computer skills, they're detail minded, and could fit into HR or many different types of roles. So we have to teach businesses that there's a real diversity dividend," she said.
Sheer Khurma, a Pakistani vermicelli pudding, with fresh fruit.
As service wraps up for the night, the guests sip leisurely on red wine and cocktails. We've polished off dessert, a delicate and unusual pudding with cardamom, pistachios and raisins. Inside the kitchen is a hive of activity as they prep for tomorrow night's dinner. It occurs to me that this is the first industrial kitchen I've seen in Australia where all the staff are women and it's quite remarkable.
"People come here with a tremendous amount of baggage and trauma at home, and trauma from how they are treated here by some parts of the government."
I chat to Maggie Lloyd, who is tired but beaming. "It's a lot less hectic than the first night," she admits, noting that each time they put on these nights, they have more experience. "But after they do this, they're so happy and proud."
Angela Keefe agrees.
"When they come back to the centre, they are in a whole different headspace to look for work, their mood improves and everything. While it is just casual work they're in a better frame to get full time work in hospitality.
"They come back laughing and joking, they make friends with each other, they're socialising more and they work more positively with their job advisers. This year, I did a survey of all our clients and they had really positive feedback about the experience.
"People come here with a tremendous amount of baggage and trauma at home, and trauma from how they are treated here by some parts of the government. Mazi Mas is a big part of lifting that burden."
It feels good to know that the warmth and the buzz inside the restaurant doesn't just last the night.