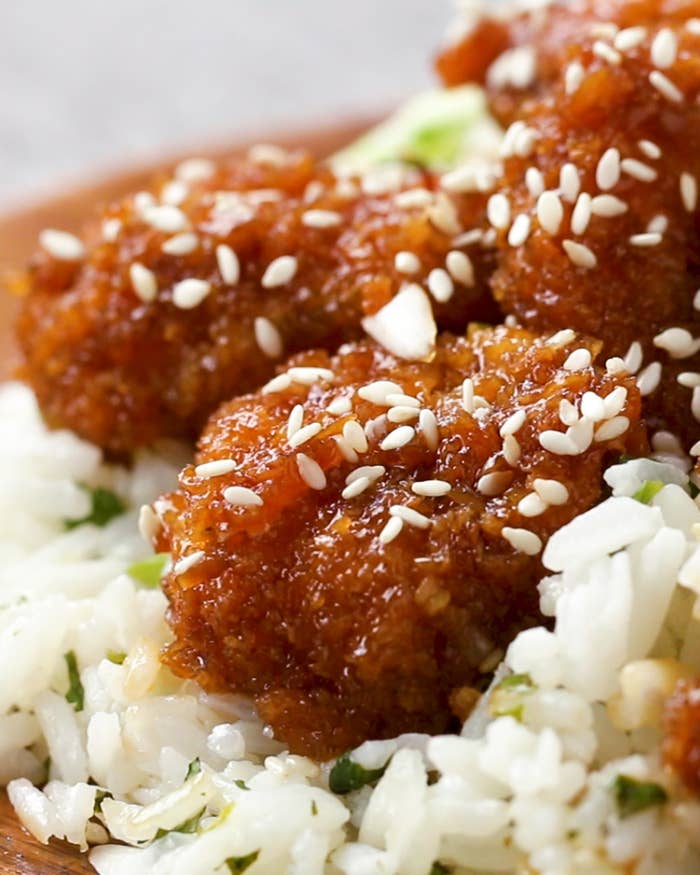 Ingredients:
for 4 servings
SHRIMP
1 lb medium shrimp, peeled and deveined (455 g)
salt, to taste
pepper, to taste
4 large eggs
1 ½ cups soda water, cold (360 mL)
2 cups cake flour (200 g)
oil, for frying
3 cups panko bread crumbs (150 g)
GLAZE
1 tablespoon oil
4 cloves garlic, minced
1 tablespoon ginger, minced
1 cup soy sauce (240 mL)
2 tablespoons rice wine vinegar
⅓ cup light brown sugar (75 g)
1 pinch red pepper flakes
¼ cup water (60 mL)
1 tablespoon cornstarch
FOR SERVING
white rice, cooked
scallion, thinly sliced
sesame seeds
Preparation:
1. Pat the shrimp dry with paper towels, then transfer to a medium bowl and season with salt and pepper.
2. In a separate medium bowl, whisk the eggs and soda water until combined.
3. Add the cake flour and gently whisk, making sure the batter is still clumpy. Do not overmix.
4. Heat the oil in a large pot until it reaches 350˚F (180˚C).
5. Add the panko bread crumbs to a shallow bowl.
6. Using a slotted spoon, dip the shrimp in the tempura batter, then toss in the panko, making sure to fully coat.
7. Fry the shrimp in the hot oil, 5-6 at a time, until golden brown, about 2-3 minutes. Transfer to a wire rack to drain.
8. Make the glaze: Heat the oil in a medium saucepan over medium-high heat.
9. Add the garlic and ginger and cook until fragrant, about 30 seconds, stirring frequently.
10. Add the soy sauce, rice wine vinegar, brown sugar, and red pepper flakes. Stir until the mixture begins to simmer.
11. In a small bowl, combine the water and cornstarch. Add the cornstarch slurry to the saucepan and stir to combine. Cook until the glaze is reduced by half and looks thick and syrupy, about 5 minutes.
12. Transfer the shrimp to a large bowl and pour the glaze over. Toss the shrimp gently to coat with the glaze.
13. Serve the shrimp over rice and garnish with scallions.
14. Enjoy!