As Russia's invasion on Ukraine persists, stories of what life is like for citizens on the ground offer a nightmarish glance at what people — and world leaders — are capable of.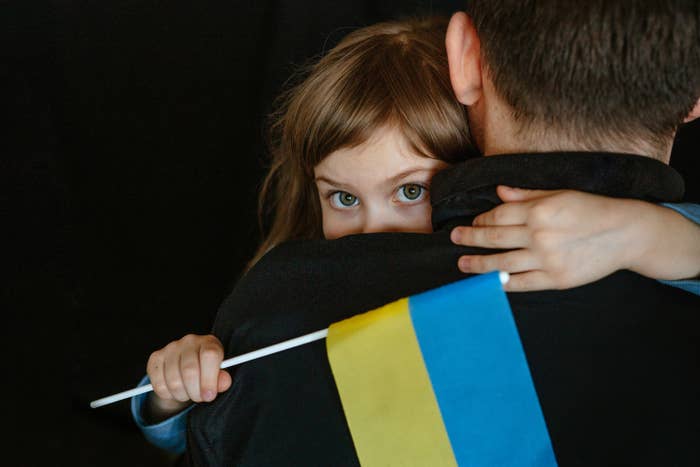 One Ukrainian artist, Olga Wilson, has began cataloging these stories, as well as personal anecdotes sent to her from survivors of the invasion, and she turns the scenes into illustrations. These are her "War Notes," a series based on the reality of life in Ukraine right now:
"We have only one home — it's our planet," Wilson wrote. "We should keep it safe. In the 21st century, we, all people and countries, should evolve and never act from a position of force, but from a position of negotiations, diplomacy, rationalism, and consensus. It's the main goal of humanity. War is the worst mistake. The best solution for war is never to start it."
1.
This is Oleksandr Ivanov, an 18-year-old boy with an affinity for piano who graduated with honors from music school. Despite his talents, Oleksandr decided to pursue medicine, with hopes of becoming a neurosurgeon who could cure his mother's muscular dystrophy. However, on the day of the Russian invasion, Oleksandr was shot 11 times in his grandmother's car while traveling to pick up his grandfather, the Guardian reported.
3.
Many have been affected by the war, including animals in shelters and farms. Hundreds have been found dying of hunger and thirst after shellings.
4.
Below, Wilson depicted this personal story sent to her: "At 23, I'm a widow. At the age of 24, he gave his life for Ukraine. Life for a country, where we dreamed of vacations in Lviv and in Carpathian mountains, walking the streets of Kyiv and Dnipro, visiting beautiful parks of Chernihiv and tanning in Odessa. All that was left of these dreams is pain. ... He died on the night of February 26-27 while defending the city of Sumy."
5.
This illustration is dedicated to those who keep Ukraine in their thoughts, and worry whether their loved ones and home still stand.
6.
On March 11, 56 people were killed when Russian forces reportedly fired at a care home facility for the elderly in Luhansk of Ukraine.
7.
This is 21-year-old Yulia Zdanovska. She was a talented mathematician whose team won gold at the European Girls' Mathematical Olympiad in 2017. Yulia hoped to become Ukraine's Minister for Education and help other young people pursue higher learning. However, Yulia was killed by Russian shelling on March 3.
8.
While attempting to flee, 50 people — five of which were children — were killed during a missile strike on a railway in Eastern Ukraine.
9.
Below is Sasha, a Ukrainian child who lost her arm when her family tried to flee.
10.
While patrolling, officers found a dog in a destroyed car in Bucha, Ukraine. The dog was exhausted and sleeping on shattered glass. According to human rights lawyer Oleksandra Matviichuk, officers took the dog to the vet, and one ended up adopting him.
11.
Below is Valentyn Mykolayovych, a Ukrainian grandfather who went viral for driving his family out of danger.
12.
A boy, 4-year-old Sasha Zdanovych, and his grandmother were attempting to flee on a boat when it capsized. Officials did not find his body until 26 days later.
13.
Milena Uralova is currently recovering after surviving a gunshot wound to her face and neck. Her family was escaping from Mariupol' when Russian troops opened fire as they passed through a checkpoint, Reuters reported. Milena has dreams of one day becoming a gymnast.
15.
And finally, below is the hat of 13-year-old Elisey, a boy whose family attempted to escape Peremoha village, but were shot at while seeking refuge.
And if you'd like to view the rest of Wilson's photo series, you can follow her on Instagram.