Turkey Brie Grilled Cheese With Cranberry Compote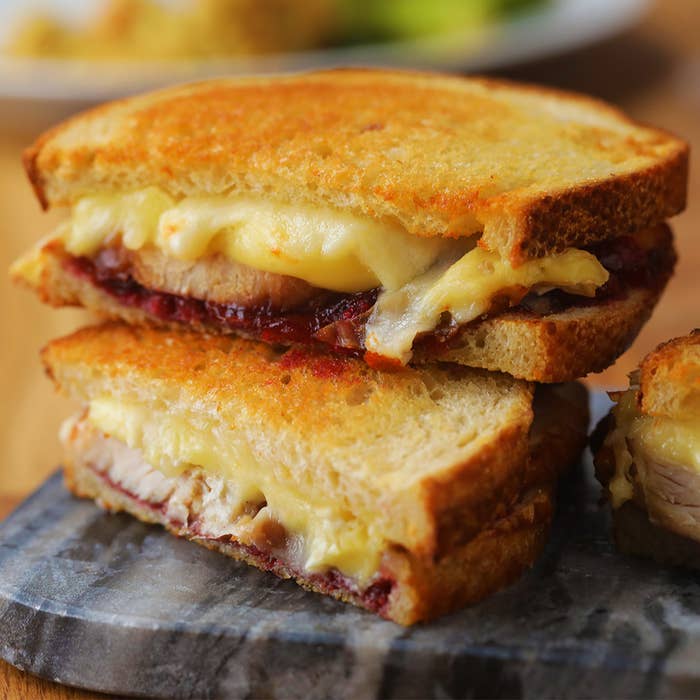 INGREDIENTS
Spiced Cranberry Compote
1½ cups Adventure Series Chianti
3 cups cranberries (fresh or frozen)
1½ cups Baker's Corner brown sugar
1 tablespoon lemon juice
1½ teaspoon SimplyNature ground ginger
½ teaspoon Stonemill cinnamon
¼ teaspoon Stonemill ground clove
¼ teaspoon Stonemill black pepper
Sandwich Assembly
Countryside Creamery Unsalted butter, room temperature
Happy Farms Preferred Brie Cheese Round
Sliced turkey (Kirkwood Boneless Turkey Breast)
Specially Selected Sliced Sourdough bread
Optional: SimplyNature Organic Arugula
PREPARATION
1. Combine chianti, cranberries, brown sugar, lemon juice, ginger, cinnamon, clove, and black pepper in a sauce pot over medium heat and cook down until it is thick but spreadable. Set aside to cool.
2. To assemble the grilled cheese, butter one side of each slice of sourdough bread. On the non-buttered side, add a layer of brie. Top with sliced turkey. Spread the other non-buttered side of bread with a layer of the spiced cranberry compote.
3. Heat a skillet to medium heat. Place the sandwich in the pan, butter side down. Cook until golden brown on one side. Flip and cook until cheese melts and the second side is golden brown.
4. Serve with extra cranberry compote on the side.
5. Enjoy!