Spooky Apple Pops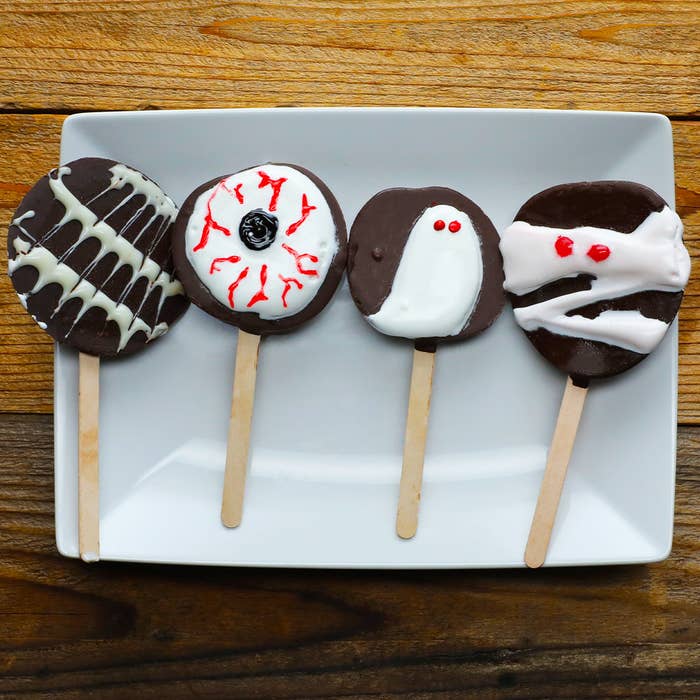 INGREDIENTS
Apple Pop
4 ALDI Granny Smith apples
12 ounces Moser Roth Premium dark chocolate
1 tablespoon SimplyNature Organic Coconut Oil
Popsicle sticks
Marshmallow Topping
2 tablespoons Countryside Creamery butter
1 cup Baker's Corner Marshmallows
Additional Decorating Elements
Colored gel frosting
Red candy pieces
Toothpicks
PREPARATION
1. Cut apples lengthwise into ¼-inch sections. Discard the sections that contain the core and seeds.

2. Place slices on a paper towel and lay another paper towel on top. Using your palm, press firmly on each apple slice for a few seconds to soak up some of the excess liquid from the apple. 

3. Using a small knife, make a small slit in the bottom of each apple and insert the popsicle stick.

4. Break up chocolate into a bowl and add coconut oil. Microwave for 30 second intervals, stirring in between, until the chocolate is just melted; careful not to overcook!

5. Hold the apple pop over the bowl of chocolate and use a spoon to carefully coat the apple, letting the excess chocolate drip off. Place on a parchment-lined baking sheet. Repeat with the rest of the apple slices.

6. Refrigerate for 30 minutes.

7. Place marshmallow and butter into a bowl and microwave for 30-second intervals, stirring in between, until the mixture is smooth.

8. Once the chocolate on the apples has hardened, remove from the refrigerator and decorate with marshmallow mixture and extra decorations. 

9. Return to the refrigerator until ready to eat.

10. Enjoy!

Notes:
You may need to refrigerate or freeze between different elements of the decorating to set the frosting for ease of use. The marshmallow mixture can be microwaved again if it gets too hard.
For decor we suggest trying a ghost, a spooky eyeball, and a spider web!