Butter Cake Bars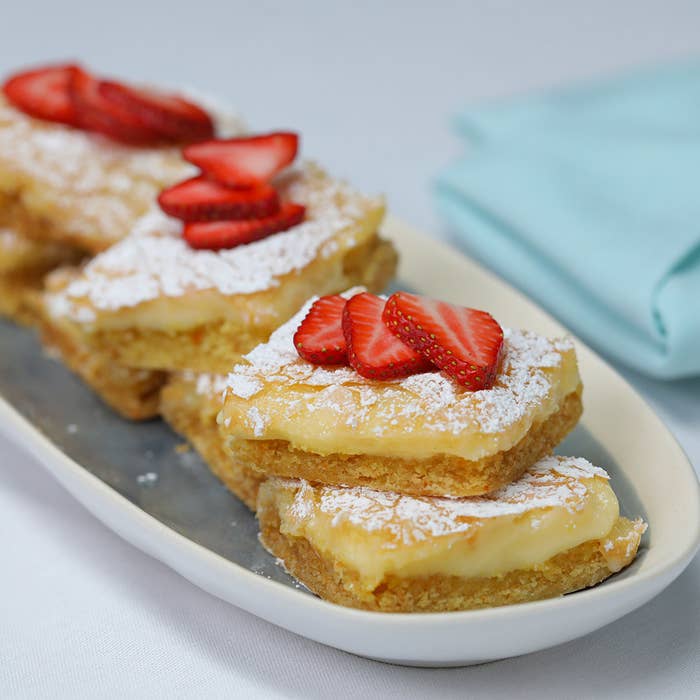 INGREDIENTS
Butter Cake Bars 
Servings: 12
Base
1 box Baker's Corner Classic Yellow Cake Mix
1 stick Countryside Creamery Unsalted Butter
1 egg
Filling
8 ounces Happy Farms Cream Cheese, room temperature
2 eggs
2 teaspoons Stonemill Vanilla Extract
4 cups Baker's Corner Powdered Sugar, plus more for garnish
Fresh strawberries, sliced (optional garnish)
PREPARATION
1. Preheat oven to 350℉.

2. In a mixing bowl, blend together cake mix, butter, and egg until it becomes crumbly using a hand mixer. Press the mixture into a 9x13-inch bake dish. 

3. In another mixing bowl, blend together the cream cheese, eggs, vanilla extract until smooth. Slowly add the powdered sugar, a cup at a time, until fully incorporated and smooth. Pour over the top of the crust in the pan.

4. Bake 25-30 minutes until filling is set and top is golden brown.
5. Cool completely. Garnish with powdered sugar and fresh berries if desired. 

6. Enjoy!