Europe Has No Idea What To Do About Catalonia — And It's Driving Everyone Mad
Spain and Catalonia have boxed themselves into a corner over the region's demands for an independence referendum.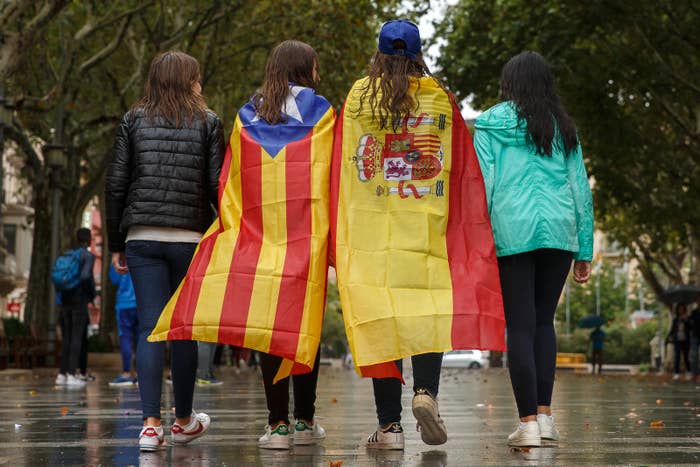 As Catalonia moves to unilaterally declare independence following a referendum last week, the rest of the European Union has found itself stuck on the sidelines, struggling to balance a scenario that has put one group's demand for democratic rights against the rule of law and Spain's sovereignty.
Top European leaders are alarmed that Catalonia's decision to charge towards a declaration of independence, coupled with Madrid's heavy-handed response and stubbornness, has set the two parties on a collision course with no signs of a good outcome for either of them.
After weeks of silence, the European Commission on Monday released a statement reaffirming the illegality of Sunday's vote while condemning the Spanish government's use of force, and called all parties to the table for talks.
"We have shaped our democratic societies based on three principles: democracy, respect for the rule of law, and human rights. The three need each other. They cannot exclude each other. You cannot use one against the other. If you remove one pillar then the others will fall too," Frans Timmermans, the vice president of the European Commission, said during a debate in the European Parliament on Wednesday.
"If the law does not give you what you want, you can oppose the law, you can work to change the law," Timmermans continued, "but you cannot ignore the law."
Although Brussels sees the issue of independence mostly as a domestic issue for Spain, its balancing act in recent weeks has left both Barcelona and Madrid unhappy. In recent days, Catalonia's leader Carles Puigdemont accused the EU of inaction, and called on it to mediate – a suggestion immediately ruled out by Madrid. Secessionist parties elsewhere were quick to project their own causes on to Catalonia. Abroad, the activist left picked a side to cheer on, with some, based on a misinterpretation of EU law that went viral on Twitter, urging Brussels to kick Spain out of the EU. And for Nigel Farage and his ilk, the crisis has become another opportunity to bash the EU.
In private, EU officials point out that critics have been unable to say anything sensible about what the EU could have actually done differently.
Europe's governments are walking on the same tightrope.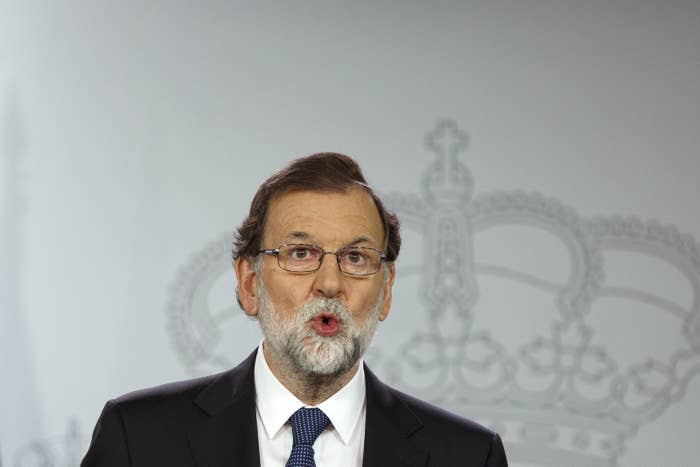 Most of the European senior government officials BuzzFeed News spoke to this week expressed a real, and growing, sense of worry. And some are sceptical that the "it's an internal Spanish issue" line will hold if the situation continues to escalate. "It won't hold especially if PSOE [Spain's opposition Socialist Party] change their tack as they seem to be doing," a senior official said.

Spain's main parties broadly back the constitutional argument, but they differ on how to unlock the stalemate. The fact that Spanish politics isn't naturally inclined to compromise and coalition-building between the country's main parties has made things worse.
PSOE leader Pedro Sanchez has urged prime minister Mariano Rajoy to open negotiations with all parties, including the left-wing Podemos, who had been calling for talks even before Sunday's event. The left-wing party puts the blame for today's impasse firmly at Rajoy's door. And, unlike the PSOE, Podemos is also critical of the Spanish king's uncompromising line. (In a rare and strongly worded speech on Tuesday, Spain's King Felipe VI said Catalan leaders broke the laws of the state and were attempting to break the unity of the country, but he failed to mention Sunday's use of force by Spanish police).
Rajoy, who has yet to announce what he will do next, is biding his time as he waits for Barcelona's next move.

The current standoff has been a decade in the making. The two sides have upped the ante, and hardened their stances in recent years. In the process, public opinion has become increasingly polarised, partisan, and driven by emotions over facts. Both Puigdemont and Rajoy lead fragile governments, and are vulnerable to the less compromising voices in their respective camps. All this makes any face-saving climbdown extremely difficult to achieve.
On the back of a financial and eurozone crisis that hit Spain harder than most European countries, as well as a succession of corruption scandals linked to his conservative Popular Party (PP), the Spanish prime minister's stubbornness, his intransigence towards Catalonia, and steadfast refusal to seek a compromise, have fuelled separatist sentiments.
When a new statute of autonomy was approved by previous administrations a decade ago, Rajoy's PP filed a constitutional appeal that was partly upheld by the courts in 2010. The move angered many in Catalonia.
Support for independence went from 15-20% to reach a peak of 49% in 2013. It has since remained steady at around 40%. Some 1.8 million people voted for independence in an informal consultation in 2014. The following year, a disparate alliance of separatist parties and forces won regional elections with 1.9 million votes on a record high turnout – and pledged to hold a referendum and, if victorious, declare independence unilaterally. On Sunday, 90% of the 2.2 million who voted cast a ballot for "Yes". Turnout, no doubt influenced by Madrid's crackdown, was 42.5%.
Although a majority of Catalans want to hold a referendum regardless of their views on secession, the region remains split over the question of independence. Many are sceptical of a headlong rush to independence. Most are simply unhappy with the existing balance of power between the region and central government.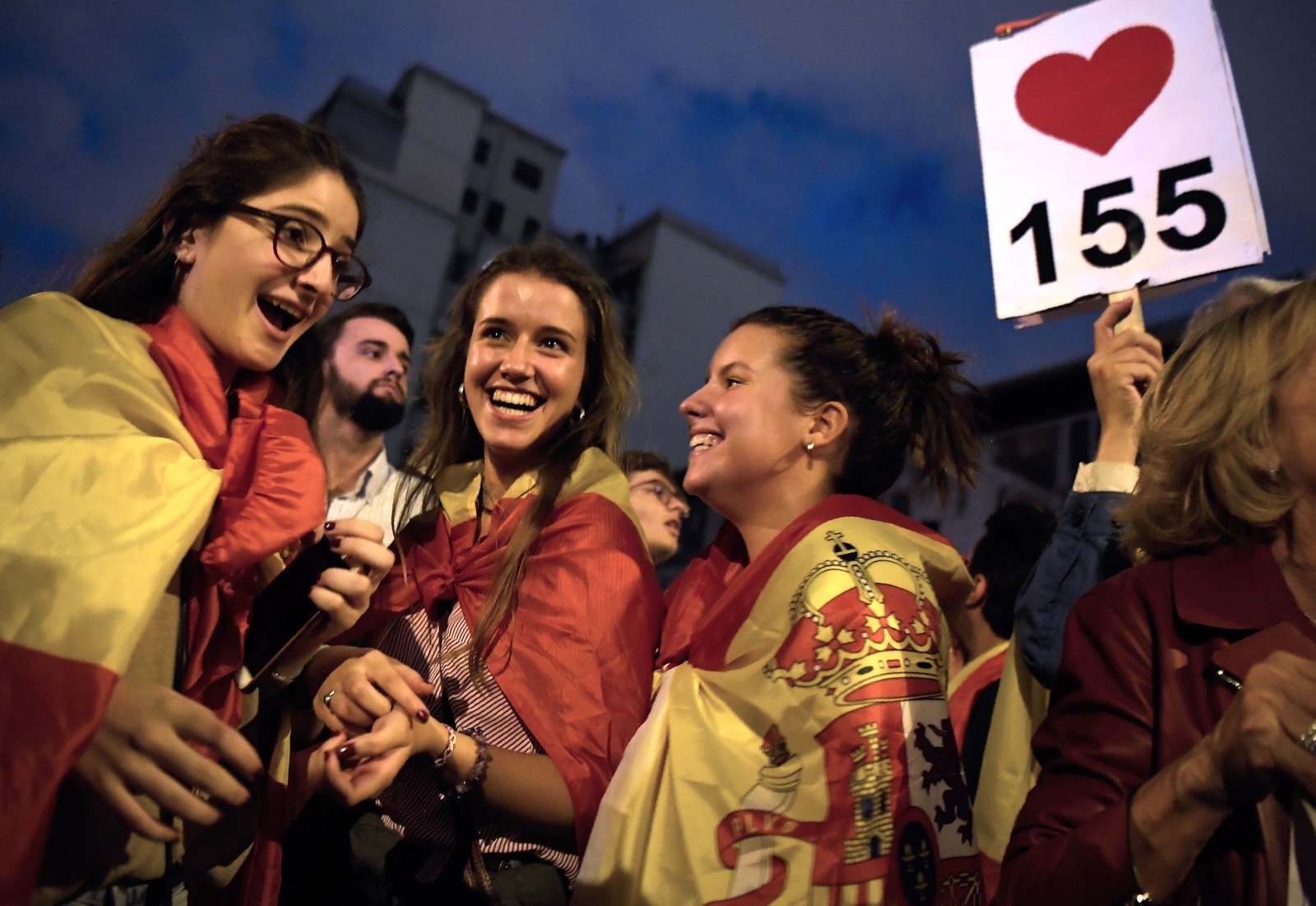 Rajoy, meanwhile, is under public opinion and political pressures of his own.
According to data published by the Centro de Investigaciones Sociologicas, the vast majority of Spanish voters want to either keep arrangements between central government and regional autonomies as they currently are (40.5%) or reduce regions' powers (27%). In some regions, such as Madrid, voters are even more hawkish: 24% want to abolish regional autonomies all together, and a similar proportion want to cut their competencies.
Rajoy, who leads a minority government, is also facing calls to declare direct rule over Catalonia by invoking the never-before-used article 155 of the country's constitution.

In a sign of the uncertainty created in recent days, companies based in Catalonia have begun to draw up contingency plans to move their headquarters to Madrid.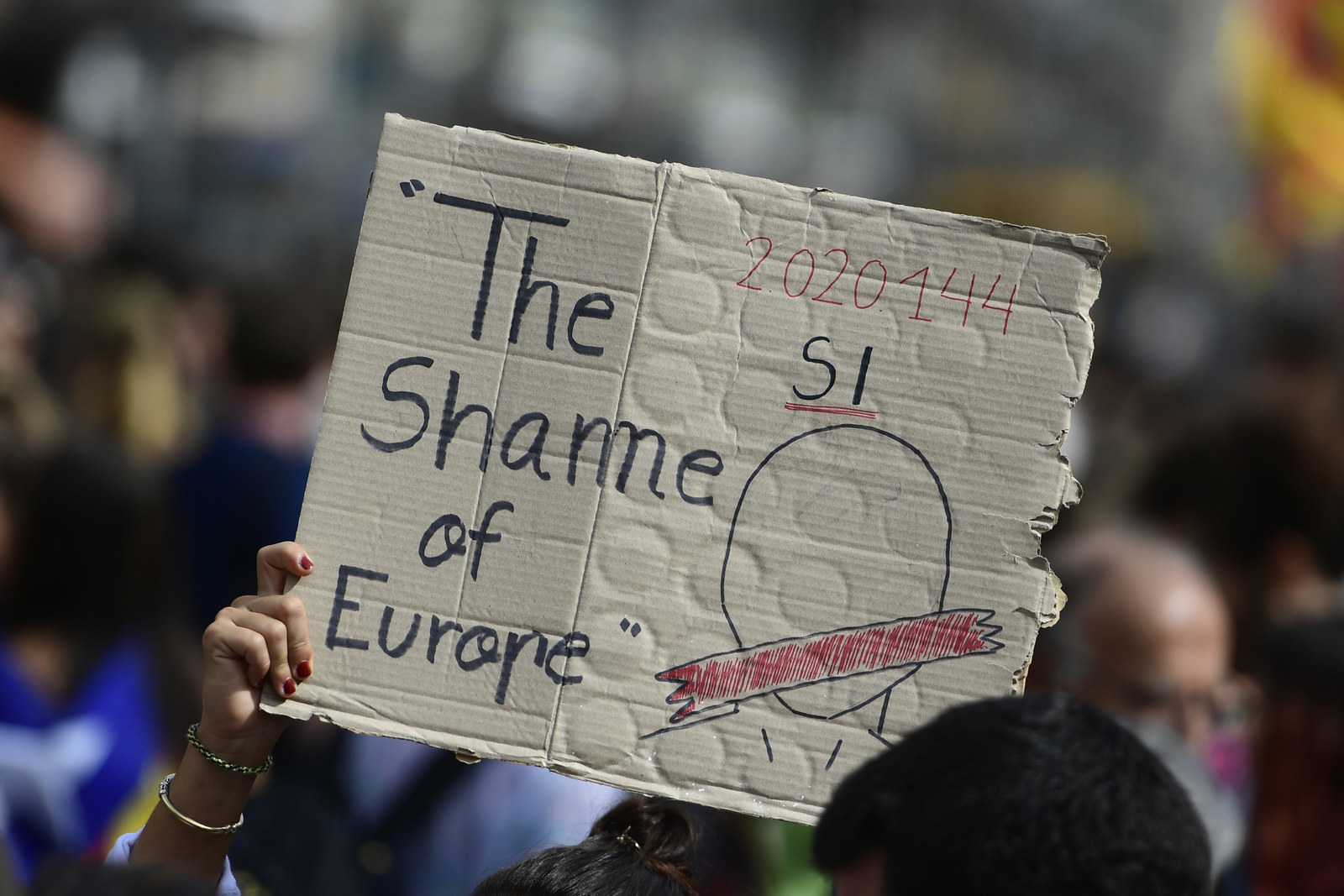 Puigdemont relies on a small group of far-left and radical secessionists to govern. He leads a brittle coalition of parties who deeply disagree with each other on economic, foreign policy, and social issues. The Catalan government has yet to spell out in any detail where the route he has set the region on leads to, how the independence process would work in practice – and what Catalonia would do when, as is likely, the country isn't recognised as an independent state by the international community.
Party insiders suggest that while an independence announcement may well be days away, the effects and implementation of the resolution could be delayed by months in the hope of opening a window to mediate with Madrid.
Spain's government has so far ruled out talks. Puigdemont is operating "outside the law and outside reality", deputy prime minister Soraya Sáenz de Santamaría told reporters on Wednesday evening.
"If Mr Puigdemont wants to talk or negotiate or send mediators, he knows perfectly well what he needs to do: get back on the legal path that he should never have abandoned," the government added in a statement.

Meanwhile, an elected official in the northeastern region described Sunday's referendum as an "international PR win" for Catalonia. "I am certain independence will now happen. It has now become a matter of when," the official told BuzzFeed News.
But neither they nor any of the diplomats and European officials BuzzFeed News spoke to were able to explain what happens if neither side is prepared to change lane before emotions flare up further.