BERLIN – Support for Germany's far-right Alternative für Deutschland (AfD) has slumped dramatically in recent weeks, down to single figures in most polls. Its collapse in its popular support follows infighting, a slowing of asylum applications, and a string of controversies.
There are still five months until the German federal elections and this plummet in the polls could yet reverse. But the far-right party's slide is the result of an extraordinarily focused effort from both media and the government to defeat the far right through controlling the language of immigration discourse as well as a raft of expensive policies. BuzzFeed News spoke to government officials, members of parliament, and political analysts to track how it was done.
Today the AfD is polling at 9%, but just seven months ago its popularity peaked at a regional election held in the northeastern state of Mecklenburg-Vorpommern. The party was polling around 15% nationwide and won more than 20% of the vote in the region, finishing ahead of Angela Merkel's Christian Democratic Union (CDU). The shocking result was the CDU's worst ever in a state that includes Merkel's own constituency.
A few days after the election, Merkel addressed the Bundestag during a budget debate. The chancellor told MPs the AfD was more than a challenge to the CDU: "It is a challenge for us all in this House," she said. "If we only look for small advantages over one another – to just give each other a black eye on election day – then those who rely on slogans and simplistic answers will win." She urged MPs to stick to the truth and to make an effort to explain facts: "If we do this, we will win back the most important thing: people's trust," she said.
The weeks leading up to, and following, the Mecklenburg-Vorpommern election were dominated by Merkel's handling of the refugee crisis. The right wing of the CDU, and its Bavarian sister party the Christian Social Union (CSU), were clamouring for the introduction of a cap on new arrivals. The CSU leader, Horst Seehofer, even threatened to sue the government on a number of occasions.
But despite the dip in her approval ratings, Merkel did not budge. And Merkel and Seehofer are set to go into September's general election disagreeing.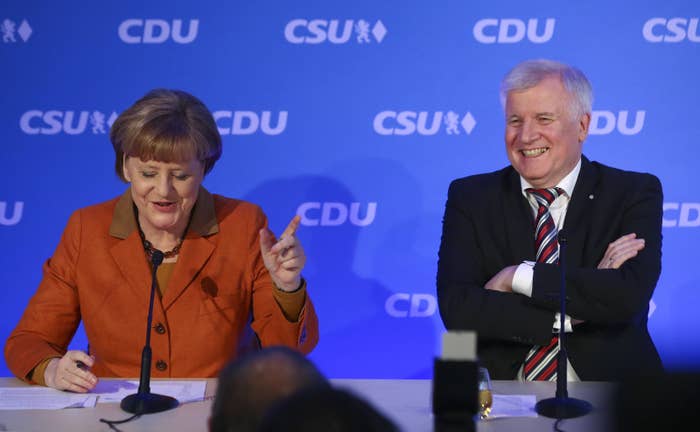 The thinking in her inner circle was that a cap would make the immigration debate about numbers, not substance: Someone will always demand a lower cap. For the chancellor, immigration is not about numbers. The choice is between closing yourself up and pretending the challenge doesn't exist, or working with your neighbours, including in Africa, on its causes.

"Germany's entire worldview is shaped by openness, free trade, and international law and institutions," Almut Möller, head of the European Council on Foreign Relations' Berlin office, told BuzzFeed News.
Most studies are in agreement that immigration played a crucial role in Britain's decision to leave the European Union. By pledging to cut net migration to the tens of thousands, David Cameron boxed himself in politically. After that, the argument about immigration levels - already particularly prominent in Britain's press - became especially divisive among those who want to see the numbers drop dramatically.
Data published after the EU referendum found that votes aligned more closely with newspaper readership than with party affiliation.
Among the dozen experts, MPs, and government officials BuzzFeed News spoke to in Berlin, the widespread belief is that the media has played an important role in shaping the migration debates in both the UK and Germany.
"The media were the main culprit [of Brexit]," Axel Schäfer, a deputy chairman of the Social Democratic Party faction of MPs in the Bundestag, told BuzzFeed News.
"If you respond to every issue, including locals ones, with a nationalist message, it is only natural that you end up with nationalism," the MP added.
A second official went as far as to describe the way the EU is often covered in parts of the British press as being no different to "fake news".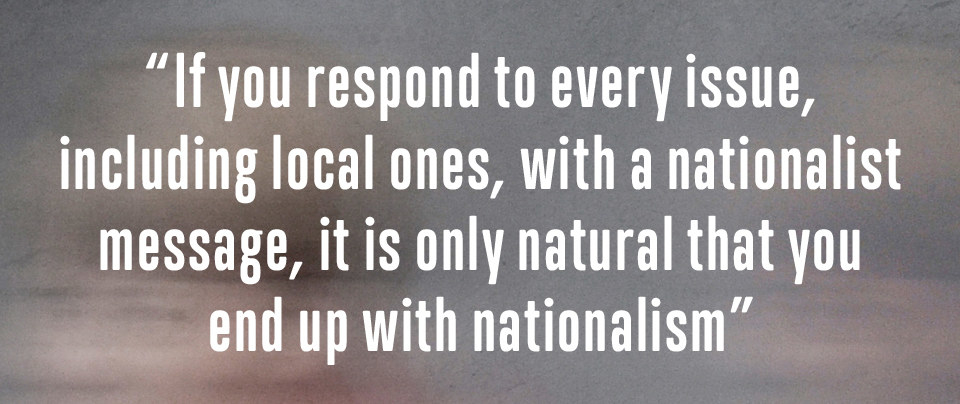 German media is seen as equally influential. But its tone since the refugee crisis, and the arrival of 1 million people, has been largely different.

Annalena Baerbock, a Green party MP, pointed to a key moment: "On refugees, Bild decided 'we are not a right-wing tabloid' and ran a 'Refugees Welcome' campaign. Most of the media then did not drop Merkel during her disagreements with the right of her party," she said.
Bild's campaign reached throughout German society, engaging volunteers, charities, politicians across the party spectrum, businesses, and even football clubs.
Tanit Koch, Bild editor-in-chief, told BuzzFeed News: "The headline "Wir helfen!" (We help!), which was the start of our campaign, felt like a natural thing for us to do. There was a huge surge of Gastfreundschaft [hospitality] in Germany. And BILD has a great tradition of campaigning for people in need. As Germany's best-selling paper we have a unique power and responsibility. It wasn't a one-sided coverage, however: We made sure to also report the problems caused by immigration, lack of integration, and the challenges for society."
Not all newspapers took the same position. A second Green MP, Franziska Brantner, told BuzzFeed News that some outlets in former East Germany, such as SuperIllu, have taken a softer stance towards the AfD.
And the media's stance on migration-related issues has led to a rise in alt-right media, and the use of slogans such as "Lügenpresse"(a term used by the Nazis that means "lying press") to attack the mainstream media.
Koch said: "Years before the refugee crisis a certain unease about issues such as the lack of integration was tangible already. These issues were hardly addressed by most media and party politics; they were considered too sensitive – whenever BILD put the focus on them we were accused of stirring populism. Too many people in Germany didn't realise that not touching on these topics caused the real problems, lack of trust in media, etc. You may argue that all of this left a niche for AfD.
"The refugee crisis, but particularly New Year's Eve in Cologne 2015, have actually helped create a more controversial but also a more honest climate."
Parts of German media were highly vocal during the financial crisis, some even calling for Greece to leave the euro; others are sceptical of EU rules (at times, much like the UK press) and a number were strongly critical of Merkel's handling of the refugee crisis.
Still, the vast majority of Germany's political mainstream and the country's media have always been careful to not conflate refugees with economic migrants, and – in contrast to the UK – trust in the press among Germans remains high.
During her Bundestag speech after the Mecklenburg-Vorpommern election, Merkel also urged MPs not to adopt the dehumanising language and tone used by populists. The chancellor has consistently sought to challenge populist sentiment rather than appease it.

Responding to far-right demonstrations that had adopted the "Wir sind das Volk!" (We are the people!) slogans of the past, Merkel used a New Year's address to say: "Today, some people are again shouting on Mondays, 'Wir sind das Volk!' But what they really mean is, 'You don't belong, because of the colour of your skin, or your religion.' That's why I say to all who go to such demonstrations: Don't follow those who call for this! Too often there is prejudice, coldness, or even hatred in their hearts."
The language used by politicians matters. The Council of Europe, Europe's preeminent human rights body, has accused Cameron of inflaming xenophobia and intolerance in the UK through his rhetoric on immigration. The former prime minister used the word "swarm" to describe migrants attempting to come to Britain.
Germany's finance minister, Wolfgang Schäuble, was forced to apologise for making similar remarks.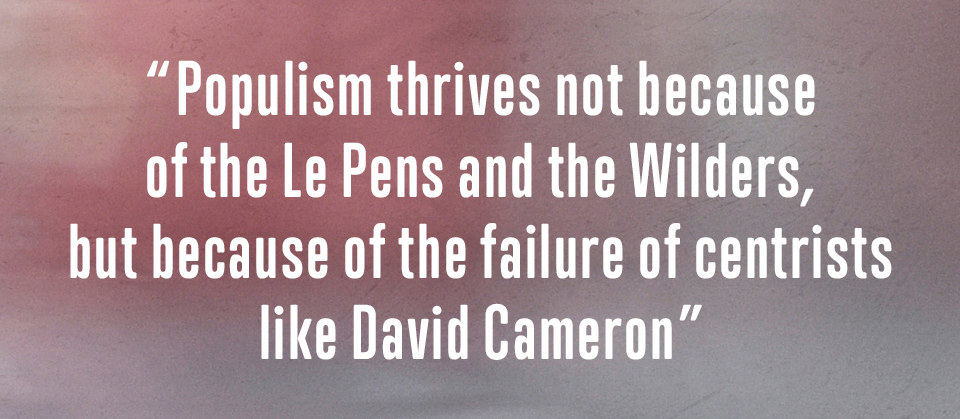 The fight against the AfD has been conducted on principles but also on policy and with considerable resources.

Alongside spending tens of billions of euros on housing and integrating refugees, the government has been a key advocate of a controversial and much criticised agreement between the EU and Turkey to stem the flow of migrants reaching Greece, and is pushing for similar arrangements with other countries (alongside development and cooperation efforts). Perhaps more importantly, the number of asylum-seekers reaching Germany has dropped substantially following the closure of the Balkan route, the government has expedited deportations of rejected asylum-seekers, and Merkel recently backed a partial ban on full-face veils, a partial reversal on her previously held position.
The government is also cracking down on hate speech. A bill going through parliament will see Facebook and Twitter fined if they are not quick enough to delete illegal content from their platforms.
According to Olaf Wientzek of the Konrad Adenauer Foundation, a think tank close to Merkel's CDU, there is no clear single recipe for challenging right-wing populism: "In some cases including populists in government has seen their support fall [in Finland, for example]. In others, exclusion works best.
"In Germany, the government addressed people's concerns and worries with policies. The media was mostly benign, and didn't play a destructive role."
Referring to some of the AfD's more extremist positions and remarks, Wientzek added: "There is also a strong consensus in Germany on 'you don't do that.'"
But on one point Wientzek is convinced: "Emulation is almost always the worst strategy."
As one official told BuzzFeed News, "Populism thrives not because of the Le Pens and the Wilders, but because of the failures of centrists like David Cameron."

It is difficult to talk about right-wing populism in Germany without references to the country's past: The lessons of World War II, the Cold War, and the trauma of the Berlin Wall all make their way into conversations.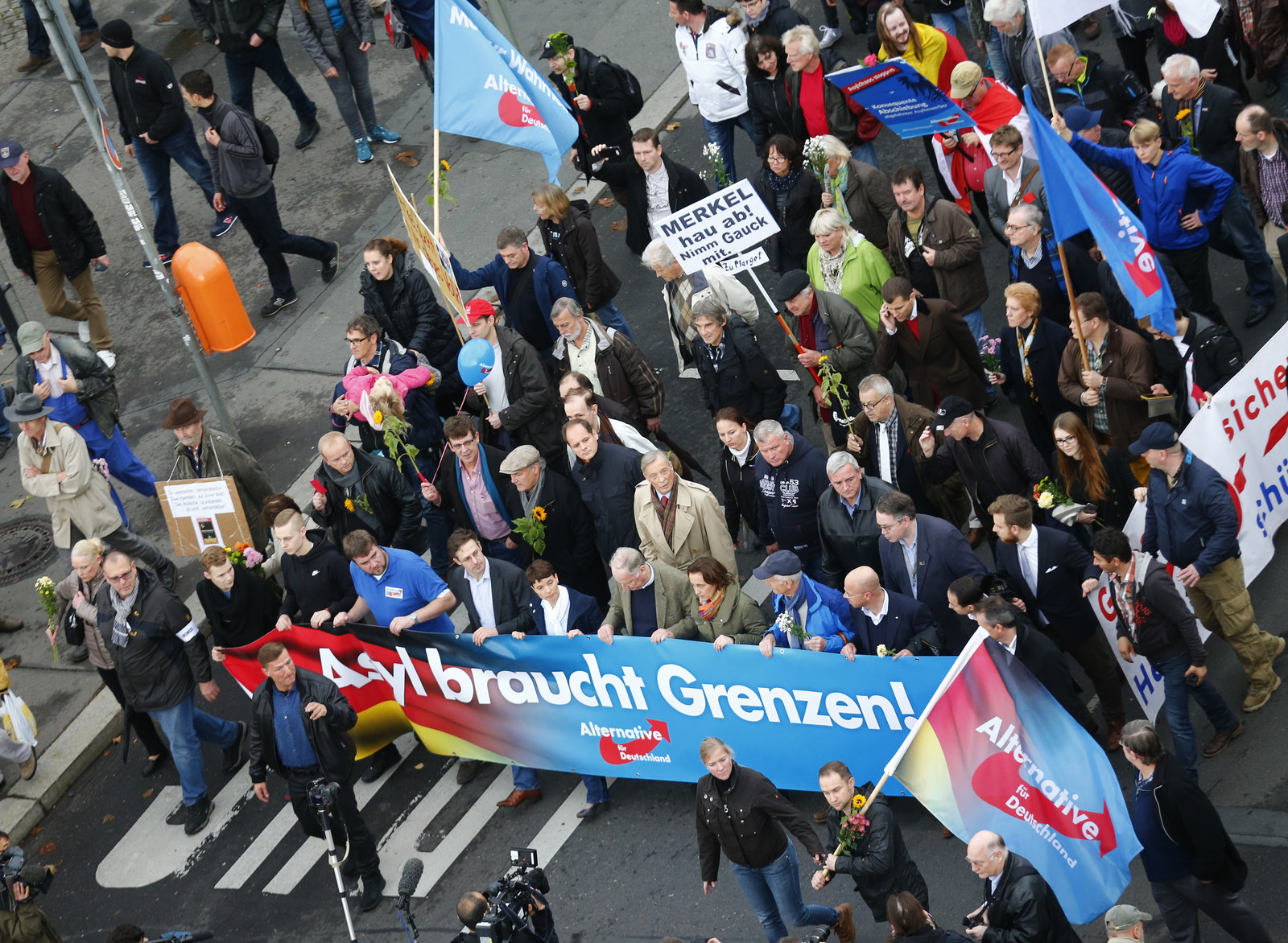 Tobias Funk of the Standing Conference of the Ministers of Education and Cultural Affairs said: "There is no glossing over it. No pupil leaves school without knowing about the Nazi regime. History and the other subjects dealing with this issue aren't taught in an abstract way – we have narration, site visits, and films in the curriculum.

"Even literature (in German and foreign languages) provides an opportunity to deal with this issue."
Crucially, Funk said, "the intent to encourage young people to advocate freedom, democracy, and peace is fundamentally promoted by all school subjects, and in particular by politics and social studies."
He added: "In many contexts, awareness is created that democracy, being fragile, must be defended enduringly."
Funk says it is hard to measure the impact of the country's education system on how people vote. "School education alone cannot prevent right-wing attitudes. We have to take up this challenge in society as a whole."
Meanwhile, the more "moderate" wing of the AfD is keen to be taken seriously by Germany's political mainstream.
Hugh Bronson, an AfD member of the Berlin parliament, told BuzzFeed News: "Other parties should talk to us. We are serious people. If we can show we are serious at a state level, they will talk to us eventually."
Asked why the other parties refused to work with the AfD, Bronson said "the establishment" was united against the party because it is fighting to keep control of 4,000 seats up and down the country, and the attendant €1 billion in funding and jobs.
He dismisses recent remarks condemning the Holocaust memorial in Berlin, by a regional head of the AfD, Björn Höcke, as those of a "silly boy".
"The AfD is big umbrella with a variety of opinions. Höcke is part of a small but loud crowd," Bronson said. Paradoxically, though, he added: "Germans want security, not emotions; a Trump cannot win here. People here don't chuck their security overboard."