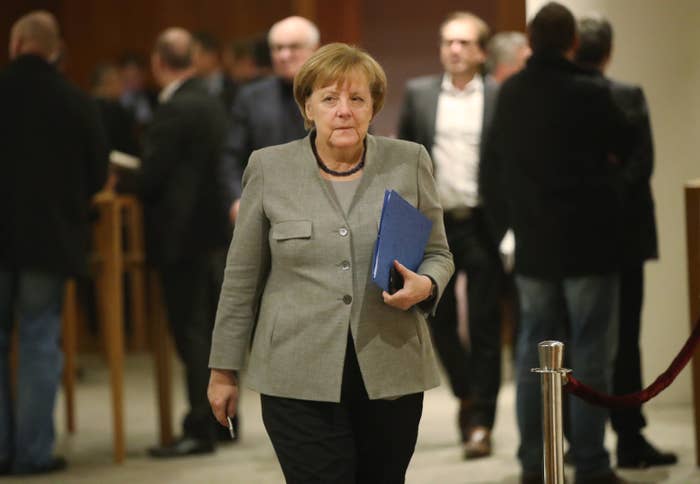 It has been almost two months since Germans headed to the polls, and this might be the first you're hearing of it, but Germany may not be able to form a majority government.
This has become a lot more likely after talks between Angela Merkel's Christian Democratic Union (CDU), its sister party the Christian Social Union (CSU), the Greens, and the liberal Free Democratic Party (FDP) collapsed on Sunday night.
OK, so how exactly did Germany get to this point?
Germany held a general election in September. Merkel won (kind of), but the number of seats won by each party made forming a majority government difficult. If you're British, this may start to feel a bit familiar.
Things started getting tricky when the Social Democrats (SPD) ruled out continuing their current grand coalition arrangement with the CDU/CSU. This meant Merkel needed to look elsewhere to form a government supported by a majority in parliament.
The CDU/CSU started exploring the option of a so-called Jamaica coalition with the FDP and the Greens, which would have been a first. (It's called a Jamaica coalition, by the way, because the colours of each party correspond with the green, black, and yellow of the Jamaican flag.)
The talks started with preliminary negotiations and never reached the more formal task of working out the details to form a coalition government. In other words, the parties couldn't even agree to move on to more formal discussions.
Why did the talks fail?
The negotiations came to an abrupt end after a month of slow progress when FDP leader Christian Lindner finally walked out on Sunday night.
He blamed the failure to reach a deal on the lack of "a common vision to modernise the country". (In less abstract terms, there were crucial differences with the other parties on energy and immigration policies with the FDP particularly opposed to the Greens' approach to both issues.)
"It is better not to govern than to govern badly," Lindner told an impromptu press conference.
Could Lindner change his mind?
He could indeed change his mind and return to the negotiating table. However, Lindner's words on Sunday didn't sound like those of a man prepared to do a U-turn. The leaders of the CDU, the CSU, and the Greens have all blamed the FDP for the failed talks, so things do not look good.
What about the Social Democrats – could they change their minds?
On Sunday night, Merkel called on all sides to show responsibility.
She is likely to appeal once again to the SPD to continue with the grand coalition that currently governs the country. However, SPD leader Martin Schulz, who back in September led his party to its worst ever election result, has so far been adamant that the Social Democrats will not prop up Merkel again.
The political landscape clearly shifted on Sunday, however. A change of heart within the SPD could also mean a change of leadership.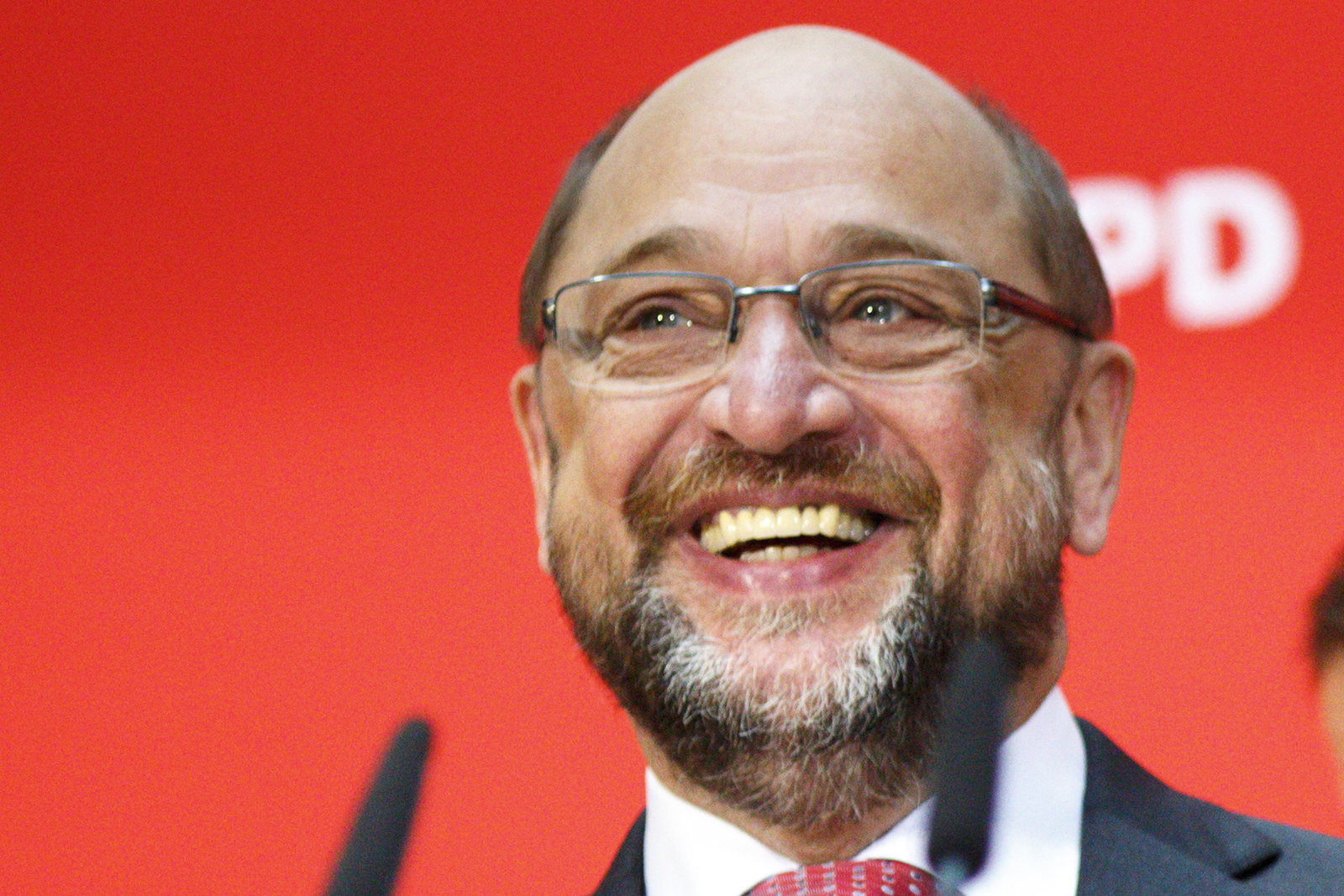 So if the SPD and the FDP both refuse to budge, what happens then?
The parliamentary maths hasn't changed, so what happens next is anyone's guess.
Lindner's decision to pull out of talks has nudged Germany, a country that has prided itself on its strong and stable government, into unchartered territory. And uncertainty in Germany spells bad news for everyone else in Europe.
Merkel is due to meet German president Frank-Walter Steinmeier later today to discuss next steps. There are a few options, but the balance of power now rests with the president. After consulting with Merkel, Steinmeier will ultimately be the one who decides whether to push for a minority government or for new elections altogether.
Crucially, he gets to nominate the chancellor – in all likelihood Merkel – who will then need to be voted for in parliament.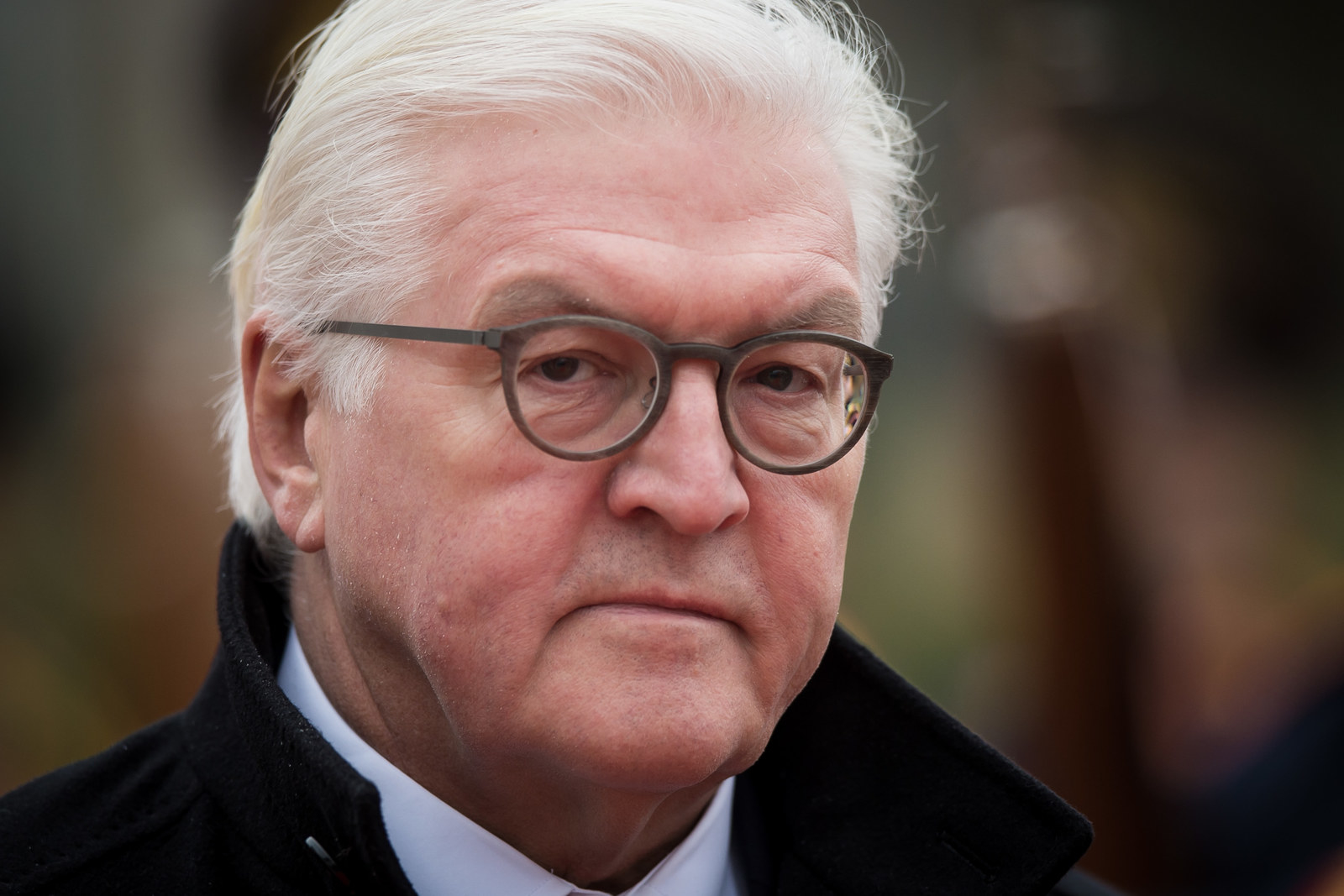 So is it the end of Merkel?
The absence of a clear path to a government that commands a parliamentary majority has left Merkel in an unusual position. For the first time in a long time, she is vulnerable.
The chancellor might push for a minority government, but that scenario is unprecedented in postwar Germany. A minority government, be it the CDU/CSU alone, in partnership with the FDP or, more likely, with the Greens, would need to seek support for its policies on a vote-by-vote basis. This would inevitably increase the chances of Merkel tripping up, especially if called to deal with a crisis situation such as those faced by her government in recent years (e.g. Greece's financial collapse, war in Ukraine, and allowing more refugees into Germany).
That said, a minority administration between Merkel's party and the Greens, for example, could find support on a number of issues among the other parliamentary parties, including on Europe and a digital transformation agenda. The alliance could survive for a few months or years – on a slim agenda.
All the while, Merkel would need to retain the support of her party. One of the first tests of the depth of her support (or lack thereof) within her own ranks would emerge when parliament votes to confirm her as chancellor, because the vote is done in secret.
The good news for Merkel is that she has some time on her side: If an internal power struggle does emerge, there is no immediate successor in sight.
What are the chances Germany will hold another election?
If a government cannot be formed then the final option is to hold a second general election. This could take place following a brief period of a minority government, or if all other roads lead to a dead end. Steinmeier may feel he has no other choice but to ask Germans to vote again.
Whatever he decides, a new election would be months away, and it is difficult to predict how voters would react as there is no precedent in Germany. Hello again, 2017!
In the back of all main parties' minds will be the concern that returning to the polls so soon could see a further boost for the far-right Alternative for Germany (AfD) party. The AfD came third in September, winning 95 seats – the first far-right party to enter parliament with a significant presence in 65 years. On the back of voter discontent, its support could rise further still.
Meanwhile, Lindner and the FDP may well find their move could backfire: A majority of its voters – and the electorate as a whole – wanted to see a coalition formed.
Merkel's performance in any new election is also hard to anticipate. Yes, she led the party to its worst performance since 1949 at the last election, but after 12 years in office, Merkel's personal ratings with voters remain extremely high.
Any election in the near future is likely to be run on who Germans want to see as chancellor. The polls suggest that person would be Angela Merkel.
So, er, what does this all mean for the rest of Europe? (Asking for a friend.)
The implications of the current impasse in Germany will inevitably be felt beyond its borders. Germany is Europe's biggest economy, and Merkel is seen as its most powerful voice – especially in times of crisis.
In the short-term, non-domestic issues such as Brexit will find little space in the country's political debate and will not be on its politicians' list of priorities.
And, finally, any hope Merkel had of reforming the European Union with French president Emmanuel Macron will have to be, for now at least, shelved.